NFWM congratulates the Coalition of Immokalee Worker (CIW) for receiving the Freedom from Want Medal at the Roosevelt Institute's 2013 Four Freedoms Awards. Your hard work over the past 20 years in the Campaign for Fair Food has been an inspiration to us and we know that you will continue the fight for justice in […]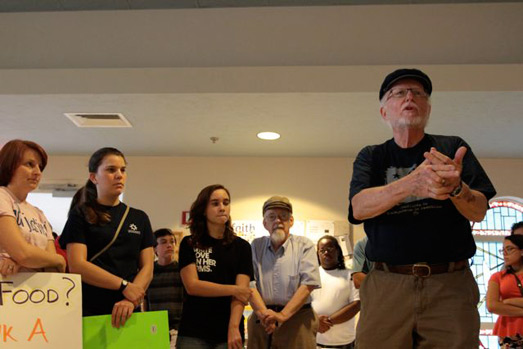 Congratulations to the Coalition of Immokalee Workers for its successful Southeast Publix Truth Tour! NFWM and its Youth and Young Adult Network (YAYA) stand with the CIW in their  quest for justice. The two-week tour started in Gainesville, Florida, where supporters organized a  week-long series of actions in support of farm workers. NFWM Executive Board […]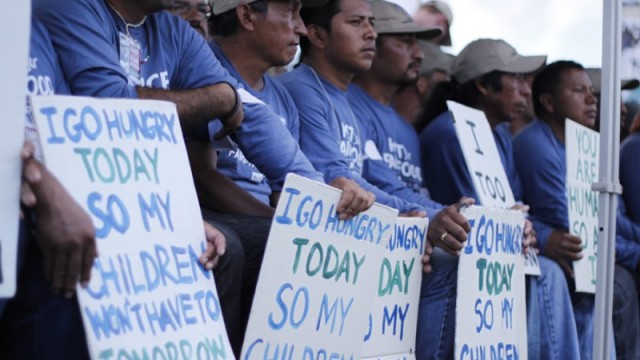 The Coalition of Immokalee Workers (CIW) invites you to join them for their Southeast tour to pressure Publix Supermarkets to join the Fair Food program. What: CIW's Southeast Publix Truth Tour. When and where: September 21 to October 5th, in Florida, North Carolina, Tennessee, Alabama, and Georgia. For the exact schedule click here. Why (from […]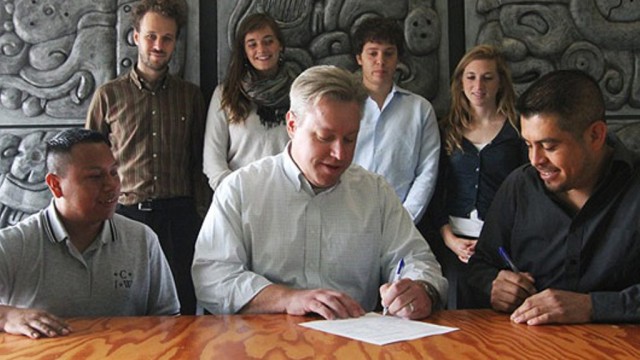 The National Farm Worker Ministry congratulates the Coalition of Immokalee Workers and Chipotle Mexican Grill on the October 4th signing of the Fair Food Agreement!  We thank our many supporters who wrote letters, visited stores, marched with the CIW and worked tirelessly to bring a message of fairness and equality on behalf of tomato farm […]
by NFWM Director Virginia Nesmith I was honored to be part of a U.S. Department of Labor (DOL) event that lifted farm workers up for national recognition. On March 26th, the "Pioneers of the Farm Worker Movement" were inducted into the DOL's Hall of Honor and the Cesar Chavez Auditorium was dedicated. The event was […]
NFWM's Youth & Young Adult Network and NFWM Director Virginia Nesmith will join the Coalition of Immokalee Workers (CIW) and other supporters for the culmination of the CIW's fast outside Publix corporate headquarters in Lakeland, Florida, on March 10th.  For details about joining YAYA, visit the YAYA website. From the CIW press release for The Fast […]
The Coalition of Immokalee Workers and the grocery chain Trader Joe's announced yesterday, February 9, 2012, that they have signed an agreement that formalizes the ways in which Trader Joe's will work with the CIW and Florida tomato growers to support the CIW's Fair Food Program. CIW's Fair Food Program combines the Fair Food Code […]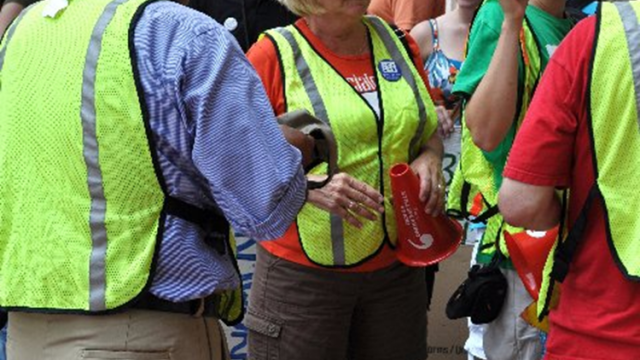 by Bert Perry, NFWM Florida Over a decade ago the Coalition of Immokalee Workers called upon the Florida office of the National Farm Worker Ministry to accompany them to a meeting with the Governor's office in Tallahassee. We have journeyed with the CIW since that time. NFWM was a founder in Religious Leaders Concerned which […]
Tess Browne, SCN, former NFWM Board member who represented her community, the Sisters of Charity of Nazareth, is now active with the Massachusetts Interfaith Committee for Worker Justice and has been participating them in actions in the Boston area to support the Coalition of Immokalee Workers' Campaign for Fair Food . On November 8, 2010, Tess and other activists delivered hundreds of postcards to Ahold USA, the parent company of Stop & Shop, one of the grocery chains CIW is targeting in its campaign, and sought a meeting with Ahold representatives.
Although they were denied a meeting then, CIW allies in the Boston area were able, this February,t o speak with Harriet Hentges, Ahold USA's Vice President for Corporate Responsibility, about the supermarket chain's refusal to sign a Fair Food agreement with the CIW . These activities are in preparation for CIW's "Do the Right Thing" Tour in the Northeast. On Sunday, February 27th, marchers will gather in Copley Square for a peaceful rally featuring live music and addresses from CIW members and allies, then march to the Brigham Circle Stop & Shop grocery store. There, the march will culminate in a spirited action calling on Ahold USA to do its part to end farm worker abuse and exploitation! For more information on the tour, click HERE.


Tess Browne, SCN, second from left, and Boston faith allies deliver hundreds of postcards to Stop & Shop headquarters in Boston last November.






The following Op-Ed was published January 10, 2011 in gainesville.com, the on-line version of the Gainesville Sun. The author, Dr. Sam Trickey, is a member and Past President of the Board of Directors of the National Farm Worker Ministry.

Sam Trickey: Time to stop human trafficking
January 11th is worldwide Human Trafficking Awareness Day. According to the State Department's 2010 Trafficking in Persons report, "the majority of modern slaves (are) in agriculture and mining around the world."
It happens here. Last July, the U.S. Department of Justice indicted 3 people for holding over 50 farm workers in northern Alachua County. The Haitianrs were brought in on H-2A agricultural guestworker visas, promised three years work, and good pay. Upon arrival, their employers confiscated their passports and visas.
The indictment says the workers were "denied necessary medical care" and suffered "chronic hunger, weight loss, illness and fatigue." If workers complained about the conditions they were threatened with deportation. One of the females reported being raped.
Sadly, this is just one of many disgraces in Florida's fields. Since 1997, federal officials have produced seven Florida farm worker slavery convictions. Over 1,100 farmworkers have been liberated from slavery in Florida's fields. A major bust in East Palatka in June, 2005, led to convictions.