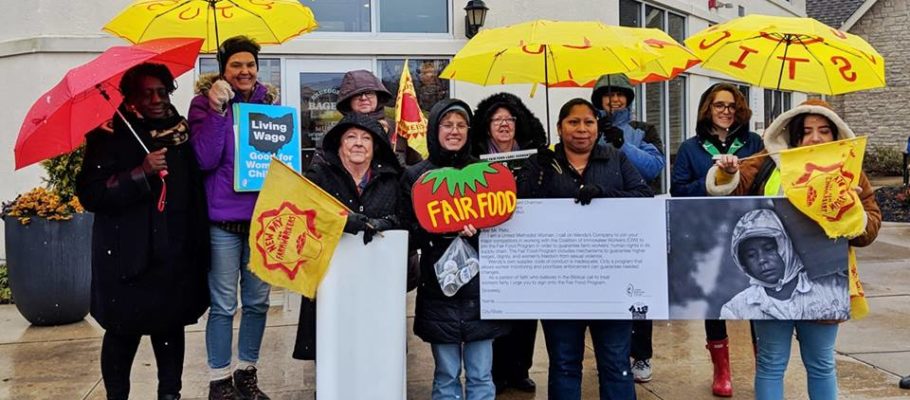 On a cold Thursday in November (15th), a delegation called on Wendy's at their corporate headquarters in Dublin, OH to sign the Fair Food Agreement. They were not allowed access to the company's property so participated in a demonstration outside. An attempt to meet with the management of Wendy's had been made prior to their arrival and 5,000 postcards they had hoped to hand deliver were shipped to coincide with their public witness. The postcards had been collected through a four month education for action focus by United Methodist Women (UMW) on economic justice. Women around the country asked Wendy's, the last holdout of the fast food giants, to "end low wages, poor working conditions and violence in the fields!" Join the Fair Food Movement.
In the letter to Wendy's, the delegation said the following:
"Evidence of unacceptable working conditions in the fields challenges Wendy's claim that the company holds all of its suppliers to high standards, and has even more stringent requirements for labor and human rights assurances from its fresh produce suppliers, as you claim."
Earlier in the day the delegation made a stop at Ohio State University in Columbus where the University's board of trustees were meeting. Part of the delegation went inside to distribute information asking the trustees to terminate the contract they have that includes Wendy's in the University's meal plan. This contract was renewed last year despite a student fast in opposition to the contract. The rest of the delegation participated in a public witness outside.
Included in the delegation were two of our board members, Carol Barton for United Methodist Women and Karen Bernhardt for the Sisters of the Humility of Mary. Karen also represented NFWM. Lupe Gonzalez of our farm worker partner, the Coalition of Immokalee Workers (CIW) and Ximena Pedroza of the Alliance for Fair Food were delegation leaders. Additional delegation members were from UMW leadership (from NY, FL and OH), Student Farmworker Alliance, Ohio Fair Food, the Methodist Theological School of Ohio and The United Methodist Church's Board of Church and Society of East OH.