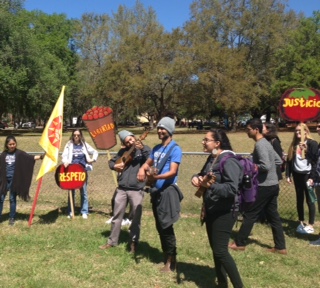 On Thursday, March 16th I joined the Coalition of Immokalee Workers for the kickoff to their Human Rights Tour at the University of Central Florida. It was awesome to be part of such a passionate crew pressuring the University of Florida to honor the CIW's boycott of Wendy's.
One of the students who spoke is the daughter of former farmworkers. All of them are working with conviction, pressuring their university to honor CIW's boycott of Wendy's by cutting the school contract. The CIW spokeswoman Lupe led the rally and march with fiery words of motivation and gratitude for all of our support. A delegation of CIW workers was able to meet with a University representative while we marched outside the campus Wendy's.
See us chanting on the picket line at UF here.
This is an exciting time as it marks the one year anniversary of the CIW's boycott of Wendy's. It has been four years since the CIW began pressuring Wendy's to join the Fair Food Program. We will keep the pressure on until Wendy's comes to the table and joins the CIW in protecting tomato workers' rights.
I am looking forward to marching again in Tampa at the grand finale of the CIW's two week tour. How much longer can Wendy's and Publix hold out as more and more people realize the injustice of selling food that was grown by exploiting farmworkers? Let's continue to grow our movement and spread awareness. As Lupe said "We're the pebble in Wendy's shoe, and we'll continue until they get blisters and have to take off the shoe and talk to us."
-Dominique Aulisio