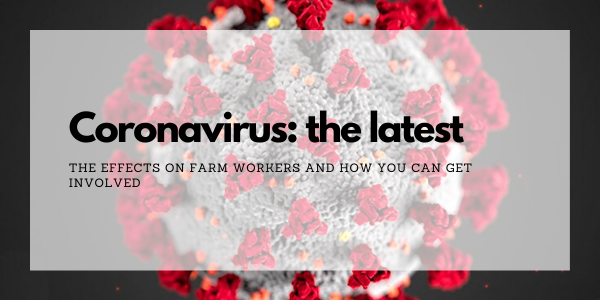 Updated, 3/28/2021
Information is coming out daily that expands the implications of the current Coronavirus pandemic to all sorts of demographics. Our focus remains on farm workers. Their exposure to the coronavirus is of tremendous concern right now among both farm worker organizing groups, migrant health clinics and labor camp ministries around the country. We will be working with other allies to seek protection for farm workers and their families. Most of this can be done from wherever you are, so please help us raise awareness and create impact.
Major steps:
National Farm Worker Ministry has joined Justice for Migrant Women and a number of our farm worker partners/allies in signing the statement of concern found here. An organizational letter was sent to legislators to share these concerns on March 30th, during Farmworker Awareness Week. See the letter here.
NFWM participated in a call for Rural Faith Leaders Join Workers Calling for Protection and Relief from COVID-19 Outbreaks. See the press release here.
How does this tie into the work of NFWM?
The statement includes justice issues we and our partners have been fighting for for years: fair wages, immigration reform, decent housing, access to health care, the end to sexual violence and harassment, and freedom from exploitation. See our resources on farm worker issues here:
https://nfwm.org/farm-workers/farm-worker-issues/
---
Recent NFWM Action Alerts:
---
Op-Eds and Letters to the Editor by NFWM Supporters and Allies:
---
Current USDA information related to farm workers and Covid:
Emergency Funds and Collections for Farm Workers:
The latest news from NFWM can be found on our Facebook page:
The latest news from our partner organizations can be found on their web sites:
---
Actions in Solidarity with Farm Workers: