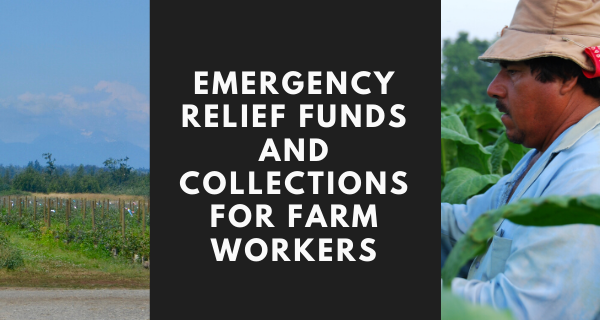 Ordinarily, National Farm Worker Ministry fund raising is for NFWM advocacy and programs. However the COVID-19 pandemic has prompted supporters to ask where they can donate funds that will benefit farm workers directly to provide food, income, and protection. There are at least four primary ways to do this: 1) Fund raising by farm worker organizing groups who, along with their advocacy and representation of farm workers also are working on direct support of farm workers in their networks; 2) Migrant ministries and related regional efforts; 3) Fund raising sponsored by groups on the ground who will deliver the money directly to farm workers; and 4) Fund raising for specific needs of farm workers, mostly masks and mask making opportunities.
Several efforts have attracted our attention. What follows is not an exhaustive list nor an endorsement of these efforts. These links are provided for financial gifts specifically for needs during the Covid-19 pandemic.
Emergency Pandemic Fund for Farmworkers is co-sponsored by Justice for Migrant Women and Hispanics in Philanthropy to raise immediate funds to help keep farm worker families safe from #COVID19 as they perform what has been declared "essential" work to feed us. The fund includes as beneficiaries the Farm Worker Association of Florida, United Farm Workers Foundation, Pineros y Campesinos Unidos del Noroeste, La Union del Pueblo Entero, Student Action with Farmworkers as well as others.
There are efforts by our farm worker partners to raise money to augment their ongoing work as well as other more regional funds. These appear to be good places to provide financial support.
Farmworker Emergency Fund (COVID-19) for PCUN
PCUN is raising money for former and current undocumented farm workers affected by COVID-19. Their goal is to serve 100 undocumented farm worker families with one-time economic relief.
Dando la Mano Fund of LUPE in the Rio Grande Valley has 3000 members who are undocumented. These proceeds are to be distributed to those families who were excluded from receiving a stimulus check. Any family who reported on their Income Tax Return that at least one person was undocumented is considered ineligible. People without documents also cannot file for Unemployment Compensation, and are pretty much excluded from all federally funded programs.
La Casa Hogar in Yakima and Nuestra Casa in Sunnyside, in partnership, opened a COVID-19 Emergency Relief Fund for Yakima Valley, Washington, families who have little or no access to other forms of government support. Many of these families are farm worker families. This fund is for those who are out of work, scared to work, or who have lost an income-earner within their families and are struggling to cover their basic needs. Ellison Foundation generously offered seed dollars to get it started. Now they are seeking donations which will give families $250 or $500, depending on need. Both La Casa and Nuestra Casa are tracking requests for aid throughout the Valley and are distributing it regionally. 5% of gifts will be allocated to support in administering these dollars.
Specific items/needs of farm workers and their families
#Masks4Farmworkers is cosponsored by Mario De La Torre (creator), Hispanic Heritage Foundation, National Center for Farmworker Health and Justice for Migrant Women to help provide farm workers and the rural health care providers who serve them with this much needed personal protection equipment (PPE). Sign up here.
The UFW has a drive for masks.
Rural and Migrant Ministries of New York has a Masks for Farmworkers Campaign. They are asking for people to make masks and/or donate to provide masks.
The Farm Labor Organizing Committee (FLOC), with the help of Triangle Friends of Farmworkers (TFF) are collecting donated supplies at their office, PO Box 560, Dudley, NC 28333.
SUPPLIES NEEDED:
For FLOC outreach staff and member-activists:
facemasks
gloves
antibacterial gel
protective equipment
thermometer
phone cards for internet
For workers:
handwashing soap
bleach
toilet paper
hand sanitizer
handkerchiefs
masks
disinfectant wipes
FLOC has already started distributing supplies to members, so please email FLOC NC staff directly at flocnc@floc.com or call Leticia at 919-988-3846 if you have a supply or know of a source.
Farm Worker Organizing Groups (Unions, Coalitions, Associations, etc)
Farm Worker organizing through unions, coalitions, associations, support committees and others all appreciate financial support for their ongoing work and now for the additional time and supplies needed during the pandemic. Visit their websites to see how you can support their work on our map.
Migrant ministries and related regional efforts
Search for these in your community. Many groups are seeking to reach out to farm workers and their families as well as immigrants, most of who are left out of public aid funds and the stimulus assistance recently passed by Congress.
One fund, Mutual Aid Disaster Relief, is a decentralized direct service and assistance operation whose stated purpose is the are "a grassroots network whose mission is to provide disaster relief based on the principles of solidarity, mutual aid, and autonomous direct action. By working with, listening to, and supporting impacted communities, especially their most vulnerable members, to lead their own recovery, we build long-term, sustainable and resilient communities."
As always, funds for ongoing advocacy focused on systemic change do not meet immediate needs but are consistent with the mission of NFWM and greatly appreciated by all our farm worker partners, allies and by us.