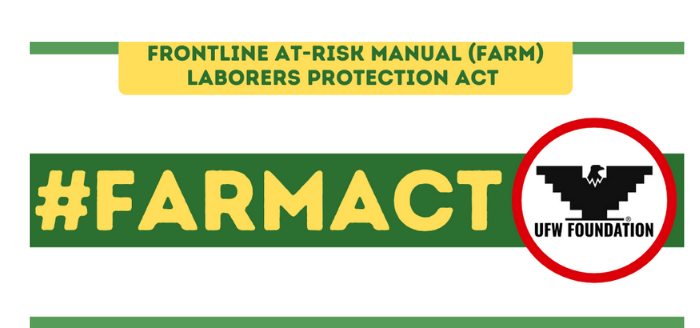 The FARM (Frontline At-Risk Manual) Laborers Protection Act (#FARMAct) was just introduced in the Senate by Sen. Merkley (D-OR) to take steps to resolve this issue. The #FARMAct would require emergency funding for agriculture recipients to include and implement sick pay, pandemic premium pay, job security and to follow CDC recommendations on sanitation and social distancing for farm workers
The bill was drafted with the legislative input of the UFW Foundation, UFW, PCUN and Farmworker Justice. Additional endorsing organizations include Causa Oregon, International Brotherhood of Teamsters, and the Virginia Garcia Foundation. The bill was introduced with 5 original cosponsors: Leahy, Blumenthal, Harris, Warren and Sanders.
Many farm workers live in crowded dorm-like conditions — some with beds only 3 feet apart — and are moved from location to location in crowded buses. Physical distancing is not always practiced at work sites. As many farm workers are crowded in together and not 6 feet apart, this creates optimal conditions for the virus to spread. In addition to the potential for widespread illness, think about the shortage of labor this will cause and what that will mean for our food supply and the price we pay for food. Farm workers are out there right now doing the work that feeds us. Our government has declared them essential workers and in return needs to protect them.