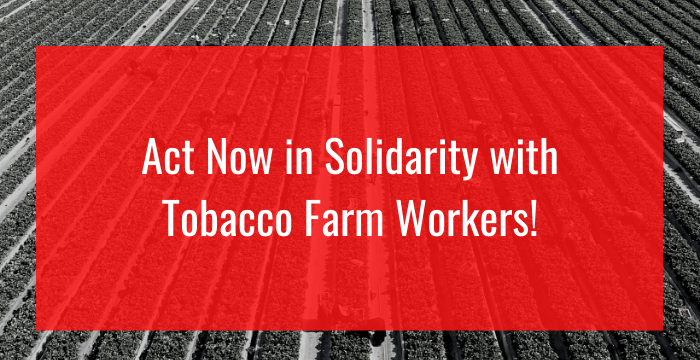 Act Now in Solidarity with Tobacco Farm Workers!
As you may have heard, in the past week the situation has become more dire for farm workers in North Carolina. After six months of refusing to help farm worker communities, Gov. Roy Cooper confirmed he will not sign an executive order to help growers and workers cope with the pandemic.
Thousands of workers face significant barriers to testing and medical care, no paid leave, unsafe working conditions, all in the supply chains of some of the wealthiest corporations in the world.
Join the Farm Labor Organizing Committee (FLOC) and NFWM today in asking British American Tobacco and Reynolds American to step in to fill the void during this COVID crisis.
All you have to do is click here to sign a petition to their leaders.
We're calling on British American Tobacco and Reynolds American to communicate with FLOC and reach an agreement to provide funding for improved COVID protocols so that workers on the ground can ensure the safety of themselves and their families and communities.
Many of the CDC recommended guidelines can not be implemented in agriculture without a significant investment by growers to cover expanded housing, renting of hotel rooms, additional work transportation costs, medical care, and expanded paid leave. The issues of wages, housing, health, and transportation are the same ones that FLOC have been working to address for over 13 years and the cause of the boycott of VUSE e-cigarette brands which NFWM supports.
Please sign the petition and share it widely so we can get as many signatures as possible in the next two weeks.