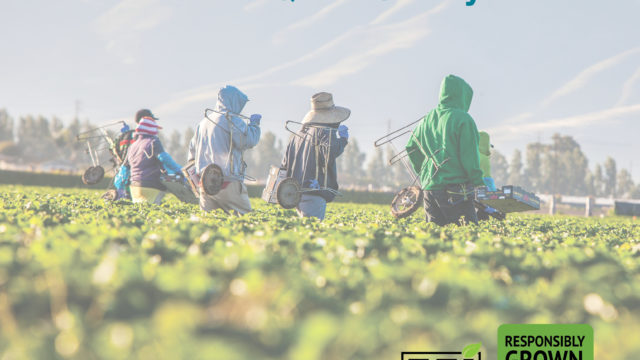 Short Survey NFWM is proud to be one of the founding members of the Equitable Food Initiative through the work of NFWM's former Director Virginia Nesmith.  We have continued to follow the amazing progress EFI has made over the years and are pleased that the EFI is beginning the consumer engagement phase of the program. […]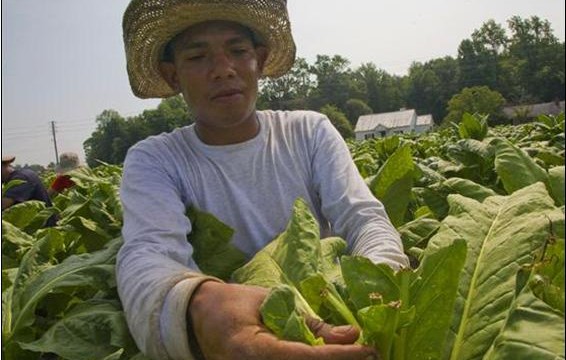 Ralph Nader has spent decades speaking truth to power. In an August 13th article he does so again – for the 2 million farm workers who work our fields. Click HERE to read Nader's article, "Migrant Workers and America's Harvest of Shame". National Farm Worker Ministry encourages everyone to take up Mr. Nader's call, "Next time […]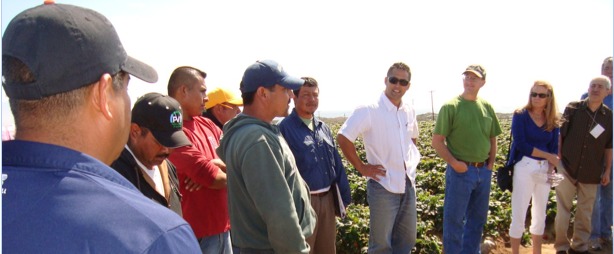 National Farm Worker Ministry is a founding member of the Equitable Food Initiative (EFI), an exciting new project to help farm workers and growers collaborate to produce better and safer fruits and vegetables, to establish fairer conditions for farm workers, and to improve pesticide management. Click here to read a recent New York Times article that reported on the EFI. […]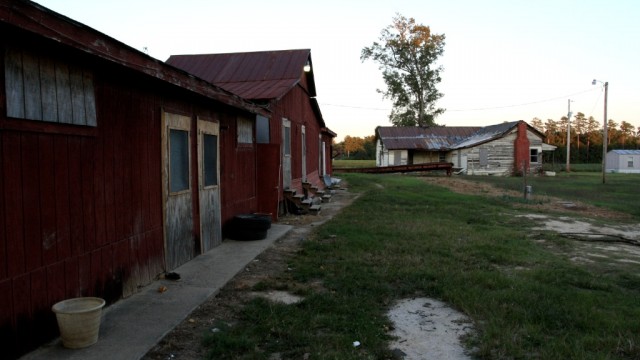 On October 7th,  NFWM led a delegation of religious leaders to North Carolina to visit farm worker labor camps there with staff of the Farm Labor Organizing Committee(FLOC).  Members of the National Council of Churches Justice and Advocacy Commission and representatives of the United Methodist Church and the Alliance of Baptists saw for themselves the […]



"It is ironic that those who till the soil, cultivate and harvest the fruits, vegetables, and other foods that fill your tables with abundance have nothing left for themselves." -Cesar Chavez




Hazardous and Unsanitary Working Conditions
Farm work is one of the most hazardous occupations in the country. The death rate among agricultural workers nationwide was an estimated 20.9 per 100,000 workers in 1996; compared to the average for all industries of 3.9 per 100,000 workers. (Reeves, et. al. "Fields of Poison: California Farm workers and Pesticides." California Rural Legal Assistance Foundation, Pesticide Action Network North America, and the United Farm Workers of America, AFL-CIO. 1999.)
Between 1996 and 1999, there was a 33% increase in deaths among California farm workers. During that same time period, there was a 9% decrease in industrial fatalities; in the state of California. ("California Farm Labor By The Numbers." Sacramento Bee. May 20, 2001.)
Our nation's 2.5 million farm workers face a greater risk of pesticide exposure than any other segment of the population. Pesticide exposure can cause a variety of health problems, such as nausea, vomiting, dizziness, rashes and burns. Long-term effects of pesticide exposure can include cancer, sterility, birth defects, and damage to the nervous system. (Reeves, et. al. "Fields of Poison: California Farm workers and Pesticides"; Kegley et. al "Hooked on Poison: Pesticide Use in California, 1991-1998. Pesticide Action Network North America, 2000; Thompson and Wiggins, The Human Cost of Food: Farmworkers' Lives, Labor and Advocacy.)
In 2004, the state of Washington found that one in five farmworkers who handles pesticides experienced significant health effects. (Messages from Monitoring, April, 2005)
Federal laws and regulations give hired farm workers exposed to pesticides inadequate protection. The EPA estimates that farm workers suffer up to 300,000 acute illnesses and injuries from pesticide exposure each year. ("Hired Farm workers Health and Well-Being At Risk." United States General Accounting Office Report to Congressional Requesters. February, 1992)
According to the United States General Accounting Office: "Many hired farm workers are unprotected by federal regulations for field sanitation. The absence of drinking water, hand washing facilities and toilets in fields constitutes a serious health hazard to hundreds of thousands of hired farm workers……farms with 10 or fewer workers are exempt from OSHA field sanitation standards." (Ibid)
According to the Wall Street Journal: "Despite their long hours and usually arduous toil, California farm workers are often forced to do without clean toilets, toilet paper, soap, paper towels and fresh water for drinking and hand washing." Tens of thousands of farms throughout the state lack the most basic elements of workplace health and safety. (Marc Lifsher, "California's Farms Face Pressure to Improve Sanitary Conditions." Wall Street Journal. March 4, 1998.)
An investigative report by the Miami Herald found that many Florida farm workers face sweatshop hours, slum housing, poverty pay, and criminal abuse at the hands of third-party contractors; who house and feed the workers "for fees that keep them destitute and in debt." (Miami Herald. Ronnie Green, "Fields of Despair." August 31 – September 2, 2003.)
The food that overflows our market shelves and fills our tables is harvested by men, women, and children who often cannot satisfy their own hunger
– Cesar Chavez
A Brief History of Farm Labor in the U.S., prepared by Lori Fernald Khamala, is available as a PowerPoint presentation. It outlines the history that since the 1600's these workers have often been imported from other countries with vulnerable populations; have always been a disenfranchised group of workers; and have in general NEVER had the right to vote. Contact NFWM if you would like a copy, or download the presentation.
Migrant and seasonal farm workers perform numerous tasks necessary for cultivating and harvesting a large share of our nation's food supply. But in spite of their backbreaking labor, the vast majority of agricultural workers do not enjoy the same rights and benefits that most of us take for granted.
According to author Daniel Rothenberg: "Farm workers commonly suffer abuses that would be inconceivable in other industries. They are threatened, cheated out of their wages, housed and transported in dangerous conditions, and in the most extreme cases, held in debt peonage.Farm workers have always been recruited from among the most vulnerable members of American society–recent immigrants, the homeless, the rural poor–and have consistently been denied the legal protections provided to other workers." (Daniel Rothenberg, With These Hands: The Hidden World of Migrant Farmworkers Today. Harcourt Brace and Company. New York, San Diego, London. 1998)
One good overview of farm worker conditions and issues in the U.S. is provided in a Food First publication, Migrant Farmworkers: America's New Plantation Workers. Good information on a wide variety of farm worker issues is also available at the National Center for Farmworker Health.
Here is a summary of the living, working and health conditions of our nation's approximately two million migrant and seasonal farm workers:
Below-Poverty Wages, Malnutrition & Hunger
Hazardous & Unsanitary Working Conditions
Slavery in the Fields
Childhood & Child Labor
Migrant Education
Third-World Housing Conditions
Health Concerns
Women Farm Workers Face Special Challenges
Lack of Legal Protections & Social Benefits
Thank you to David Oddo for researching and writing the Farm Worker Conditions section.
NC Farmworker Conditions
Guest worker program:
November 15, 2007
Are we treating them like guests?
ABC11 News in Raleigh-Durham investigates the H2A guestworker program in NC. Critics say we invite workers here, mistreat them, and don't let them come back if they complain.
WRAL Documentary on Farmworker Housing in NC
August 2005
Powerful series showing farm worker housing conditions in NC.
Half of Latino farm workers in North Carolina are unable to feed their families – Raleigh News & Observer, May 13, 2003
Researchers at Wake Forest University Baptist Medical Center base findings on survery of 102 families in a five-county area in central North Carolina.
"Harvesting for Mt. Olive: A National Farm Worker Ministry Delegation Report"
June 1999
California is by far the state with the largest number of farm workers in the U.S. who perform a variety of jobs on the state's over 80,000 farms. Exact data for the number of farm workers living and working in California is almost impossible to find because of many factors such as the seasonality and migratory nature of farm work, the geographic distance between farm worker communities, and the large number of farms. However, several estimates from studies done in California put the number of farm workers in California at a range from about 400,000 to 1.1 million during certain parts of the year. (National Agricultural Workers Survey (NAWS), 2005; The Migrant and Seasonal Enumeration Study by the Bureau of Primary Care's Migrant Health Program) About 20% of the total number of farm workers in California are employed consistently year round, while the rest only have seasonal work or are unsure whether they are employed year-round or seasonally. According to the most recent NAWS report for California, about 75% of all individual farm workers and 52% of all farm worker families made less than $15,000 a year in 2003-2004. Furthermore, 43% of all individual farm workers and 30% of all farm worker families made less than $10,000 a year.
In California in 2007, the market value of all crops produced on California farms was over $22 billion. (2007 Census of Agriculture)
The top 5 counties in California in which farm workers live and work are Fresno, Monterey, Kern, Tulare, and Ventura counties. (See map for location.) About 86% of farm workers are employed in fruit, nuts, and vegetable production.
When it comes to working in the fields, farm workers are extremely exploited. The United Farm Workers union has documented many stories of the lives of farm workers and some of the most inhumane treatment and conditions they labor under in California. Some of their most basic of needs that by law must be provided to them by their employers (clean and sufficient drinking water on the job, clean bathrooms, shade from the heat) are not. While their jobs in many cases do not provide health insurance, they are very susceptible to serious health problems because of exposure to pesticides. Farm worker women are often abused my their employers whether verbally or sexually. And the smallest of complaints about working conditions or behaviors even as simple as taking longer than the foreman thought they should in the bathroom can cause them to lose their job.
In California's Central Valley during the harvest months of summer (May-August), farm workers must work in dangerously hot weather, with temperatures sometimes rising to over 100 degrees. They may work 10-12 hours a day. Very often farm workers are not provided with enough water, shade, or breaks during the work day and are thus very susceptible to heat stroke. Since 2004, 15 farm workers have died of heat-related illness in California. Last year alone, 6 farm workers died. In 2008, a short documentary, titled "California's Harvest of Shame", was made which documents this harsh reality for California's farm workers. Narrated by Fabian Nuñez, former Speaker of the California State Assembly and son of a migrant farm worker himself, you can watch the video by clicking here.
The torrent of new rules being issued by the Bush administration as it heads out the door is turning into a regulatory fiasco. The changes have lowered the bar on environmental review across the board, from limiting worker exposure to toxins to ignoring provisions of the Clean Water Act and softening, if not gutting, the Endangered Species Act. Late last week, new rules targeted vulnerable members of the labor force — farmworkers.