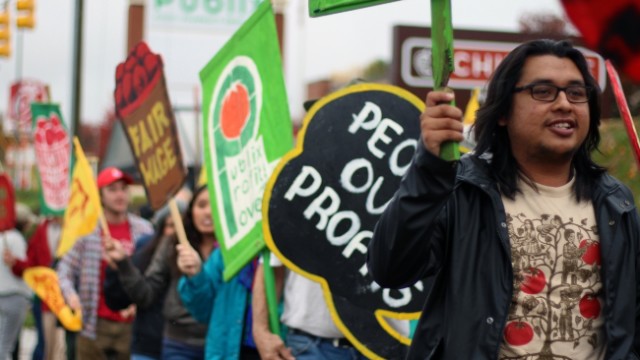 The Coalition of Immokalee Workers traveled to North Carolina last week as part of their Publix Truth Tour. They held pickets at Publix stores in Asheville and Cary. North Carolinians came together with farmworkers to send a unified message to Publix, "If you want to expand into our community, you must expand your commitment to […]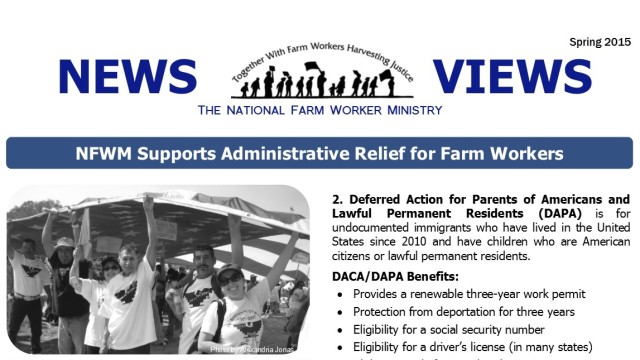 We just mailed out our Spring newsletter that includes recent goings on with NFWM and the farm worker movement. Maybe you're not on the mailing list yet or maybe you'd like some more copies to share with your friends and neighbors; Either way, it's online and can be downloaded for free here!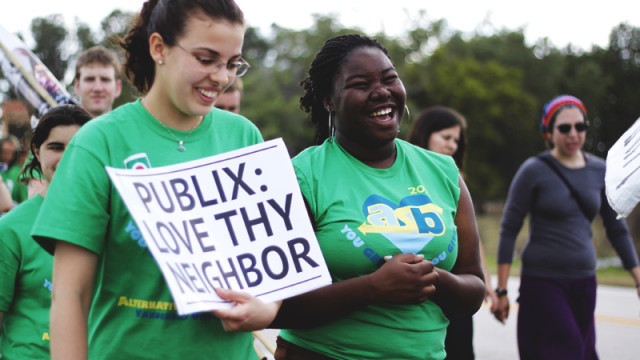 A Message from the Coalition of Immokalee Workers (CIW): United Methodist Women just won't take no for an answer when it comes to food justice and Florida's supermarket giant, Publix! Check out this incredible video, a moving look at three generations of United Methodist Women who are putting their faith into action for Fair Food. UMW […]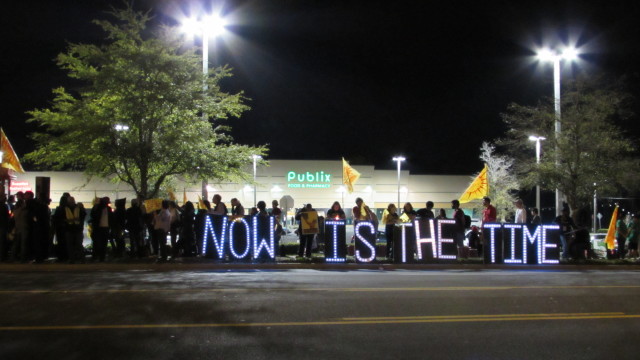 If you live anywhere near the sunny state of Florida, bets are you have heard of a group of tomato pickers who are taking the East Coast by storm.  Formed in the 1990's by a small group of workers who began meeting in a local church to discuss ways to better their living and working […]



Bert Perry (right) of National Farm Worker Ministry hands Publix representative a copy of the State Department TIP report.


On Tuesday, June 29th, the Coalition of Immokalee Workers, allies from Interfaith Action and the National Farm Worker Ministry, and a reporter and photographer from the Florida Catholic traveled to Publix corporate headquarters in Lakeland, FL to deliver a copy of the U. S. State Department's recently released "Trafficking in Persons" (TIP) report. The delegation had hoped to get a meeting with Publix representatives to discuss Secretary of State Hillary Clinton's remarks on the urgent need for corporations to take responsibility for cleaning up human rights abuses in their supply chains.
Instead, they were met outside the offices at the security gate, by a Publix employee who said that he had no authority to speak on behalf of Publix. He accepted a copy of the TIP report and, after a brief exchange with NFWM's Bert Perry, returned to Publix's headquarters with the report.
As the CIW says, "It's time for Publix to stop burying its head in the sand and to heed the growing call for farm labor justice. It's time for Publix to meet with the CIW and join the growing partnership for real supply chain accountability."
In related news, at the State Department's 2010 Trafficking in Persons (TIP) Report ceremony on June 14th, CIW's Laura Germino was recognized as an "anti-Trafficking Hero." In his introduction of Laura, Ambassador-at-Large Luis CdeBaca said, "There have been many cases exposing servitude for both sex and labor in Florida. And the Coalition of the Immokalee Workers and Laura Germino have always been there. They've been important partners and, more importantly, an independent and pressing voice as they uncover slavery rings, tap the power of the workers, and hold companies and governments accountable."
Click HERE to link to the Nation magazine article, Human Trafficking: Not Someone Else's Problem, about Laura Germino's award and the TIP report.
For more news from the CIW's Campaign for Fair Food, click HERE.