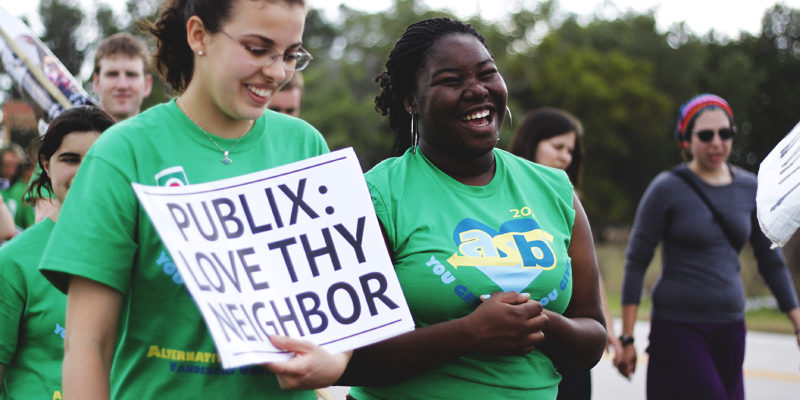 A Message from the Coalition of Immokalee Workers (CIW):
United Methodist Women just won't take no for an answer when it comes to food justice and Florida's supermarket giant, Publix!
Check out this incredible video, a moving look at three generations of United Methodist Women who are putting their faith into action for Fair Food.
UMW released another video last week, this one a broader look at their growing partnership with the CIW for farmworker justice. And second, we have a report from the United Methodist Church's recent Florida Annual Conference in Lakeland, FL (which is Publix's hometown) where Florida's United Methodist community sent Publix an unmistakable message: Farmworkers are a vital part of our community, and to turn your back on farmworkers is to turn your back on us!
First, the video. Produced by UMW for their National Assembly in Louisville this past April, the video was created in order to shine a light on the Campaign for Fair Food as a concrete, living example of UMW's vision of "faith, hope, love in action." To capture the spirit of UMW's involvement, they sent a videographer to both of the major tour stops along the recent Now is the Time Tour.
And that's just Part One of the United Methodist community's message to Publix! At the Florida Annual Conference in Lakeland, dozens of clergy and individuals wrote prayers to Publix, urging executives to live out the beliefs that the company claims to be its founding principles. They collected the dozens of prayers into a single volume. And as is often the case, some of the most touching comments were written by young people, many of whom are from farmworker families.
Here below are just a few samples:
Photo Courtesy of CIW
"Grace of God,
We pray for our brothers and sisters of Publix that they might find a way to put their faith and loving hearts into new action on behalf of their neighbors. The work of justice and reconciliation is difficult mere mortals but in your spirit all is possible. We trust in the movement of your Holy Spirit and look forward to the day when we celebrate a policy of fair trade with Publix soon."
Photo Courtesy of CIW
"My grandma worked picking tomatoes for 20 years in Florida. I pray you would sign the FFA [Fair Food Agreement] so that farmworkers today can have a better life than her.
Thanks. Karla."
Photo Courtesy of CIW
[1] "Dear Publix: As an organization that prides itself in being a Christian organization, it is my prayer that you would open your heart to God's heart for justice — for the poor, the orphan, the widow, the immigrant. May your practices reflect God's care. The world is watching. — Rev. Esther Rodriguez, Trinity United Methodist Church, Gainesville, FL"
[2] "May the same spirit that brings sharing and security to Publix employees bring the same hope and stability to the workers who harvest produce for Publix shoppers. May God fill us all with compassion. Amen."
As a finale to an inspiring few days together, a number of representatives of United Methodist Women joined CIW's Nely Rodriguez to deliver the entire prayer book to the Southgate Publix in Lakeland (a Publix with a long history in the Campaign for Fair Food, including the most recent chapter of the Now is the Time Tour's 24-hour vigil):
Photos Courtesy of CIW
In sum, last week was an inspiring step forward in the ever-deepening relationship between the United Methodist community and farmworkers in Florida working to advance their own human rights through the Fair Food Program. We, too, look forward to the day when Publix joins farmworkers and consumers in the 21st century, in the movement for fundamental, verifiable human rights for the men and women who do the hot, dangerous, backbreaking and underpaid labor to put food on all our tables, and profits in Publix's pockets.
Join the United Methodist Women and stand beside farm workers for better treatment in our nation's agricultural fields. Demand that your local Publix Supermarket or Wendy's Restaurant joins the Fair Food Program and ensure better working and living conditions for workers in Immokalee. Find resources to take action here- Publix or Wendy's.