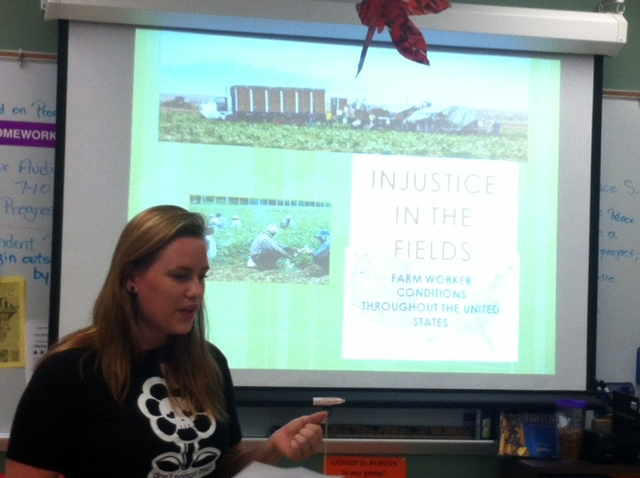 On Thursday, September 6, a group from the Orlando YAYA chapter went to Timber Creek High School in Avalon Park in order to give a presentation on the farm worker movement. YAYA was invited by Timber Creek teacher Wendy Doromal to present in her service learning classes. Five YAYA members attended the event and gave presentations in two of Mrs. Doromal's classes, overall speaking to around 30 students.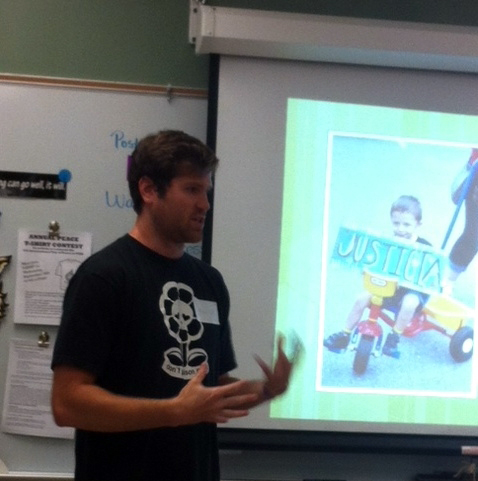 The presentation, delivered via PowerPoint, focused on several of the current issues facing the farm worker movement, discussing topics such as sexual harassment in the fields, sub-poverty wages, and the harmful effects of pesticide exposure.
I feel that the students connected most with the aspects of the presentation focusing on child labor within the agricultural industry, as they were better able to place themselves in context with other people around their same age group, using their experience and understanding of a just work environment to clearly see the injustices of US labor laws that exclude youth working in agriculture.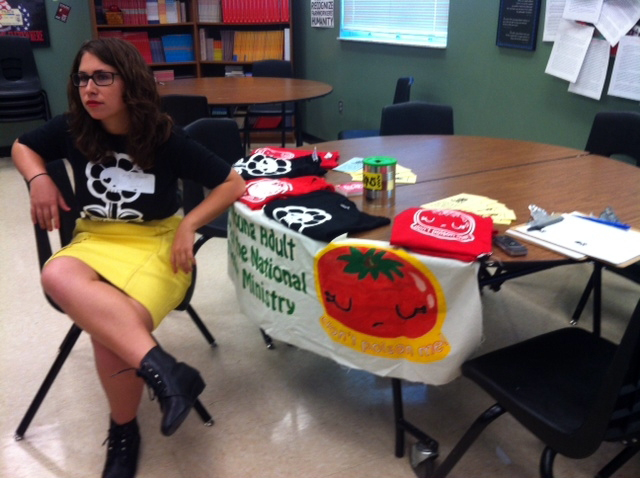 YAYA works from a core belief that awareness and exposure to farm worker issues are key to positive social progress We believe that it is important to change the ways in which our society allows itself to stay complicit in continued injustice within the farm worker industry. A key factor in this process is educating our communities on the many ways in which we are all connected to the farm worker movement, whether we know it or not. This can be as simple as challenging someone to think about the exhaustive process that must happen for us to have food, readily available at a grocery store, on our table every day.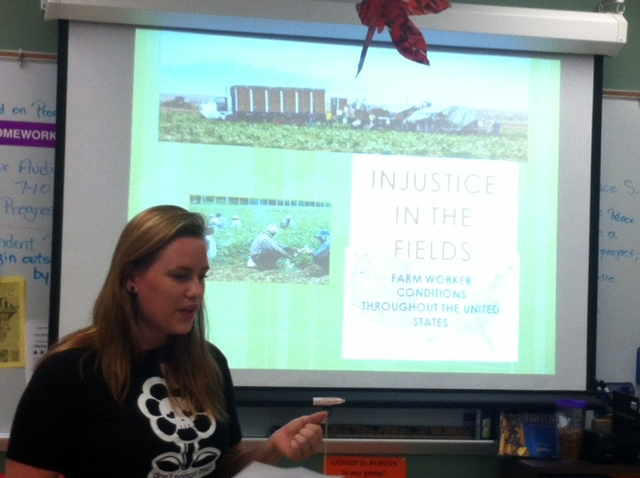 By focusing our outreach on other youth-aged people, YAYA strives to increase awareness of farm worker issues within our peers, as well as encourage them to become involved in the movement, as the rising generation will determine the direction of the many changes that are inevitable to come.
We would like to thank Wendy Doromal for inviting us into her classroom, as well as her students for sharing their space and time with YAYA. We appreciate any opportunity to build community and youth relationships.
Emily Helm
Orlando YAYA
Photos courtesy of Wendy Doromal