On May 17, three Yaya's including myself joined members the Sin Fronteras Youth Group, the Hope Community Center, community members, and allies for a rally in front of the Obama campaign headquarters in downtown Orlando. The purpose of this well attended and spirited rally was to call attention to Obama's promises of immigration reform and in particular his promise to exercise prosecutorial discretion when targeting and deporting g undocumented people living in the United States. This rally was part of a national day of action organized by United We Dream, a national immigrant youth organization that promotes equal access to higher education for all people regardless of immigration status.
It was very important for me to lend my support to this cause, not merely because I believe in the core message of equality for all people regardless of their immigration status, but because I believe in the young people in my community who are organizing out of necessity and who are fighting to keep their families together and for a better life. People who I consider friends have had to deal with the pain of a parent being deported and adapt to the changes and hardships of living in this country with a fractured family unit and in a steadily increasing climate of intolerance and hate towards immigrants.
Personal friends of mine, that I have met through my work with Yaya, have been inside detention centers and have lived through ICE raids. Undocumented people in my community are being racially profiled and thrown into inhumane detention centers everyday. Organizers that I know, and have grown to love as people, have had to take care of infant children whose parents were deported for no reason. Many farm workers who immigrate to this country because of international policies that benefit the extremely rich while displacing and hurting the poor, are now being terrorized by agents and mechanisms from the same global system that has been engineered to make huge profits for corporation's while bleeding and displacing the people.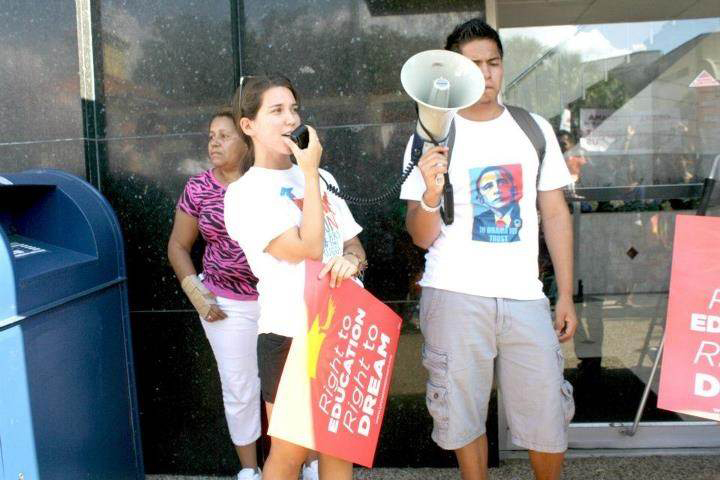 And meanwhile kids are left behind to be treated as second class citizens? I have friends paying ridiculous rates to go to community college even though they are the brightest most motivated students. Their parents worked extremely hard for them to succeed and now they are being thrown even more hurdles from our government and immigration agencies. We need comprehensive immigration reform now and we need to turn our focus away from deporting "illegal" immigrants and on to changing the corrupt and broken system that is breaking up families and forcing bright and able students to remain in the shadows and to stop striving to become what they dream of in this life.
This being said it was my honor to join with my community of friends and organizers from Apopka and Orlando, and to let Obama know that we are watching him and that we don't have amnesia. He promised that he would not focus on deporting non-criminals and we will hold him to it , because this is our community that we are fighting for.
We marched and make noise for a long time outside the building while a delegation went up to the HQ. The delegation received a generic welcome from some unimportant staff person and was basically told that all of our concerns were being taken seriously and not to worry. One member of the delegation, a college professor from Seminole State, reported back to the group with a very eloquent and moving speech. He has some undocumented students in his class and he has seen the struggle that they are going through.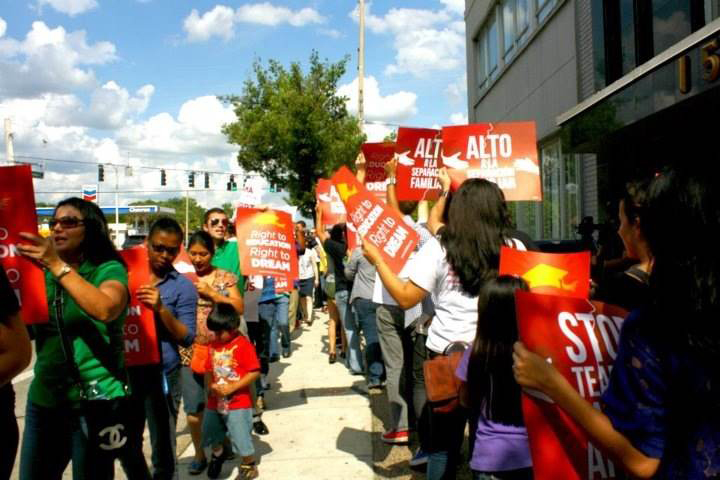 All things considered, the rally was a success. I think that we were visible and got our point across to the media and to the Obama campaign. We will not stop until we get justice for our whole community, not just for the most privileged in society. I was very proud to take part in this event with my fellow Yaya members and to support my fellow organizers at the HCC, who did a great job organizing this rally.
Until we get there,
Cole Lee
Orlando YAYA
Photos courtesy of Evelyn Rivera