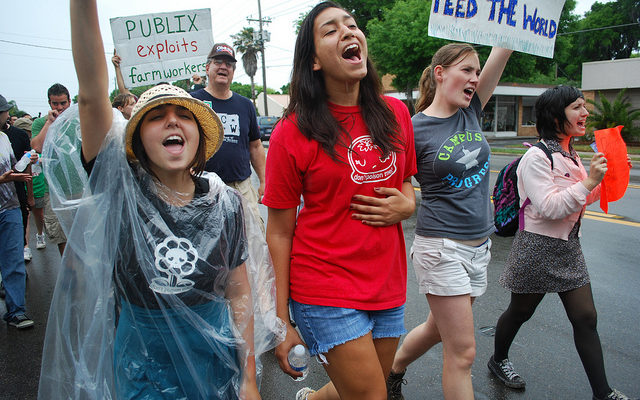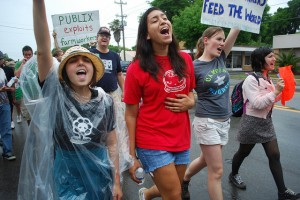 NFWM's Youth & Young Adult Network and NFWM Director Virginia Nesmith will join the Coalition of Immokalee Workers (CIW) and other supporters for the culmination of the CIW's fast outside Publix corporate headquarters in Lakeland, Florida, on March 10th. For details about joining YAYA, visit the YAYA website.
From the CIW press release for The Fast for Fair Food …
On Monday morning, March 5, farmworkers (the men and women who harvest the state's $620 million tomato crop), Reverend Michael Livingston (former president of the National Council of Churches and current director of the NCC's Poverty Initiative), other religious leaders, students, and consumers from Florida and beyond will begin a 6-day fast insisting that Publix – Florida's largest corporation – finally recognize the humanity of the workers who pick its tomatoes and join the CIW's Fair Food Program.
The Fair Food Program is a unique partnership among farmworkers, tomato growers, and ten leading food retailers — including Publix competitors Whole Foods Market and Trader Joe's — that advances both the human rights of farmworkers and the long-term interests of the Florida tomato industry as a whole. It is the first large scale program for real, lasting social accountability in the domestic produce industry.
Fast for Fair Food details (Click here for more details):
Fast for Fair Food begins: On Monday morning, March 5, over 50 farmworkers and their allies will begin a 6-day fast outside Publix headquarters.
The Fast continues: Monday, March 5 through Saturday, March 10, fasters will be stationed around the clock outside of the main entrance to the Publix headquarters at Airport Rd. and Publix Corporate Pkwy., Lakeland. Nightly vigils will take place at Publix Supermarket locations across town.
The Fast is broken: At noon, on Saturday, March 10, Florida consumers will gather at the Publix Supermarket at 3636 Harden Blvd., Lakeland, and lead a solemn, 3-mile procession to Publix headquarters to join with the fasters in a moving, interfaith ceremony to break the fast.