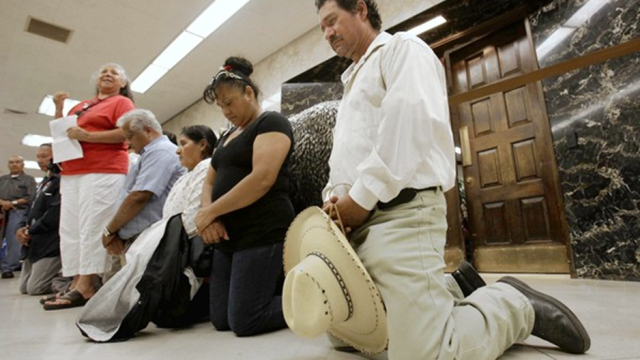 Resource Updates: We are now publishing several faith-based resources that have been created this year by Duke Divinity Intern, Taylor Dellastatious Pfaff. Should you like to integrate these resources into your congregation, personal devotional life, or ministry context, please download and do so! These resources have been added to our two recently updated resource pages, […]
Ryan Nilsen, NFWM Intern Note: This sermon references Isaiah 5:1-7 and John 15:1-8. "Let me sing for my Beloved my love-song concerning his vineyard." Now, I'm not a very good singer, and I am not going to call myself an expert on love-songs, but did you all just hear what the prophet Isaiah is calling […]
Farmworker Awareness Week 2011
Ideas for Action
Education
• Preach a sermon that includes farmworkers.
• Include farmworkers in pastoral prayers.
• Teach a Sunday-school class or small group on farmworkers, including their living and working conditions.
• Offer a resource table at your congregation on farmworker issues (include pamphlets, current campaigns, etc.)
• Host a screening of a DVD about farmworkers.
• Host a meal and describe the contributions of farmworkers to the food.
Service/Ministry
• Have a food, clothing and or medical kit drive at your congregation to benefit local farmworkers.
• Visit a migrant farmworker camp in your county with members of your congregation.
• Form a congregational partnership with a local organization that works with farmworkers (such as a health clinic, etc.).
• Attend worship at a congregation with farmworkers in your community.
Political/Public Action
• Write a letter to the editor supporting farmworkers.
• Host an event where everyone writes an individualized letter to the editor supporting farmworkers.
• Host a postcard or call-in event to support ongoing farmworker campaigns.
• Host a letter-writing or postcard campaign to contact state/national political leaders about legislation that affect farmworkers.
• Take members of your congregation to meet with members of state and local governments to express support for measures that improve the living and working conditions of farmworkers.
• Organize or attend a march with farmworkers.
Look for more ideas under Resources.
Autobiography of La Causa. Jacques E. Levy. W.W. Norton & Co. 1975.
Conquering Goliath: Cesar Chavez at the Beginning. Fred Ross. El Taller Grafico Press. 1989.
With These Hands: The Hidden World of Migrant Farmworkers Today. Daniel Rothenberg. University of California Press. 1998.
The Human Cost of Food: Farmworkers' Lives, Labor and Advocacy. Edited by Charles D. Thompson, Jr., and Melinda F. Wiggins. University of Texas Press, 2002.
California's Broken Promises: The Laws on the Books are Not the Laws in the Fields. Stories and photos of California Farm Workers. Published by the UFW, 2007.
Florida's Farmworkers in the 21st Century. Nano Riley & Davida Johns. University Press of Florida. 2003.
Immokalee's Fields of Hope. Carlene A. Thissen. iUniverse Press. 2003.
Photographing Farmworkers in California. Richard Steven Street. Stanford University Press. 2004.
The Radical Peasant. Gerald F. Cox. Trafford Publishing. 2006.
Biography of Fr. Charles Philipps, diocese of San Francisco, who mentored several young priests who were early and life-long activists in the farm worker movement, and active with the UFW.

For children:

Cesar Chavez. Ruth Franchere. Illustrated by Earl Thollander. Thomas Y. Crowell Company. 1970.
Harvesting Hope: The Story of Cesar Chavez. Kathleen Krull. Illustrated by Yuyi Morales. Harcourt, Inc. 2003.



"Viva La Causa", Southern Poverty Law Center (2008) 39 min.
Documentary focusing on one of the seminal events in the march for human rights – the grape strike and boycott led by César Chávez and Dolores Huerta in the 1960s.
"California's Harvest of Shame", CA Progress Report (2008) 20 min.
A short documentary showing some of the current conditions facing California farmworkers.
"Immokalee U.S.A.", Georg Koszulinski picture (2008) 78 min
Documentary chronicling the daily experiences of migrant farmworkers living and working in the U.S.A.
"Standards of Living", WRAL Television (2005) 21min
Documentary on Migrant Housing in North Carolina
"Justice on the Table", Moving Images Productions (2003) 25 min.
Documentary challenging us to consider the conditions under which our food is grown and ask, "Is this justice?"
The Struggle in the Fields: Cesar Chavez & the Farmworkers' Struggle. Paradigm Productions. 25 minutes. 1997.
Farmworkers Lives & the Work of NFWM – 11 mins.
DVD now available fom NFWM or or view online
Part I & Part II
Growing Up As A Farmworker Child – Catholic Migrant Farmworker Network, 1.5 mins.
AFL-CIO
Catholic Migrant Farmworker Network
Farmworker Justice
Global Exchange on Farmworkers
Interfaith Worker Justice
Justice and Advocacy Commission of the National Council of Churches
Labor Net
National Center for Farmworker Health
Oxfam America
Sarasota-Manatee Farmworker Supporters
Student Action With Farmworkers
United States Conference of Catholic Bishops: Migration & Refugee Services
In the spring, NFWM traditionally encourages each of our supporters to celebrate Cesar's birthday by sharing your commitment to farm worker justice with others. Your commitment changes others.
Use this time of celebration & remembrance to continue Cesar's work. Look over the ideas and resources below and choose something that works for you.
Do you teach? Or desire to lead a study group? The Chavez Foundation and NFWM offers some great resources to bring the lessons of Chavez and the struggle for farm worker justice to your own community.
THE DOWNLOAD OF BLESSING THE HANDS (BTH) IS CURRENTLY DISABLED. FOR YOUR FREE PDF OF BTH, EMAIL SUSAN AT NFWM@NFWM.ORG.
NFWM's Curriculum on Farm Workers is available as a Free Download, you will first need to fill out a short registration form. A hardcopy version is available for $5.00 by emailing nfwm@nfwm.org.
The food that overflows our market shelves and fills our tables is harvested by men, women, and children who often cannot satisfy their own hunger
– Cesar Chavez
A Brief History of Farm Labor in the U.S., prepared by Lori Fernald Khamala, is available as a PowerPoint presentation. It outlines the history that since the 1600's these workers have often been imported from other countries with vulnerable populations; have always been a disenfranchised group of workers; and have in general NEVER had the right to vote. Contact NFWM if you would like a copy, or download the presentation.
Migrant and seasonal farm workers perform numerous tasks necessary for cultivating and harvesting a large share of our nation's food supply. But in spite of their backbreaking labor, the vast majority of agricultural workers do not enjoy the same rights and benefits that most of us take for granted.
According to author Daniel Rothenberg: "Farm workers commonly suffer abuses that would be inconceivable in other industries. They are threatened, cheated out of their wages, housed and transported in dangerous conditions, and in the most extreme cases, held in debt peonage.Farm workers have always been recruited from among the most vulnerable members of American society–recent immigrants, the homeless, the rural poor–and have consistently been denied the legal protections provided to other workers." (Daniel Rothenberg, With These Hands: The Hidden World of Migrant Farmworkers Today. Harcourt Brace and Company. New York, San Diego, London. 1998)
One good overview of farm worker conditions and issues in the U.S. is provided in a Food First publication, Migrant Farmworkers: America's New Plantation Workers. Good information on a wide variety of farm worker issues is also available at the National Center for Farmworker Health.
Here is a summary of the living, working and health conditions of our nation's approximately two million migrant and seasonal farm workers:
Below-Poverty Wages, Malnutrition & Hunger
Hazardous & Unsanitary Working Conditions
Slavery in the Fields
Childhood & Child Labor
Migrant Education
Third-World Housing Conditions
Health Concerns
Women Farm Workers Face Special Challenges
Lack of Legal Protections & Social Benefits
Thank you to David Oddo for researching and writing the Farm Worker Conditions section.