NFWM Endorses CIW's Boycott of Wendy's
Support the Coalition of Immokalee Workers
Honor the Boycott of WENDY'S fast food chain until they sign on to CIW's Fair Food Program.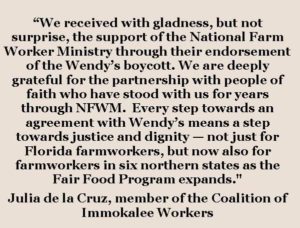 NFWM announces their endorsement of the boycott Wendy's because of Wendy's refusal to join the Fair Food Program of the Coalition of Immokalee Workers (CIW).  Because the National Farm Worker Ministry is a faith-based organization committed to justice for and empowerment of farm workers, the board of directors gave unanimous approval of this boycott after learning that CIW had taken it from a student boycott to a national boycott earlier this year.
NFWM will promote this boycott through its networks and member organizations to encourage even more groups to sign on to the boycott, deliver store manager letters at local Wendy's and to participate in public actions.  Previously, NFWM joined CIW on their successful Taco Bell boycott and actions with McDonalds, Burger King, other fast food giants and supermarkets, bringing the voice of their network to put pressure on these companies to sign on to the Fair Food Program.
NFWM Boycott Resolution
NFWM Press Release
NFWM has also sent a letter to Wendy's CEO informing him of the NFWM endorsement of the boycott and calling on him to meet with CIW and sign on to the Fair Food Program.
NFWM Letter to Wendy's
For the past three years, we have called on Wendy's to seize the opportunity to join the CIW's Fair Food Program, an historic partnership among farm workers, Florida tomato growers, and 14 multibillion-dollar food retailers. By refusing to participate, Wendy's has opted to profit from farm worker abuse and poverty and is continuing to provide a market for less reputable growers, while deriving a very real cost advantage over its competitors.
Why Boycott Wendy's?
1) Wendy's abandoned the Florida tomato industry
Wendy's has not only refused to join the Fair Food Program (FFP), but has stopped buying tomatoes from Florida since the implementation of the FFP there. Rather than support an industry setting new standards for human rights, Wendy's took its tomato purchases to Mexico, where workers continue to confront wage theft, sexual harassment, child labor, and even slavery without access to protections.
2) Wendy's Has Chosen Public Relations Over Human Rights
Instead of joining the FFP and its widely-acclaimed, successful worker-driven model of social responsibility, Wendy's released a new supplier code of conduct that contains no effective mechanisms for worker participation or enforcement. Wendy's new code represents the very worst of the traditional corporate approach to social responsibility driven by public relations rather than human rights.
3) Wendy's Is Profiting From Farm Worker Poverty
Wendy's stands alone as the last of the five major fast food corporations in the country to refuse to join the FFP: McDonald's, Burger King, Yum!Brands and Subway are all doing the right thing and participating in the Program. By refusing to join, Wendy's is deriving a very real cost advantage over its competitors, while continuing to provide an alternative market for less reputable growers.
LEARN MORE
TAKE ACTION –  JOIN the WENDY'S BOYCOTT
I pledge to boycott @Wendys until the final fast food holdout joins @FairFoodProgram! bit.ly/boycott-wendys #BoycottWendys
Join Us & Boycott Wendy's until they sign on to the Fair Food Program.  Thank You!