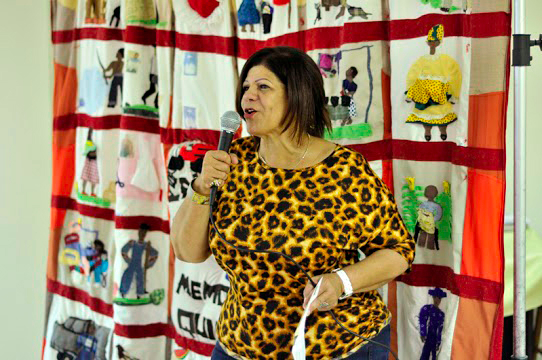 On Saturday April 13th, five YAYAs came together to volunteer their services to the farm working women at the Annual Farm Worker Association of Florida, Woman to Woman Conference in Apopka, Florida. The conference was held at the Church of the Holy Spirit.
The city of Apopka is known as "The Indoor Foliage Capitol of the World, " serving as a great location to host the conference. This event enables farm working women to gather together and discuss the effects that farm work has on a women's body. Farm worker women also gain knowledge about the services available in their communities that may help alleviate some of these issues.
There event offered workshops and discussions on topics like domestic violence, parenting, or exercise. There was even a quick Zumba session held to exemplify the importance of making exercise a daily routine and living a healthy lifestyle. YAYA was glad to help serve refreshments, assist in child care and the clothing drive, hand out gift bags, clean and set up the workshops.
It is important for events of this nature to take place because Women make up 22% of the agricultural workforce in the United States and also serve as the foundation that holds most families together. Women are oppressed daily, socially and economically in the work field. Sexual violence occurs on a continuum. Farm worker women have to endure horrid conditions and many obstacles including fear, shame, cultural or social pressures, poverty, language barriers, and confusion due to lack of information about their rights as well as available resources.
I believe that this event served as a great opportunity for farm worker women and YAYA members to learn more about farm worker women's health and work related issues. The event made me realize about the importance of using your voice to educate others about issues that concern you. It also made me realize how important it is to have a plan on how you want to take action. Bringing awareness to a cause is a key component in making positive change. These campaigns are supported by YAYA because they seek to improve the oppressive conditions faced by the workers who harvest our food.
Rosa Outing
Orlando YAYA
Photos courtesy of Emily Helm