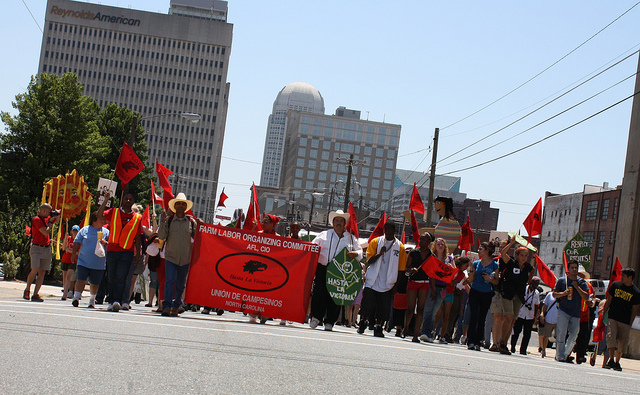 In 2011,
National Farm Worker Ministry
joined other faith justice advocates in signing on to a letter regarding concerns about
Reynolds' tobacco supply chain
. The Pantry Inc., the parent company of Kangaroo Express, is an integral part of Reynolds' tobacco supply chain because 39% of Kangaroo Express sales come from tobacco products.
On March 13, 2014, National Farm Worker Ministry Executive Director Rev. Lindsay C. Comstock as well as Associate Director Susan Alan and Communications and Development Director Kelli Sue Davis will be attending the The Pantry, Inc. Shareholders Meeting in Raleigh, North Carolina to voice continued concern for tobacco farm workers. "As people of faith we are deeply concerned about the human rights violations and deplorable living and working conditions in North Carolina's tobacco fields. The quality of life for our brothers and sisters in the fields should not be held to a different standard than those working long hard hours elsewhere. We are optimistic that The Pantry, Inc. will do right by farm workers and agree to work with FLOC leadership," said Rev. Comstock.