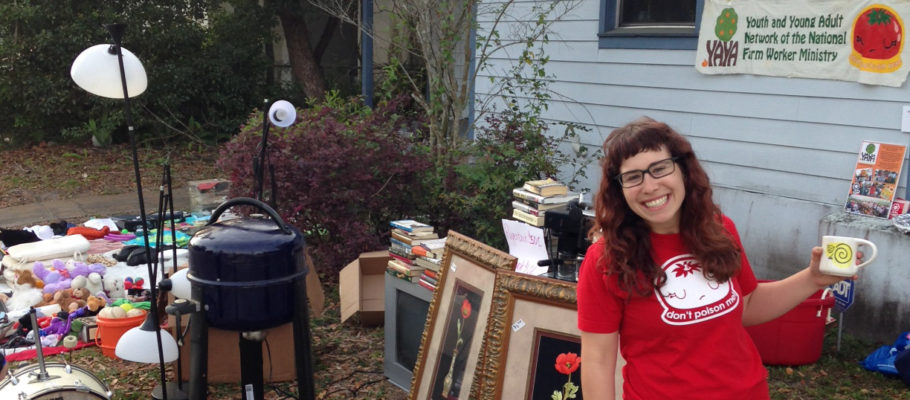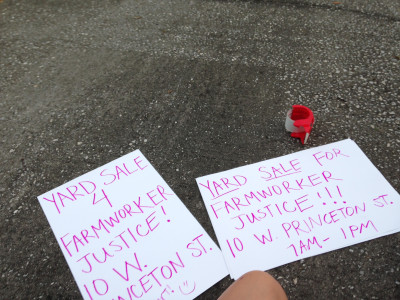 On Saturday, March 22nd, Orlando YAYA held an annual yard sale and bake sale in the College Park area to kick off Farm Worker Awareness Week.
In preparation for the event we gathered generously donated items and supplied an assortment of delicious baked goods. Our day began bright and early at 6:00 am when we set up shop to display our enticing goodies for the eager bargain shoppers. We had everything from furniture, to children's toys, to Oreo stuffed chocolate chip cookies. YAYA member Jonathan Alingu even modeled some of the stylish clothing for interested shoppers. Eventually the neighborhood started bustling and we received an influx of people from about 12:00 pm to 3:00 pm.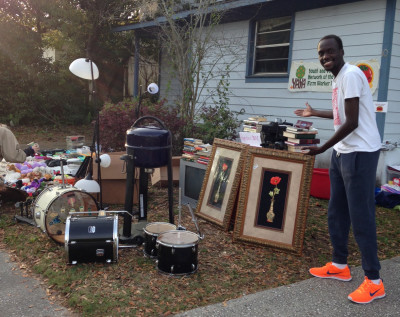 While folks were browsing the merchandise, we engaged in conversations with each one of them about the purpose of the event and how the funds would be used to aid the continuation of our work in solidarity with farm worker organizations. A large focus of the day was to create a dialogue with the general public, bringing awareness to the issues farm workers face to put food on everyone's table. People were stunned to learn where their food comes from but our message was well received by many. It was refreshing and encouraging to have such positive interactions with people in the community and know that they were so willing to make contributions to the work that YAYA is doing while wanting to learn more about it.
We made sure to distribute information regarding the different campaigns we work to support such at the Farm Labor Organizing Committee's campaign against tobacco giant Reynolds American and the Coalition of Immokalee Workers' Fair Food Campaign. Additionally, we discussed our great opportunities working with the Farm Worker Association of Florida and helping out with the Fellsmere Community Garden.
Overall, it was a hugely successful yard sale and bake sale fundraiser that got everyone pumped to roll into Farm Worker Awareness Week. We would like to extend our deepest gratitude and give many thanks to everyone who donated yard sale items or made monetary contributions to YAYA. Our ability to continue this work in support of farm worker issues is due is large part to the support we receive from the people in our surrounding communities.
Heather Bryan
Orlando YAYA
Photos courtesy of Cristina Berrios