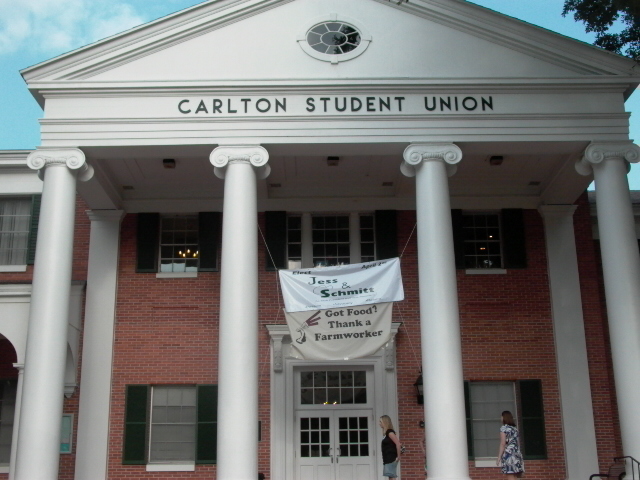 In our continued to effort to inform the Stetson campus of the many injustices toward farm workers that are occurring both here in our state of Florida and around the country, and in celebration of Farm Worker Awareness Week, we set up an information table all week long. We had a variety of information about the injustices that are happening in the fields from the Farm Worker Association of Florida and other organizations. We also had the Cesar Chavez National Holiday petition, the CIWs petition to end Modern Slavery in the fields and FLOC postcards and information.
We setup banners in the middle of the campus for students, faculty and staff members to see and think of a reality many aren't familiar with.
We held a movie screening open to students and the public. We showed three CIW films – "Y Ahora Que", "Con Estas Manos", and "Immokalee: From Slavery to Freedom." The students who participated in this movie screening had no idea of the injustices occurring in the fields, so it provided for a very new and shocked group, who were surprised with the conditions of these workers. Because it was new to them we ended the screening with a discussion on the issues and why these conditions exist today. Jonathan Charles said, " …its amazing to see that the majority of people here think we have gone far in issues like slavery and civil rights but in reality we haven't we have just found others to "pick on." Ya basta!"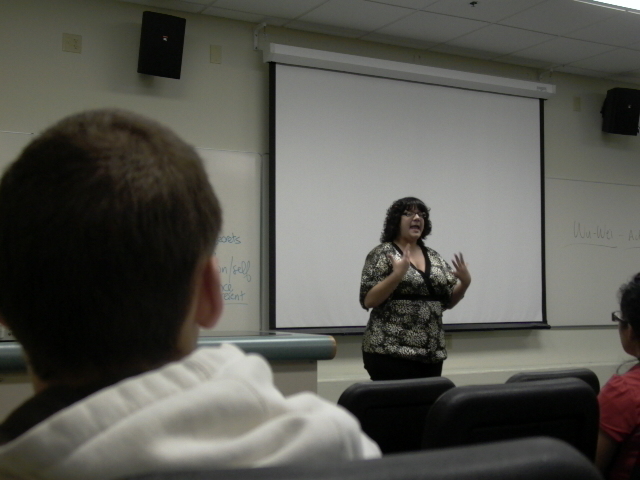 On March 26, we had a Farmworker and Human Trafficking lecture presented by Giselle Rodriquez of the Florida Coalition against Human Trafficking. This lecture again was open to all. Giselle spoke to us about the many cases of human trafficking that have been found. She spoke of how many of the human traffickers are targeting the farm working communities. She also gave the group an introduction on identifying victims of human trafficking. We can help the victims of human trafficking by looking for these signs and making sure we contact the right people. We learned a lot from her lecture (Thanks to Giselle for her time spent here at Stetson University)!!!
On April 12, although Farm Worker Awareness Week as officially over, we gleaned!! Gleaning gave us a brief taste of the daily struggles that farm workers face. We picked over 9000 lbs of grapefruit and distributed it to programs for the hungry. It was an excellent experience, being able to put ourselves in the shoes of the farm workers. It reminded us of what we are striving to achieve –justice and respect for farm workers!!
This week was an excellent way of showing our support for farm workers all around the country! For those who didn't know much about the struggles that farm workers face, they learned and became familiar with these issues. We look forward to standing in solidarity with farm workers around the country!! A special thanks to YAYA of the National Farmworker Ministry for all the help and support!!
Si se puede!