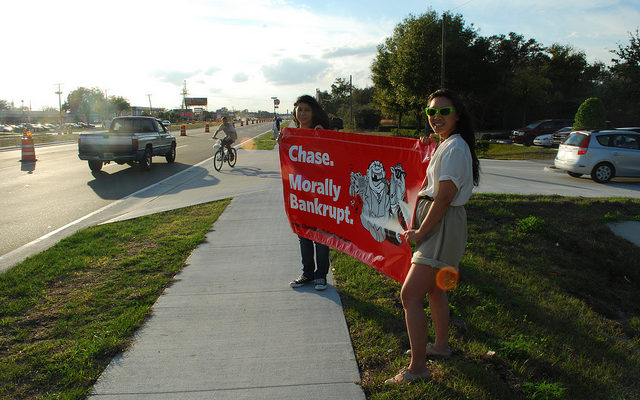 On February 4, the Farm Labor Organizing Committee (FLOC) sponsored a national Day of Action targeting Chase Bank for their nationwide lead in home foreclosures and financial support of RJ Reynolds tobacco. FLOC is asking Chase to halt all foreclosures and bring RJ Reynolds to the table with the farm workers to procure guaranteed protection of their rights.
Orlando YAYA showed solidarity with FLOC by participating in the Day of Acton at five Chase branches across Central Florida. YAYA's Curtis and Dominique, along with supporter Camille protested a branch off of Aloma Ave. in Seminole County.
The group held a banner depicting Chase's lead in home mortgage foreclosures and connections with Reynolds tobacco. A few motorists honked in approval and one gentleman described his unpleasant experiences dealing with Chase. Fliers were also passed out to pedestrians and motorists. At the end of the action the group entered the bank to talk to the manager. However, due to time constraints the group's message was relayed to a bank teller who agreed to inform his boss of our message. Nonetheless, the action was effective in both illustrating YAYA's solidarity with FLOC and informing the public about Chase's unethical, immoral practices.
-Curtis Hierro
Orlando YAYA
---
On Friday, the fourth, Huong and I met Carolina at the Chase on 9505 East Colonial Drive Orlando, FL 32817, where we noticed, right away, that the sidewalk was really far away from the entrance, thus, sadly, minimizing our contact with Chase customers. As for the whole thing it went pretty well, the weather was really nice; there was a good breeze blowing, plus the sun was, like 70 percent on it's way to the horizon; my favorite! Even though there was only about 30 cars that drove in; no one walked to this Chase, I would say that we talked to 8 cars. All of them were really awesome people that were thankful for us being there, heck, one of them even gave me his phone number since he ran a clinic, or something, to help people quit smoking; not exactly what we were there for but he got the message, and a flier!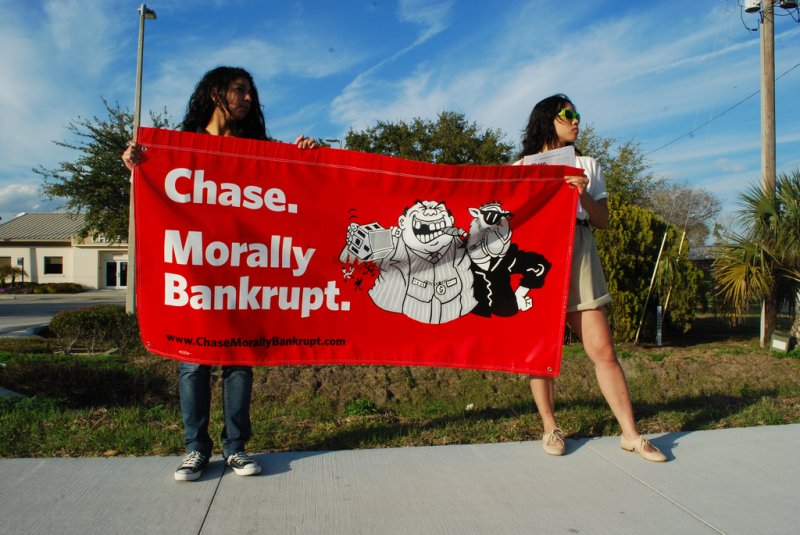 The only time we encountered Chase in its harmless human form, was when they sent an employee to check us out. He was kinda annoyed that he had top do that task, so as soon as we explained our objective, and he saw that we were harmless, and cute, he just walked away. He wouldn't even take a flier from us! He just didn't care, sadly.
Once we were satisfied, Carolina left for a study group and Huong and I checked out the amazing local shops that we would have never noticed had it been for this peaceful action.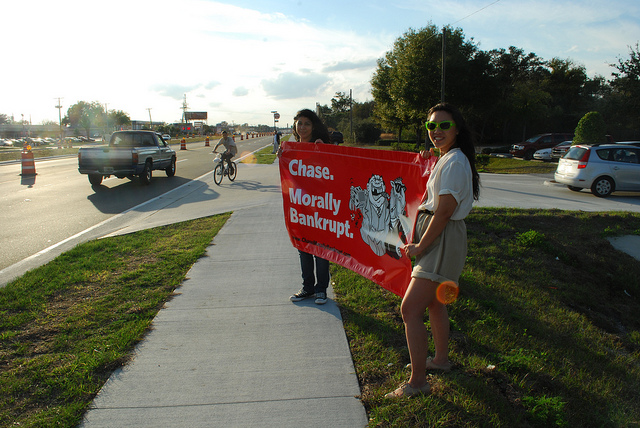 Peacefully,
Juan Barredo
Orlando YAYA
(Photos courtesy of Juan Barredo)