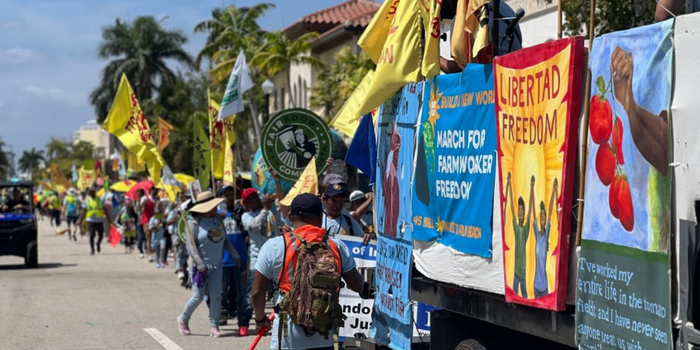 Written By: Julie Taylor, NFWM Executive Director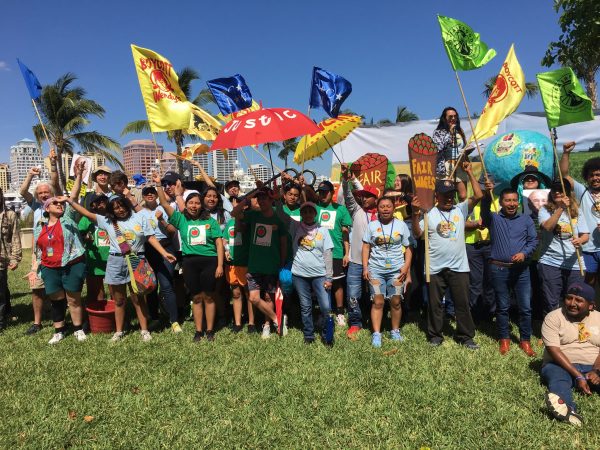 On Tuesday, March 14th, 120 CIW farm workers, organizers, and supporters took the first steps on a march to Palm Beach. They began at a housing complex in the small agricultural community of Pahokee, which served as the labor camp for a sprawling forced labor conspiracy case that the Coalition of Immokalee Workers (CIW) helped to uncover. Over the next four days, this group trudged through rain and heat to make their way to one of Nelson Peltz's home communities so they could send him a message. Nelson Peltz is the Chairman of the Board of the Wendy's Corporation, which the CIW has been boycotting since March 2016 because they are the last of the largest fast food companies in the US yet to sign the Fair Food Agreement. CIW is relying on consumers/supporters/people of faith and conscience to pressure Wendy's into doing the right thing for farm workers. The Fair Food Program is a worker-driven socially responsible food certification program led by farm workers to benefit farm workers and food companies.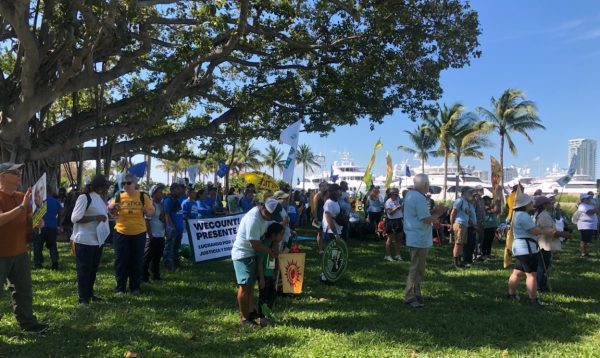 The marchers arrived in Palm Beach the night before and then gathered with additional supporters on Saturday, March 18th, at a park next to a Palm Beach marina. Under the canopy of mangrove trees with a stage set in a grassy area, almost 600 people, marchers included, met to hear speeches, watch popular theater performances, join in chants and listen to why it was important to stand with the people who feed us. Immokalee farm workers in the group come from a community where the median income is $30,000 per year, and they were standing in a community where the median income is $169,000 per year. The contrast is both stark and shameful when farm workers are basically asking for fair treatment, recourse when things go wrong, and a mere penny a pound more for the tomatoes they pick. Another visible contrast was in the marina behind the stage, where multiple yachts were docked, including some that looked like small cruise ships. Farm workers and supporters arrived in buses, vans, cars, trucks, and on foot.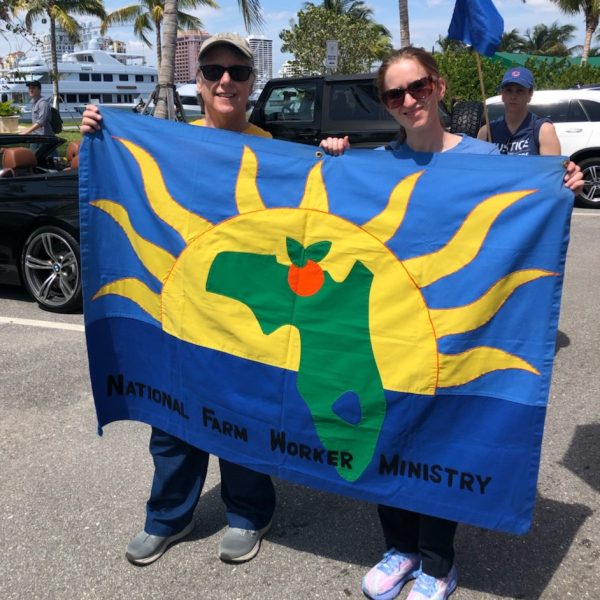 NFWM joined farm workers and allies who were there to take the final steps with the workers who had been walking the 50 miles from Pahokee. It was just two miles of public witness walking around the community of Palm Beach. NFWM carried a banner that our youth and young adult group (YAYA) created years ago, which had the outline of Florida. Step-by-step, Rose Green-Flores, our Director of Communications, and I found ourselves walking along streets lined with magnificent homes and apartments, expensive places of business, and shops that we could not afford as we joined the farm workers with chants of "What do we want? Justice! When do we want it? Now!" and others. Here we were wedged in between a farm worker couple with a small boy in a wagon and a group of young adults who had t-shirts that identified them as having environmental concerns. The megaphone behind us kept up the chants of the truck in front of us, which was immediately followed by four farm workers carrying poles on which a three-foot model of the world sat to represent the theme of this march to "Build a New World." A NEW World!
All this made me ask myself, who suffers? Who benefits? Wendy's management and shareholders do not suffer. They benefit from the exploitation of those who pick their tomatoes. Farm workers suffer under the conditions and low wages of their toil. Farm workers are not asking for a yacht. They're not asking for a mansion. They're not asking for vacation homes in amazingly beautiful places. They're just asking for a mere penny a pound more for the tomatoes they pick. They're asking for fair wages, decent living conditions, protection from heat stress and pesticides, and to be treated with dignity.
At the end of the march, we rested in the shade of the trees, laying on green grass, rehydrating ourselves after the hot sun. The farm workers acknowledged those who had helped along the way, and NFWM publicly committed to persisting in our efforts to make Wendy's see that we're still here, we're still boycotting, and we are not going away until farm workers get justice. As people of faith and conscience, it is our privilege to stand with the people who feed us and who show us the depth of humanity and grace.
You can take action by honoring the Boycott of WENDY'S fast food chain until they sign on to CIW's Fair Food Program. Please deliver a letter to your local Wendy's manager. We want to reach as many locations around the country as we can as a demonstration that there is widespread national support for the Wendy's boycott. When you deliver the letter, please let us know by emailing us at nfwm@nfwm.org.