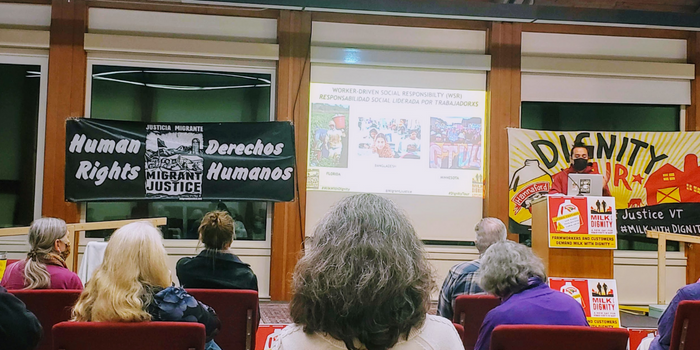 This April, farm workers from Migrant Justice in Vermont are hitting the road again to spread the word about Milk with Dignity and the campaign with Hannaford supermarket!
Milk with Dignity brings together dairy farm workers, consumers, farmer-owners, and corporate buyers with the principal goal of fostering a sustainable dairy industry that advances farm workers' human rights, supports farm owners' long-term interests, and provides an ethical supply chain for retail food companies and consumers.
Farm workers in the Northeast have been campaigning and building public pressure to get Hannaford to sign on to this incredibly successful program for over three years now!
They are looking for congregations and community groups across the Northeast (ME, MA, NH, NY, RI, VT) to host a 1.5-hour action-based, participatory presentation about Milk with Dignity to learn how to support farm worker rights in this campaign, and join increasing actions to put pressure on Hannaford.
Can you host a presentation in your community this April? Presentation hosts have been asked to commit to:
Provide a physical space for the presentation

Do outreach to your congregation/community/organization (Migrant Justice will provide you with templates for social media, email listservs, and newsletters, etc)

Turn out at least 20 people to the presentation
Not in the Northeast? You can help by sharing this request with your friends and family in the Northeast. If you or someone you know is interested in hosting a presentation, please reach out to the National Farm Worker Ministry at jtaylor@nfwm.org for more information.