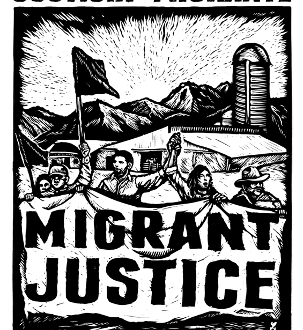 The mission of Migrant Justice is to build the voice, capacity, and power of the farm worker community and engage community partners to organize for economic justice and human rights. They gather the farm worker community to discuss and analyze shared problems and to envision collective solutions. Through this ongoing investment in leadership development, members deepen their skills in community education and organizing for long-term systemic change.
---
History and Structure of Migrant Justice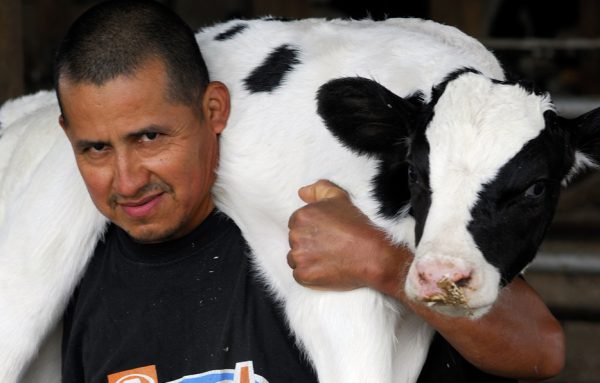 The seeds of Migrant Justice were planted in 2009 after a young dairy worker José Obeth Santiz Cruz was pulled into a mechanized gutter scraper and was strangled to death by his own clothing. This tragedy inspired the production of the documentary film Silenced Voices and led to the formation of a solidarity collective that partnered with farm workers to gather the community to share food, discuss community problems, envision solutions and take collective action. From this process, members defined problems and created a human rights agenda. Migrant Justice has gained national attention for their cutting edge human rights organizing and their concrete victories.
Migrant Justice members organize three regional farm worker community assemblies, in the states' largest dairy regions, where farmworkers meet monthly to discuss community problems, identify community needs and involve members in their work. They are led by a Farmworker Coordinating Committee, which meets monthly to develop, implement and evaluate their campaigns and strategies in partnership with staff organizers.
---
Milk With Dignity and the Hannaford Campaign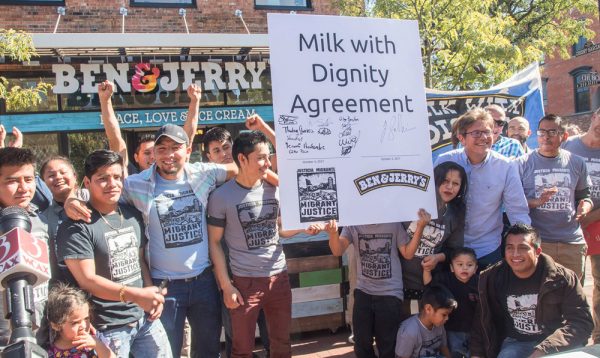 The Milk with Dignity campaign builds a movement of farm workers and allies calling on dairy companies to ensure respect for human rights in their supply chains by joining the worker-driven Milk with Dignity Program.
Vermont dairy farm workers are fighting for the human right of access to dignified work and quality housing. The Milk with Dignity Program invites corporations, which are profiting from the dairy industry, to take responsibility for abusive conditions in their supply chain. This can be achieved by ensuring that their milk is sourced in compliance with farm worker-defined and enforced Milk with Dignity Standards. Additionally, profits in the dairy industry must be redistributed to both the farm worker and farmer. The program requires participating corporations to pay a premium that is shared between workers and farmers. The Milk with Dignity Standards Council is the third party body which monitors and enforces the Milk with Dignity Standards modeled after the groundbreaking work of the Fair Food Standards Council formed by the Coalition of Immokalee Workers for the Fair Food Program.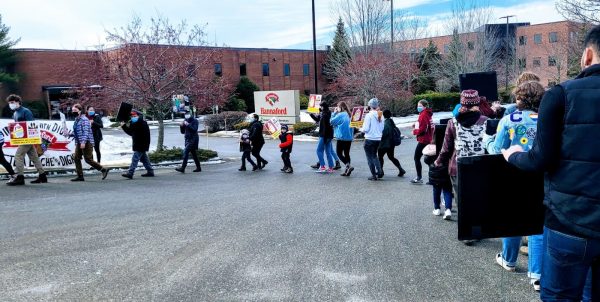 Migrant Justice is currently working on a campaign to expand Milk with Dignity to the northeast supermarket chain Hannaford. Why Hannaford? Workers on farms that produce Hannaford-brand milk:
1. Make less than minimum wage
2. Work 7 days a week without adequate rest
3. Have high rates of preventable injuries
4. Live in substandard – even dangerous – housing
Learn how you can support the Hannaford Campaign.
---
NFWM and Migrant Justice
Migrant Justice staff spoke to NFWM's board in the summer of 2020. In December 2020, NFWM sent a letter to Hannaford asking them to join the Milk with Dignity campaign. In January of 2021, NFWM's board endorsed the Milk with Dignity Program and continue to support the efforts of Migrant Justice to forward this worker-driven, socially responsible model for dairy farms.
Key NFWM Actions in Support of Migrant Justice
NFWM sends a

letter

to Hannaford Supermarkets urging them to join the Milk with Dignity campaign and end abuse and exploitation on their dairy farms.

NFWM's 2021 Harvest of Justice materials included the Milk with Dignity Program as part of farm worker led food certification and an important way to work on food justice. See the

video

and

resources

.