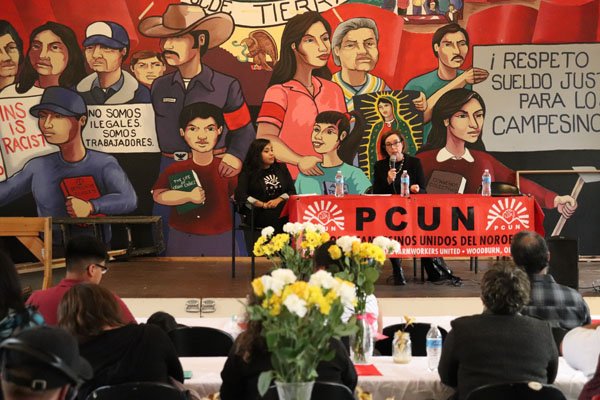 We are proud to share that PCUN will be receiving the 2022 Peacemaker of the Year Award at the 33rd Annual Salem Peace Lecture. You can catch the lecture on Willamette University's YouTube page at https://www.youtube.com/watch?v=a4YvlcIAbX0.
From Salem Peace Lecture on selecting PCUN for the award: PCUN has provided leadership, advocacy, and people power to improve the lives of our farm workers since 1976. PCUN works to combat the long-standing inequities that farm workers and Latinx working families face by advocating at both the state and national levels for safer working conditions and fair wages. Through their advocacy and community-building, PCUN aims to empower Latinx families to take action against exploitation and to have a voice in the policies that affect their well-being. In the face of the growing Latinx workforce, PCUN recognizes that it is more important than ever to fight for our farm workers and Latinx population to be treated with dignity, respect and a fair chance at economic security.
We also extend our felicitations to Rev. Connie Yost, leader of Farm Worker Ministry Northwest, who recently received the "Moral Voice Award" from Portland Jobs with Justice
From Connie: "It was quite an honor to be presented with this by Portland Jobs with Justice at their first in-person function since 2019 attended by 250 worker activists. Portland Jobs with Justice has been an important partner with FWM-NW for many years, publicizing our actions in their e-news even when they are in Washington state. I have so valued my ministry to workers as part of my involvement with the Faith Labor Committee of Portland Jobs with Justice, which over the years has included being present with Burgerville workers during their bargaining sessions, and speaking at rallies for the Nabisco and Starbucks workers."
We are excited to see our partners in Oregon awarded for their amazing work!