Based in Woodburn, the center of Oregon's agricultural industry, PCUN-Pineros y Campesinos Unidos del Noroeste (Northwest Treeplanters and Farmworkers United), is Oregon's farm workers union and largest Latino organization in the state.
Founded in 1985 by 80 farm workers, PCUN has since registered more than 6,000 members, 98% of which are Mexican and Central American immigrants, and to encompass a wide variety of organizing projects.
PCUN's fundamental goal is to empower farm workers to understand and take action against systematic exploitation and all of its effects. To achieve this end, PCUN is involved in community and workplace organizing on many different levels.
PCUN'S major programs include, it's Collective Bargaining Committee (CBC); the Service Center providing services such as translation, recommendations to lawyers for work-related incidents, and immigration services; their community radio station, Radio Movimiento: "Radio Movimiento" (Movement Radio) with the slogan "La Voz del Pueblo" (The Voice of the People);
policy work with the Oregon Legislature to promote, protect, and develop just farm worker rights through legal means and policy work on a national level to promote legalization for undocumented workers and to ensure immigrants' rights; PCUN's Workplace Health projects.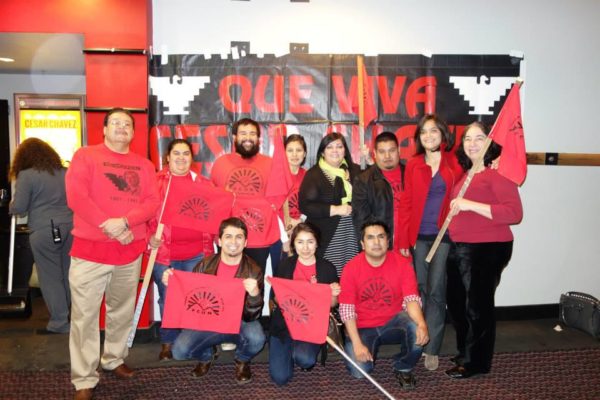 ---
History
PCUN developed from the Willamette Valley Immigration Project (WVIP), organized in 1977 in response to an increase in Immigration & Naturalization Service (INS) raids in Oregon. It provides legal advice and representation to undocumented workers. PCUN is founded in 1985 as Oregon's union for farm workers and treeplanters. WVIP continues its service and immigration work through PCUN's Service Center for Farmworkers.
In 1991, the first farm worker strike in Oregon since 1971, and the first- ever union-organized strike, is organized by cucumber pickers at Kraemer Farms to demand a raise in pay. Kraemer Farms retaliates against former strikers and PCUN declares a boycott of grower-owned NORPAC Foods, Inc., then the largest processor of fruits and vegetables west of the Mississippi River. PCUN targeted NORPAC Foods to pressure Kraemer Farms, a NORPAC co-owner.
In 2002, after nearly ten years of boycotting, the four top food services nationally pressure NORPAC Foods Inc.to end its stonewalling and negotiate with PCUN to establish a framework for collective bargaining on NORPAC member farms. PCUN suspends the boycott. The agribusiness lobby tries to scuttle the NORPAC talks by persuading the Republican-led Oregon Legislature to pass an agricultural collective bargaining bill which strips farm worker of most boycott rights. Governor John Kitzhaber vetoes the bill.
In 2005, Farmworker Housing Development Corporation [http://fhdc.org/], PCUN's sister organization, opens its first housing project situated outside of Woodburn, the 48-unit Colonia Libertad and the first farm worker housing in Salem. FHDC goes on still developing farm worker housing in Oregon communities.
In 2006, PCUN and CAUSA, Oregon's immigrant rights organization, organize and facilitate two huge immigration rights mobilizations (18,000 and 12,000) at the Oregon State Capitol in Salem.
On November 20, 2006, PCUN fulfills a decades-old dream and it's low-power radio station, KPCN-LP ("Radio Movimiento") signs on broadcasting on 96.3 FM and reaching three-hundred square miles around Woodburn. Radio Movimiento's volunteer-driven programming quickly attracts a large and loyal listenership in the Latino community.
On October 7th, 2009 – the 60th anniversary of the birth of PCUN co-founder Cipriano Ferrel, – PCUN and sister organizations formally launched the campaigns to establish the "CAPACES Leadership Institute" whose mission is to engage current and emerging movement leaders about values and big strategic ideas, and to help them develop the skills to put those ideas to use. In 2012, the CAPACES Leadership Institute (CLI) was completed and becomes its own non-profit organization.
In 2013, PCUN and CAUSA lead a state wide campaign that successfully restores driving privileges for undocumented immigrants. Governor John Kitzhaber signed HB2517 in front of thousands of supporters during the May 1st rally/march at the capitol.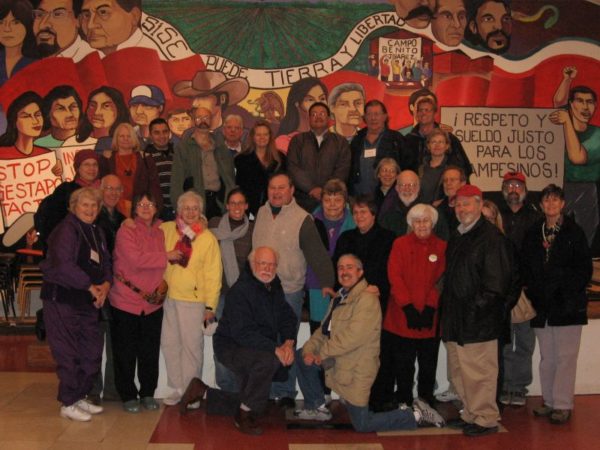 ---
NFWM and PCUN
From NFWM's earliest days partnering with the Oregon Farm Worker Ministry*. NFWM began supporting PCUN's work in Oregon. On the national level, NFWM provided solidarity for the boycott of Norpac. The NFWM board and staff traveled many times to Oregon, including for the 2001 Walk for Farm Worker Justice in Woodburn, OR and for bi-annual board meetings. NFWM has worked with PCUN on national immigration and legislative efforts.
*OFWM was founded in Salem, OR in 1985 by Verne and Rosemary Cooperrider and David Papen, who had worked directly with United Farm Workers before they started laying the ground work for a farm worker ministry in the Pacific Northwest. OFWM, now named Farm Worker Ministry Northwest, has actively supported the UFW and PCUN through many campaigns.
Learn how you can get involved!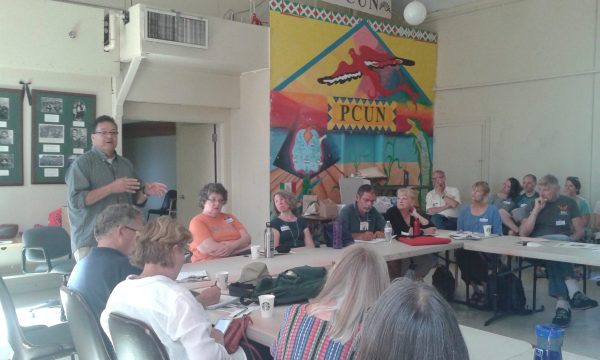 Last updated 06/2018