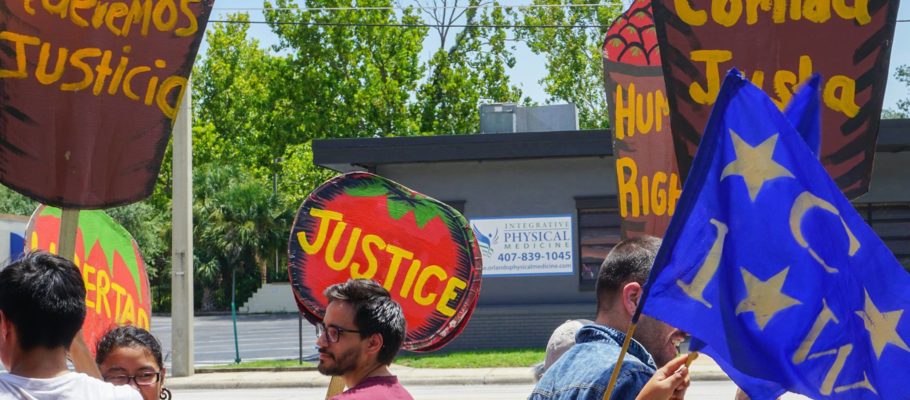 This Sunday August 6th, YAYA partnered with the Coalition of Immokalee workers to protest Wendy's decision to not sign onto the Fair Food Agreement. This purposeful demonstration was to build awareness to the general public-from neighbors, family, and friends as well as Wendy's to know that we will not stand idly by while they continue to ignore the rights of farm workers.
In the 100 degrees of heat, 120+ people lined the street with bright yellow banners and red tomatoes that read "Boycott Wendy's" "Dignidad" "Respeto," and "Justice." Over 60 farm workers and their families joined us from Immokalee. We filled the air with chants and songs that signify the CIW's mission to stop the abuses and oppression from a company that profits off their labor. It was uplifting experience to participate with passionate allies in an action to urge Wendy's to be mindful of what their refusal means to hundreds of families across Florida.
When the time came to drop off the letter we were met with yet another rejection. This rejection however, will not stop our fight at YAYA, and we will continue to push back and build awareness for this campaign.
We would like to thank the speakers, the volunteers and the local organizations-Iron Workers Union, I.S.L.A.M, Inc., QLatinx, the Florida Student Power Network, Central Florida Jobs with Justice, CAIR FL (Council on American-Islamic Relations – Florida), Unite Here! and many more that came to participate in this incredible action!
Also, special thanks to the First Unitarian Church of Orlando, for providing the space for us to eat and Coalition of Immokalee Workers for partnering with YAYA to make this event a reality!
-Kathleen Melendez