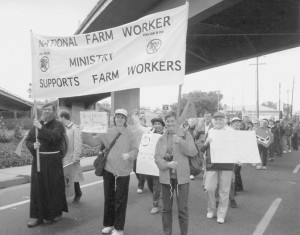 In honor of its 40th anniversary as a national organization and 90 years of solidarity with farm workers, NFWM conducted oral history interviews this year with major supporters around the country. From those interviews, we have condensed over ten hours of audio to ten roughly two minute audio pieces accompanied by photo slideshows in order to share some of the best stories with you! There is also a link to more excerpts from the interview transcriptions if you are interested in learning more and a discussion guide which you can use to help facilitate small group discussions around these stories of NFWM.
We hope that these interviews will help us look forward to the future of our involvement with the farm worker movement and also inspire others to join us!
Click here to see "The Costs and Joys of Discipleship": Forty Years of the National Farm Worker Ministry.