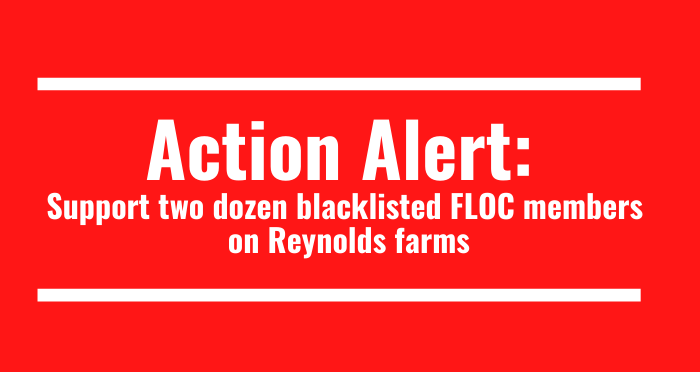 Join us on an URGENT action to support two dozen blacklisted FLOC members on Reynolds farms that grow tobacco and sweet potatoes.
TAKE ACTION NOW!
Click here to tell Reynolds, PMI, and their industry front group that enough is enough!
With a global crisis ongoing, Reynolds continues to avoid taking action to support tens of thousands of exploited workers in their supply chain. Last year, FLOC members bravely spoke up and demanded an end to wage theft, unsanitary kitchen facilities, and the recognition of their union. Instead of negotiating, the grower simply retaliated and refused to rehire any union members in 2020. Reynolds and PMI are complicit, knowing this and simply asking the grower not to do it again, but otherwise continue business as usual, even as they cut contracts with union growers who comply with higher standards.
Instead, they are spending millions of dollars to create an industry front group to hide abuses in their supply chain. We have to take a stand and tell them to put that money where it belongs: Into the pockets of the growers and the men and women that harvest tobacco, sweet potatoes, and dozens of other crops by changing the way they do business.
Click here to let tobacco company leaders know that you support farm workers!
Learn more about NFWM's support of FLOC's campaign in solidarity with tobacco farm workers.