During the July 18th press conference, NFWM Director Julie Taylor announced that the National Farm Worker Ministry is filing a complaint with the NC Legislative Ethics Committee against NC Sen Brent Jackson and another against NC Rep David Lewis, both farmers in NC, for conflict of interest.
Ms. Taylor's announcement said, in part, "Senator Jackson is the owner of a diversified farm in Autryville, NC and employs over 100 workers to plant, cultivate, and harvest numerous crops. A group of his employees have joined the Farm Labor Organizing Committee (FLOC). In 2015, seven employees filed a federal civil claim against Senator Jackson's farm, seeking back wages for time worked while "off the clock." In 2016, these seven were not hired back to the farm. They amended their claims in court to include retaliation through the help of their union, FLOC. After a mediation session, these claims were resolved through a financial settlement that was given final approval by a federal court judge this month.
In late June, Senator Jackson cosponsored Senate Bill 615 which made it illegal for farmers to agree to deduct voluntary union dues from workers who want to pay those dues. It also made it illegal for a farmer and his or her workers to reach a legal settlement that includes an agreement with a labor union.The bill was clearly aimed at stopping FLOC and their members from achieving sufficient resources to continue their work."
Ms. Taylor concluded, "I call the wider faith community, labor advocates and people of conscience in this state to join with us in questioning the motives of these two legislators. As public servants, their elected positions should not be places of personal financial advantage. We must do what we can in the avenues we have to be sure that farm workers are not denied their rights and can organize for their own self-determination."
Read the Ethics Complaint against Sen Jackson
Read the Ethics Complaint against Rep Lewis
On July 18, NFWM, Triangle Friends of Farmworkers, the NC NAACP and others joined FLOC at the North Carolina Capitol for a press conference and delivery of petitions to Gov. Cooper's office.
In a cynical move to crush the growing strength of farm workers organizing themselves to improve their living and working conditions, the North Carolina Legislature passed & Gov. Roy Cooper signed S615, the Farm Bill, with an amendment added at the last minute. This amendment is shameful and we must call it for what it is – an assault on the hard working farm workers who labor every day in North Carolina to put food on our tables.
State Rep. David Lewis of Dunn, NC, a tobacco farmer in Eastern NC was pushing an earlier Senate bill, which focused on stopping farm workers from organizing for better wages and working conditions. Not having the votes to pass the bill, Rep. Jimmy Dixon, a farmer from Warsaw, NC snuck it in as an amendment to the Farm Bill, S615, which was passed without opportunity for full discussion.
The amendment to S615 has two parts: 1. It makes it illegal for farmers who have signed union agreements to deduct dues from union members who want to pay dues, seeking to weaken the only farm worker union in the state, the Farm Labor Organizing Committee (FLOC) 2. It makes it illegal for farm workers to ask growers to sign an agreement with their union as part of settling wage or other legal violations, making it more difficult for farm workers to achieve union agreements that include wage increases, job security, benefits, and improved working conditions.
"Farmers have many ways to come together and improve their lives, such as trade associations and cooperatives; it is unfair for them to try and stop their own workers from doing the same by passing laws to make it illegal. Politicians that are also growers shouldn't pass self-serving laws simply because they don't want their workers to unionize. With the continuation of Jim Crow era laws that aim to stop a now almost entirely Latino workforce from organizing, this is an affront to freedom of association and smacks of racism." said FLOC President Baldemar Velasquez.
At the press conference, FLOC announced that it is working on a Constitutional challenge to S615 and the National Farm Worker Ministry is filing complaints for conflict of interest with the NC Legislative Ethics Committee. A contingent from the press conference then marched to Gov. Cooper's office to deliver the petition asking him to veto S615 with more than 5,000 signers; a petition he earlier ignored.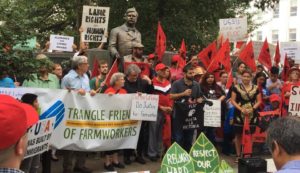 NFWM is proud to be one of the founding members of the Equitable Food Initiative through the work of NFWM's former Director Virginia Nesmith.  We have continued to follow the amazing progress EFI has made over the years and are pleased that the EFI is beginning the consumer engagement phase of the program.
Equitable Food Initiative (EFI) is a nonprofit certification and worker training program for fresh produce that works to improve the lives of farm workers and create a safer, more equitable food system.
EFI brings together farm workers, growers and retailers to ensure that: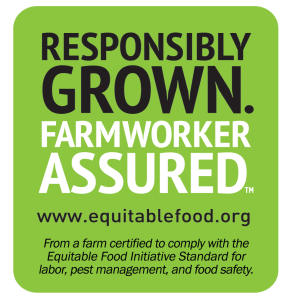 Best practices in food safety and pest management are followed
Farm workers are treated fairly and experience decent working conditions
Farm workers are engaged in identifying problems and creating solutions
When you see EFI's Responsibly Grown, Farmworker Assured™ label on fresh produce at Costco and Whole Foods, you know that the grower, together with their workers, collaborated to meet 311 rigorous standards for labor practices, food safety and pest management.
EFI has had early success in certifying 22 farms with more than 13,000 farm workers, but needs help to grow to the next level to involve more grocery stores and growers.   
To help grow EFI's impact, we invite you to take their
Short Survey
to help bring #EFIcertified fruits and vegetables to a supermarket near you.
The National Farm Worker Ministry is blessed this summer to have Chris Burner with us serving as our Duke Divinity School ministerial intern.   Chris has written two reflections related to his experiences here at NFWM.  Each speaks deeply to Chris' growing understanding of and connection to the farm worker movement for justice and our place in it as people of faith and of solidarity.
We encourage you to read – and reflect on – both.  Thank you, Chris.
"…the God we serve is no respecter of socially constructed borders that alienate and isolate."
The intersection of Faith and Oppression
Chris's main project, along with Andy Blakely, also a DDS student but interning through the Sanford School of Public Policy, has been to visit labor camps in eastern North Carolina and conduct video interviews with workers.  NFWM will use these interviews as educational and engagement tools in our upcoming new website.
One of the men Chris and Andy interviewed is Martin Perez Hernandez (pictured) who has worked the fields of NC for years through the H2A guestworker visa program.  Martin is a member of FLOC and, unlike other guestworkers in the US who are not covered by a union contract, he works with important protections which he is able to exercise because of FLOC's collective bargaining contract with the North Carolina Growers Association.
ACTION ALERT: Please Take Action to Promote the Agricultural Worker Program Act of 2017 (AWPA). Help undocumented farm workers gain a path to citizenship, stop the separation of families and live without fear and exploitation.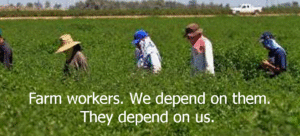 When: Before Friday, July 7th.
What: VISIT or CONTACT YOUR CONGRESSIONAL OFFICES to URGE them to co-sponsor the Agricultural Worker Program Act of 2017.   Farm worker organizations and allies are seeking to have 100 co-sponsors before the Congressional summer break. Please help us reach this goal.
AWPA has been introduced in both the Senate (S1034) and the House (HR 2690). The bill will address current farm labor shortages and will provide a path to citizenship for farm workers.
How: Visit your Senators and Representative in their home districts or in Washington, DC. Talking Points, as well as flyers in English and Spanish. Let them know that you value the people whose labor puts food on our tables every day.
If you cannot visit your legislators, please call, write or e-mail them. Personal contact with your legislator is the most effective way to get them to act and we ask you make that effort. If that is not possible, please utilize the
E-mail Action
set up by the United Farm Workers.
Primary message:
Please support the Agricultural Worker Program Act of 2017 (in the House, HR 2690 and in the Senate, S. 1034)

If already a cosponsor: Thank you for your support of the Agricultural Worker Program Act of 2017 (in the House, HR 2690 and in the Senate, S. 1034)
If not a cosponsor, please become one.
The Agricultural Worker Program Act recognizes the valuable role and contributions of farmworkers. The bill is important for farmworkers because it would take away the constant fear of deportation and allow families to stay together. This bill would also ensure a stable workforce for employers and a secure and safe food system for consumers.
The Agricultural Worker Program Act would help address the current immigration crisis in agriculture by providing experienced farmworkers with a path to temporary immigration status, followed by an opportunity to earn lawful permanent residency through continued work in agriculture.
For more about this legislation, go to
NFWM's website
for links to a fact sheet by Farmworker Justice and to the entire bill as submitted first to the Senate and then to the House.
Share this Action Alert:
In addition to contacting your legislators, consider posting/sharing this Action Alert on Facebook and Twitter. Connect to the NFWM Action Alert and share widely. We really need your help. Now is the time to turn out for farm workers.
And let us hear from you too. Tag us, e-mail us, tell us what happened. If you visit in person, be sure to have your photo made with your legislator and post it on social media or send it to us and we'll do it.
To let us know about the action you took or for more information, email Julie Taylor at jtaylor@nfwm.org.
Let's be overwhelming as we press for justice!
Contact your legislators by July 7th!