NFWM is pleased to introduce our Academic Year Duke Divinity School Ministerial Intern – John Caleb.  From day one, John Caleb enthusiastically jumped in to learn about NFWM and begin working with staff.  We look forward to learning from him and getting to know him better.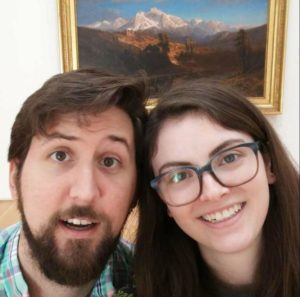 I am a third year Duke Divinity student. I grew up in North East Texas and in Charleston, South Carolina. In 2014 I completed a Bachelor of Arts in Religious Studies at the College of Charleston and then in 2015 a Masters of Theology and Religion at the University of Amsterdam in The Netherlands. I have a beautiful wife named Emily who I married in the winter of 2013. We now live in Pittsboro, North Carolina where we plan to stay for the next few years. Upon completion of my current Masters of Divinity from Duke this coming Fall, I will pursue candidacy as an Elder in The United Methodist Church. I hope to one day be able to work in either social advocacy or the public outreach of the Church abroad.
Staff at NFWM were particularly interested to learn that I spent a number of years working for a large church in Charleston, South Carolina where I was a successful video producer. I am well versed in filming and editing professional media for public advertising. Therefore, over the course of the next year with NFWM I will be crafting new video media for our organization to be utilized on the upcoming website, in newsletters, and at our public events.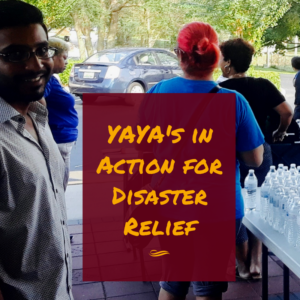 In Florida, both the Coalition of Immokalee Workers (CIW) and the Farmworker Association of Florida (FWAF) are working with farm workers on the ground to do flood and storm relief. We are not asking for donations for these efforts to come to NFWM. Instead, we will be contributing the remainder of the balance of our Florida Emergency Disaster Fund to assist farm workers as they try to recuperate from the devastating effects of Hurricane Irma and the crop damage experienced by Florida farmers.
Check out
 how NFWM helped to provide an emergency response center in Pierson, FL in 2011 as preparation for future natural disaster. Also, here's how 
YAYA has been supporting
 FWAF's efforts in central FL this month.
Please keep the farm workers in your prayers.
Consider signing the petition to FEMA being organized by the United Farm Workers Union (UFW) in solidarity with the Farm Worker Association of Florida (FAWF). 
Sign here
.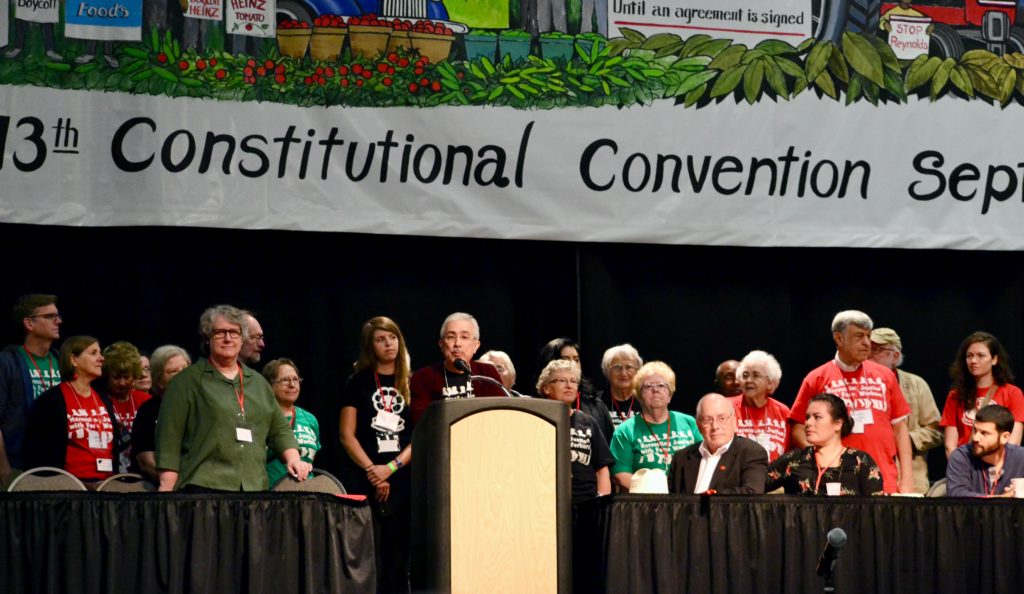 When the Farm Labor Organizing Committee (FLOC) held its 13th Convention in Toledo, OH on September 9th, the National Farm Worker Ministry was on hand to share the work and celebration with them. NFWM hosted it's second board meeting of the year on September 8th so that it could give volunteer time to the convention and participate in "No More Charlottesvilles, a March for Immigrant Justice" with FLOC and the mayor of Toledo, Paula Hicks-Hudson.
Continuing its history of standing with farm worker organizing groups, NFWM recognized it's own history with FLOC through the years and was asked to open the Convention by declaring the space a sanctuary space and offering a prayer for their work. This was led by past president and Sisters of Charity of Nazareth representative, Felix Garza with 15 member organizational representatives, a member at large, two young adults, two guests and three staff standing behind him (pictured above). Later in the day, NFWM's Executive Director, Julie Taylor recognized all the board members present, the organizations they represent and locations.  She shared with the union members that NFWM stands with the farm workers and affirmed our historic relationship as allies.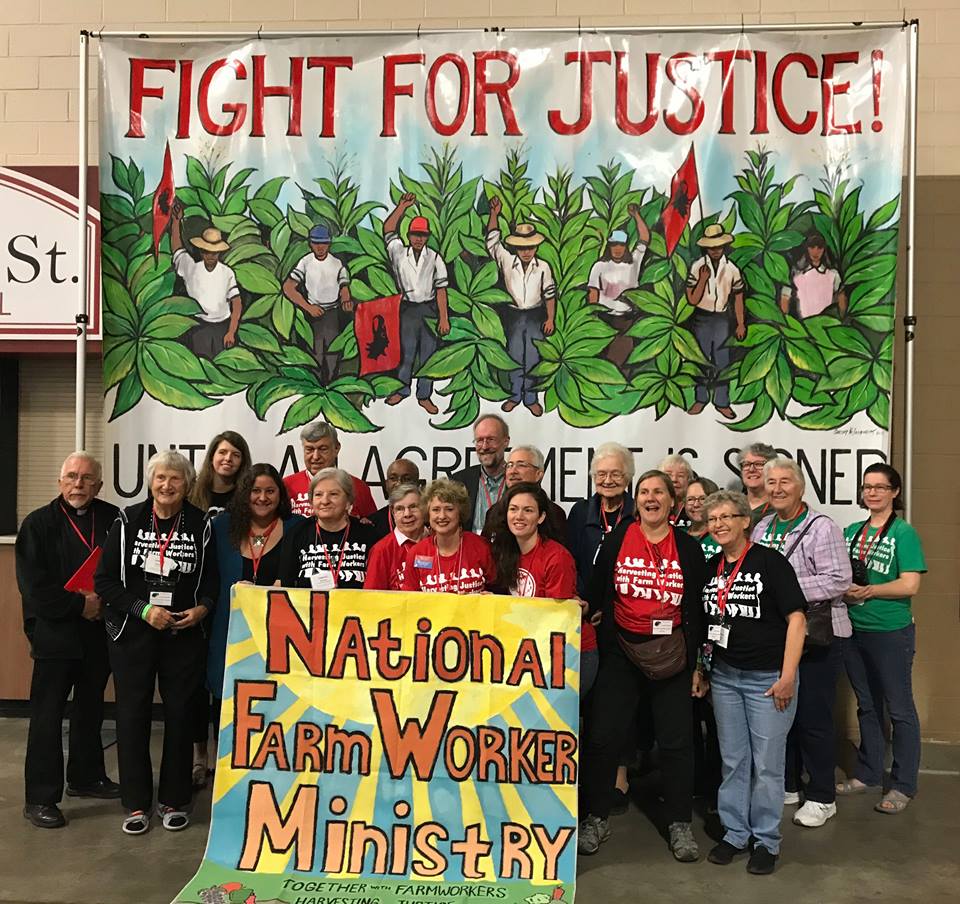 An important action taken by the FLOC union members in Toledo was to vote on a boycott of VUSE electronic cigarettes.  While NFWM has not yet officially endorsed this boycott, our organization has a history of standing with the farm workers when they take on campaigns, protests and boycotts.  More information will emerge about this and the efforts to put pressure on convenience stores which are the primary distributors of these tobacco products.  Look for specific actions to take in the coming days.  Here is more background on the tobacco campaign.
Sr. Mary Martens, representative of the Sisters of Charity of the Blessed Virgin Mary shared her thoughts on our time with FLOC,
"The relationships, stories and connections are always important to me at our meetings…Among the best events was our welcome of the 'Homies' at supper time. It took me back to my years of teaching high school and college students, seeing many of the same emerging leadership traits present in these young people…"
Mallory Daily who came as a Young Adult guest from the Loretto Community was moved by her experience.
"The experience of marching alongside farmworkers was one I won't soon forget, and the conversations I had in my broken Spanish helped me understand their varying realities."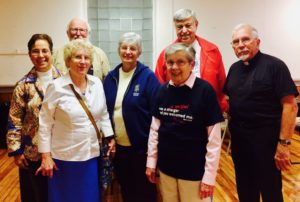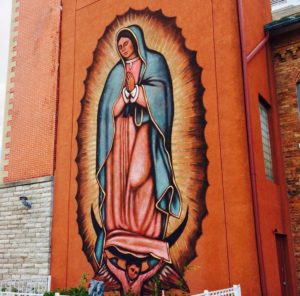 While in Toledo, we met at St. Peter and St. Paul's Catholic Church on Wednesday, September 6th to share about the Ministry and to hear about the Catholic Migrant Farmworker Network, one of our member organizations, from Fr. Dick Notter who is on their board and used to serve on NFWM's board.  Joined by sisters from the area and some of our own board members, the gathering took place in a church that features a mural of Our Mother of Guadalupe that was painted by the brother of Baldemar Velasquez.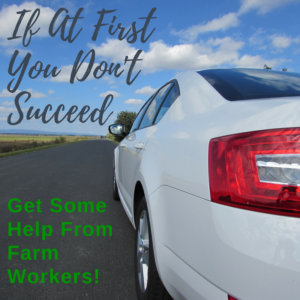 NFWM supporters have been volunteer drivers to help FLOC members attend union meetings for over a decade. This year, the Triangle Friends of Farm Workers organized volunteers in North Carolina to help farm worker delegates get to the overnight bus they'd take to FLOC's convention in Toledo, OH. This volunteer gig entails navigating rural North Carolina to find labor camps where farm workers live. It can make for some comical mis-adventures. Anna Jensen, director of the North Carolina Farmworkers' Project shared hers with us this year.
First Try
The address I was given took me to a row of three small white houses where farm workers were sitting outside on the porch. I greeted them in Spanish and asked for the man I was supposed to pick up. No one had heard of him. "Maybe he lives in that house," one of the workers suggested, pointing to a house set apart from the others. I thanked them, and drove to that one. No one there had heard of him either. I couldn't reach him by phone.
As I was about to drive away, one of the workers from the first house came over. "Maybe he lives in the cabin?" he asked the guys at the second house. "Oh, yeah, there are a handful of people in the cabin," they agreed. "To get there: go straight here, turn left at the stop sign, go about 2 miles and there will be a dirt road near a little hill. Take that and you'll see the house, it's the only one around." I thanked them and tried to follow their instructions, but it was now fully dark. I couldn't see any dirt roads in the area. This was the country, so there were no street lights.
Second Try
I passed a set of trailers with lights on and a group of men sitting outside, so I pulled in. Two fat pit bulls came over to say hello. I called out to the men sitting under an awning. "Sorry to bother you," I said in Spanish, "but do any of you know where this person lives?" I gave them his name. One turned to the other and said, "Doesn't your friend work with someone by that name? The second worker said, "I'll call my friend and see if it's the same guy." He called, and his friend confirmed that he did work with the person I was looking for. He hung up the phone. "They're at the store right now, but when they get back to the house I'll take you there if you want."
I thanked them for taking the time. Just then his phone rang and his friend told him he had been wrong, the worker I was looking for was already back home. "Ok, let's go," the man I had been talking to said, and hopped in his truck.
Third Time's a Charm!
I followed him in my car. We drove about a mile and turned down an unmarked dirt path, which went another mile through tobacco fields. The moon had risen giant and orange over the tobacco. We drove just about far enough for me to start to wonder if this had been a good idea after all, following someone I didn't know down an unmarked dirt road in the country, and then we rounded a corner and there was a small house, with all of its lights on, and the man I had been supposed to pick up waiting on the porch with his overnight bag.
We made it to the bus rendezvous point fine!