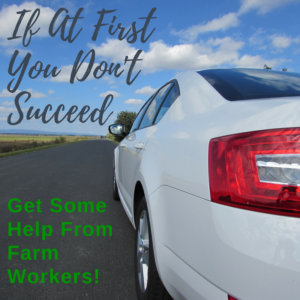 NFWM supporters have been volunteer drivers to help FLOC members attend union meetings for over a decade. This year, the Triangle Friends of Farm Workers organized volunteers in North Carolina to help farm worker delegates get to the overnight bus they'd take to FLOC's convention in Toledo, OH. This volunteer gig entails navigating rural North Carolina to find labor camps where farm workers live. It can make for some comical mis-adventures. Anna Jensen, director of the North Carolina Farmworkers' Project shared hers with us this year.
First Try
The address I was given took me to a row of three small white houses where farm workers were sitting outside on the porch. I greeted them in Spanish and asked for the man I was supposed to pick up. No one had heard of him. "Maybe he lives in that house," one of the workers suggested, pointing to a house set apart from the others. I thanked them, and drove to that one. No one there had heard of him either. I couldn't reach him by phone.
As I was about to drive away, one of the workers from the first house came over. "Maybe he lives in the cabin?" he asked the guys at the second house. "Oh, yeah, there are a handful of people in the cabin," they agreed. "To get there: go straight here, turn left at the stop sign, go about 2 miles and there will be a dirt road near a little hill. Take that and you'll see the house, it's the only one around." I thanked them and tried to follow their instructions, but it was now fully dark. I couldn't see any dirt roads in the area. This was the country, so there were no street lights.
Second Try
I passed a set of trailers with lights on and a group of men sitting outside, so I pulled in. Two fat pit bulls came over to say hello. I called out to the men sitting under an awning. "Sorry to bother you," I said in Spanish, "but do any of you know where this person lives?" I gave them his name. One turned to the other and said, "Doesn't your friend work with someone by that name? The second worker said, "I'll call my friend and see if it's the same guy." He called, and his friend confirmed that he did work with the person I was looking for. He hung up the phone. "They're at the store right now, but when they get back to the house I'll take you there if you want."
I thanked them for taking the time. Just then his phone rang and his friend told him he had been wrong, the worker I was looking for was already back home. "Ok, let's go," the man I had been talking to said, and hopped in his truck.
Third Time's a Charm!
I followed him in my car. We drove about a mile and turned down an unmarked dirt path, which went another mile through tobacco fields. The moon had risen giant and orange over the tobacco. We drove just about far enough for me to start to wonder if this had been a good idea after all, following someone I didn't know down an unmarked dirt road in the country, and then we rounded a corner and there was a small house, with all of its lights on, and the man I had been supposed to pick up waiting on the porch with his overnight bag.
We made it to the bus rendezvous point fine!

Give Thanks and join National Farm Worker Ministry's Harvest of Justice.
Raise consciousness, commitment & contributions for farm workers.
When?
This fall between Labor Day (September 4) and World Food Day (October 16). Labor Day in America focuses on our country's labor movement and the many ways that US workers have given their toil to make our country prosper. Farm workers are among them. It is a fitting beginning to the Harvest of Justice season. And we end with World Food Day, an annual recognition of the Food and Agriculture Organization of the United Nations founding in 1945. Primarily observed by organizations concerned with food security, we recognize that many farm workers are themselves in need of food despite the fact that they pick fruits and vegetables for the rest of us.
How?
Come together for prayers, actions, events and giving! Consider, sometime during this Harvest of Justice Season, setting aside a space for prayer/reflection in your weekly gatherings. Include farm worker facts to accompany these prayers/reflections. Host a simple meal to raise awareness and funds for farm worker advocacy. Raise farm workers' struggles in your congregation's "Mission Minute" and include NFWM in a special giving. Or you can be creative about how to honor and learn about farm workers' into your community.
We're here to help!
Resources are available. Simply click the title or image below to download these new, editable resources to use in your community to participate in Harvest of Justice this year. Visit our Harvest of Justice page for more faith-based worship resources , fact sheets and prayers. Also feel free to contact the NFWM office if you have questions, ideas or need additional support.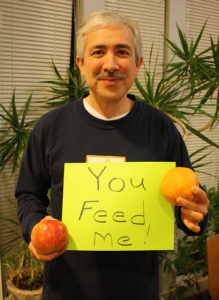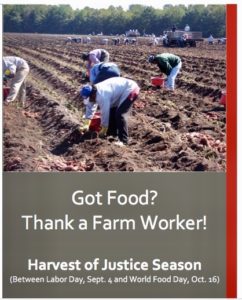 Kudos to Connie Yost, Co-President of Farm Worker Ministry Northwest, a member organization of NFWM, for being a part of a recent trip to visit PCUN in Woodburn, OR and learn more about the conditions which farm workers are now facing.  Here is Connie's report.   
We had a very enlightening day in Woodburn on July 22 with our host, Ramon Ramirez of PCUN, Oregon's Farmworker Labor Union and community organizing hub.  There were over 50 of us there, Unitarian Universalists and people from other denominations who got the invitation from Interfaith Movement for Immigrant Justice.  Since the election, people are now interested in immigration and many have made the connection from there to farm workers, so suddenly we have a lot more support for farm workers!
We visited two labor camps, one for migrant farm workers who come up from California each season, and a brand new one being built for the "guest workers" under the H2A visa program.   We also visited the housing project in Woodburn that the Farmworker Housing Development Corp (a PCUN spinoff) built, which houses farm workers who live in the area year round.  Rents there are quite reasonable. Farmworker Housing Development Corp has built housing in seven cities in Marion Co., now housing 2000 people.
Farmworker Housing Development Corp is having a major event/fundraiser on August 24 in Portland.  Here is the link: https://evolvemanagement.ejoinme.org/MyEvents/RoofRaiserBenefit2017/tabid/875008/Default.aspx
Also, save the date November 2 for PCUN's annual dinner in Portland, this year celebrating 40 years of fighting for justice for farm workers and other marginalized people.
During the event, Ramon Ramirez spoke of eight pieces of Oregon legislation that passed in the last session that are beneficial for farm workers and poor people.  In addition, PCUN helped defeat 16 bills that would have had a very negative impact on farm worker rights, including about Minimum Wage and Paid Sick Leave benefits.
During the July 18th press conference, NFWM Director Julie Taylor announced that the National Farm Worker Ministry is filing a complaint with the NC Legislative Ethics Committee against NC Sen Brent Jackson and another against NC Rep David Lewis, both farmers in NC, for conflict of interest.
Ms. Taylor's announcement said, in part, "Senator Jackson is the owner of a diversified farm in Autryville, NC and employs over 100 workers to plant, cultivate, and harvest numerous crops. A group of his employees have joined the Farm Labor Organizing Committee (FLOC). In 2015, seven employees filed a federal civil claim against Senator Jackson's farm, seeking back wages for time worked while "off the clock." In 2016, these seven were not hired back to the farm. They amended their claims in court to include retaliation through the help of their union, FLOC. After a mediation session, these claims were resolved through a financial settlement that was given final approval by a federal court judge this month.
In late June, Senator Jackson cosponsored Senate Bill 615 which made it illegal for farmers to agree to deduct voluntary union dues from workers who want to pay those dues. It also made it illegal for a farmer and his or her workers to reach a legal settlement that includes an agreement with a labor union.The bill was clearly aimed at stopping FLOC and their members from achieving sufficient resources to continue their work."
Ms. Taylor concluded, "I call the wider faith community, labor advocates and people of conscience in this state to join with us in questioning the motives of these two legislators. As public servants, their elected positions should not be places of personal financial advantage. We must do what we can in the avenues we have to be sure that farm workers are not denied their rights and can organize for their own self-determination."
Read the Ethics Complaint against Sen Jackson
Read the Ethics Complaint against Rep Lewis
On July 18, NFWM, Triangle Friends of Farmworkers, the NC NAACP and others joined FLOC at the North Carolina Capitol for a press conference and delivery of petitions to Gov. Cooper's office.
In a cynical move to crush the growing strength of farm workers organizing themselves to improve their living and working conditions, the North Carolina Legislature passed & Gov. Roy Cooper signed S615, the Farm Bill, with an amendment added at the last minute. This amendment is shameful and we must call it for what it is – an assault on the hard working farm workers who labor every day in North Carolina to put food on our tables.
State Rep. David Lewis of Dunn, NC, a tobacco farmer in Eastern NC was pushing an earlier Senate bill, which focused on stopping farm workers from organizing for better wages and working conditions. Not having the votes to pass the bill, Rep. Jimmy Dixon, a farmer from Warsaw, NC snuck it in as an amendment to the Farm Bill, S615, which was passed without opportunity for full discussion.
The amendment to S615 has two parts: 1. It makes it illegal for farmers who have signed union agreements to deduct dues from union members who want to pay dues, seeking to weaken the only farm worker union in the state, the Farm Labor Organizing Committee (FLOC) 2. It makes it illegal for farm workers to ask growers to sign an agreement with their union as part of settling wage or other legal violations, making it more difficult for farm workers to achieve union agreements that include wage increases, job security, benefits, and improved working conditions.
"Farmers have many ways to come together and improve their lives, such as trade associations and cooperatives; it is unfair for them to try and stop their own workers from doing the same by passing laws to make it illegal. Politicians that are also growers shouldn't pass self-serving laws simply because they don't want their workers to unionize. With the continuation of Jim Crow era laws that aim to stop a now almost entirely Latino workforce from organizing, this is an affront to freedom of association and smacks of racism." said FLOC President Baldemar Velasquez.
At the press conference, FLOC announced that it is working on a Constitutional challenge to S615 and the National Farm Worker Ministry is filing complaints for conflict of interest with the NC Legislative Ethics Committee. A contingent from the press conference then marched to Gov. Cooper's office to deliver the petition asking him to veto S615 with more than 5,000 signers; a petition he earlier ignored.