Central Coast Farm Worker Center Grand Opening
by Sam Trickey, NFWM Executive Committee Board member
"When we went back to school in the fall and the teacher asked what we'd done during the summer, other kids talked about Yosemite and beaches and Disneyland.  I always waited and then said 'the same'.  Because I was ashamed to say my family had to spend the summer picking in the fields around Salinas."  That's how Damian Trujillo, NBC News reporter and producer in the San Francisco Bay area, started the celebration of the grand opening of UFW's Central Coast Farm Worker Center, May 20th.  "But", he said, "today farm workers are taking charge of their lives and are unashamed, because we put food on the nation's tables.  This center shows just how far we've come".
Suzanne Darweesh, Cynthia Karle (my wife), and I were there to see the Center and join the celebration.  More than 125 people attended, including farm workers, supporters, UFW and UFW Foundation staff and friends, and local and regional officials. Suzanne and her husband and I had made individual contributions that were recognized with tiles in the UFW Eagle mosaic in the Center entry way. Suzanne also was representing Orange County Interfaith Committee to Aid Farm Workers.  I had the honor of representing NFWM (which also has a tile) since none of our staff could attend.
Participation in the program by elected leaders showed just how much the farm worker movement has changed politics and society in the region over the last 50 years.  Bill Monning, majority leader of the California State Senate, presented a congratulatory proclamation. Early in his career Monning was a UFW attorney.  Steve McShane, a Salinas City Councilman, celebrated the UFW Foundation investment in the new center as part of revival of down-town Salinas.  Santa Clara County Supervisor Dave Cortese congratulated UFW on its contributions to economic prosperity.
Two farm workers spoke about the role of UFW in their lives and the value of the training and preparation the Center will provide.  Odilia Aldana is the civic action chair for D'Arrigo where she has worked for 22 years.  Rogelio Lona is general secretary for UFW workers at Monterey Mushrooms Morgan Hill.  Remarkably, the President of Monterey Mushrooms, Shah Kazemi, spoke about the benefits of a stable, skilled work force and his appreciation of the new Center.
A surprise was that the famous singer Kris Kristofferson showed up. Though not on the program he closed the proceedings with "Me and Bobby McGee", including the verse about Salinas.
Diana Tellefson Torres, UFW Foundation, summarized the purposes of the Center including immigration processing and counseling, social and legal services, Robert Kennedy Medical Plan and Juan de la Cruz Pension plan services, as well as training for organizing and contract enforcement. About half the space is for UFW Foundation and half for UFW itself. In his remarks, Artie Rodriguez, UFW President, noted that Cesar Chavez long had wanted a worker center in the Salinas Valley.  UFW even had bought a site, but then had to sell it to meet financial crisis. The immigration hostility and threatening federal farm worker legislation in the 2016 presidential campaign made it urgent, he said, to bring such a center to reality.
In thanking various donors, Artie specifically recognized both Suzanne and the Orange County.   Committee and NFWM and me.  Over its history, NFWM has been in Salinas several times to demonstrate, visibly, our solidarity with UFW members.  I also talked with some farm workers about their sense of excitement and hope from seeing the Center. One conversation was with an old-timer happy to be covered by the RFK Medical Plan – an illustration of the value of UFW contracts and of the impact of NFWM support when he was younger.
Artie also thanked us in person for coming from Florida.  When the invitation came, my first instinct was just to send UFW the dollars that an air fare would cost.  But when it became clear that NFWM should be represented, Cynthia and I changed plans.  In retrospect it was a good choice –  symbolism can matter a lot and this time it did.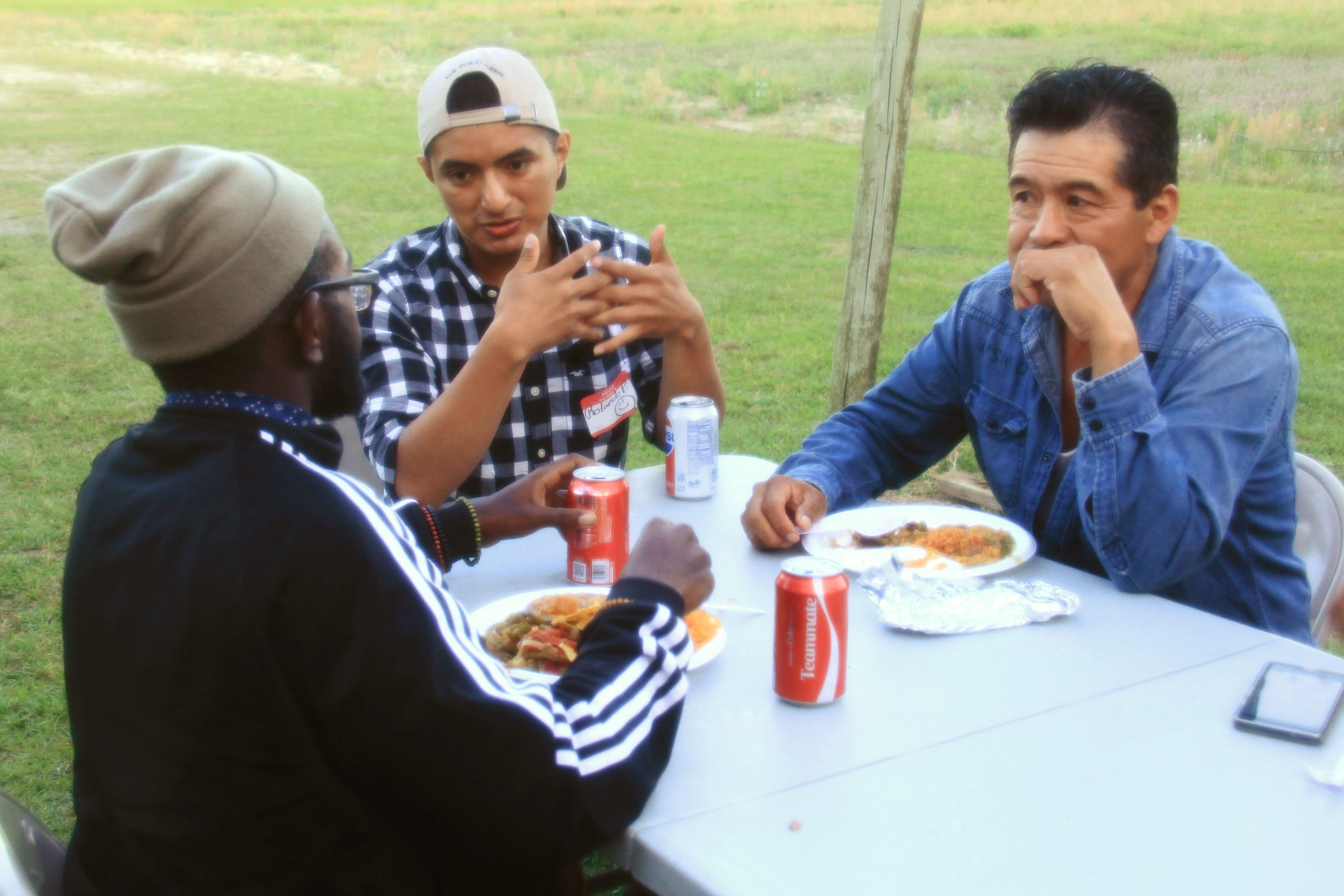 By Tareek Leonard
The idea that solidarity between black and brown folks is a myth is commonly put forth by people. Both black and brown folks come from places where they've had to witness or endure forms of abuse from the group whether it be anti-black or anti-latinx sentiments, the Erasure of Afro-Latinx people, or a lack of support for their respective movements. YAYA's Immersion Trip to North Carolina was a solid reminder that not only is there space for solidarity work but in order to achieve true liberation we NEED each other.
It's fairly easy to find a Black and Latinx presence, and history, in North Carolina. Over the course of our trip, we were able to sit down with the amazing staff from FLOC's field office in North Carolina and talk with FLOC president Baldemar Velasquez about the history of FLOC and why what we are doing is so important. Another great experience that the group had at the FLOC office was being able to go around the building and look at all the various pictures that detailed the struggle of Farmworkers in North Carolina and throughout the US. One of the most impactful pictures for me was one showing the major march FLOC held in 1983 protesting against injustices faced by midwestern tomato and pickle farmworkers. We were also able to have genuine interactions with farm workers. I say genuine because the conversations that we had were not centered around the hardships that they faced. We talked about the issues that they faced and were able to learn about Green Tobacco disease from a first-hand perspective. But we were also able to hear about what sorts of hobbies that these people have, and about how their kids are almost done with college. To be able to put a face and human emotions behind a struggle just makes it that more real and impactful.
We were also able to visit Beloved Community Center. Based out of Faith Community Church in the Southside of Greensboro North Carolina, the Beloved Community center has been a staple in the community not only due to its organizing efforts but also due to its commitment to the preservations of the black history of Greensboro North Carolina. Pictures that each held a story worth a thousand words were strung along the walls of the community center. Many of which showed the Founders Rev. Barbara Dua, Rev. Z. Holler, and Rev. Nelson N. Johnson alongside Key figures of the Civil Rights Era. Both FLOC and BCC engaged in Black and Brown solidarity initiatives such as a campaign for police accountability within their communities, in addition to efforts that worked to mediate some of the tensions between black and brown agricultural workers as the growers were trying to pit the two groups against each other.
Black and Brown solidarity is something that is very much needed within the farmworker movement due to the ways in which the communities have intersected throughout American history. And in each place I visited in North Carolina I was able to see how both communities were fostering that sense of unity through a commitment to acknowledging and preserving history. And making intentional efforts to bring communities together by tackling issues that they both face.

The Power of Commitment
Reflections on CIW's Freedom Fast 2018
By NFWM Executive Director Julie Taylor
A year ago, I joined the Coalition of Immokalee Workers in Dublin, OH for their protest in front of the Wendy's headquarters.  Students from Ohio State University had been fasting that week trying to get their administration to withdraw Wendy's from their school's meal plan. Along with a teach-in and a march through the streets of Columbus, CIW made this the biggest stop on their Human Rights tour.  The student fast there set off a series of campus fasts around the country and provided a backdrop for the efforts of early 2018.
Recently I spent time in New York City to support CIW's Freedom Fast. A group of CIW farm workers and allies spent five days in public vigil outside the hedge fund offices of Nelson Peltz, Chairman of the Board of Directors for the Wendy's Corporation. They came to 280 Park Avenue daily to stand in protest or sit in lawn chairs or on upside down tomato buckets on the sidewalk and street in front of a building with 29 floors in the East Tower and 43 floors in the West Tower. They made speeches, they shared their stories and they received the messages of solidarity from others.
I joined them, first on Monday night to read NFWM letters/messages of support. Many of the faces we have seen in Immokalee – Lucas, Greg, Lupe, Nely, Julia and others. I sometimes could only see their eyes as they wore hoodies and blankets and scarves and gloves for protection from the cold temperatures that hovered each day between 30 and 40 degrees.  On Tuesday, they faced frozen rain and snow but still they came and still they stood and still they remained from morning to night, giving witness with their presence and a fasting witness with their bodies. Tuesday was the day one of our board members joined the group, Rox Monterastelli (representative of the Loretto Community), to fast and accompany the group there at 280 Park Avenue. She remained with them for the rest of the week.
I joined them again on Wednesday morning to bring greetings to the fasters at the beginning of their day, to hear the blessing given by the bishop from St. John the Divine Episcopal Church, and to join in their public witness/action.  Standing there several hours on the concrete I realized how challenging this was physically to feet and knees and hips that are not used to doing it.  And I had eaten breakfast.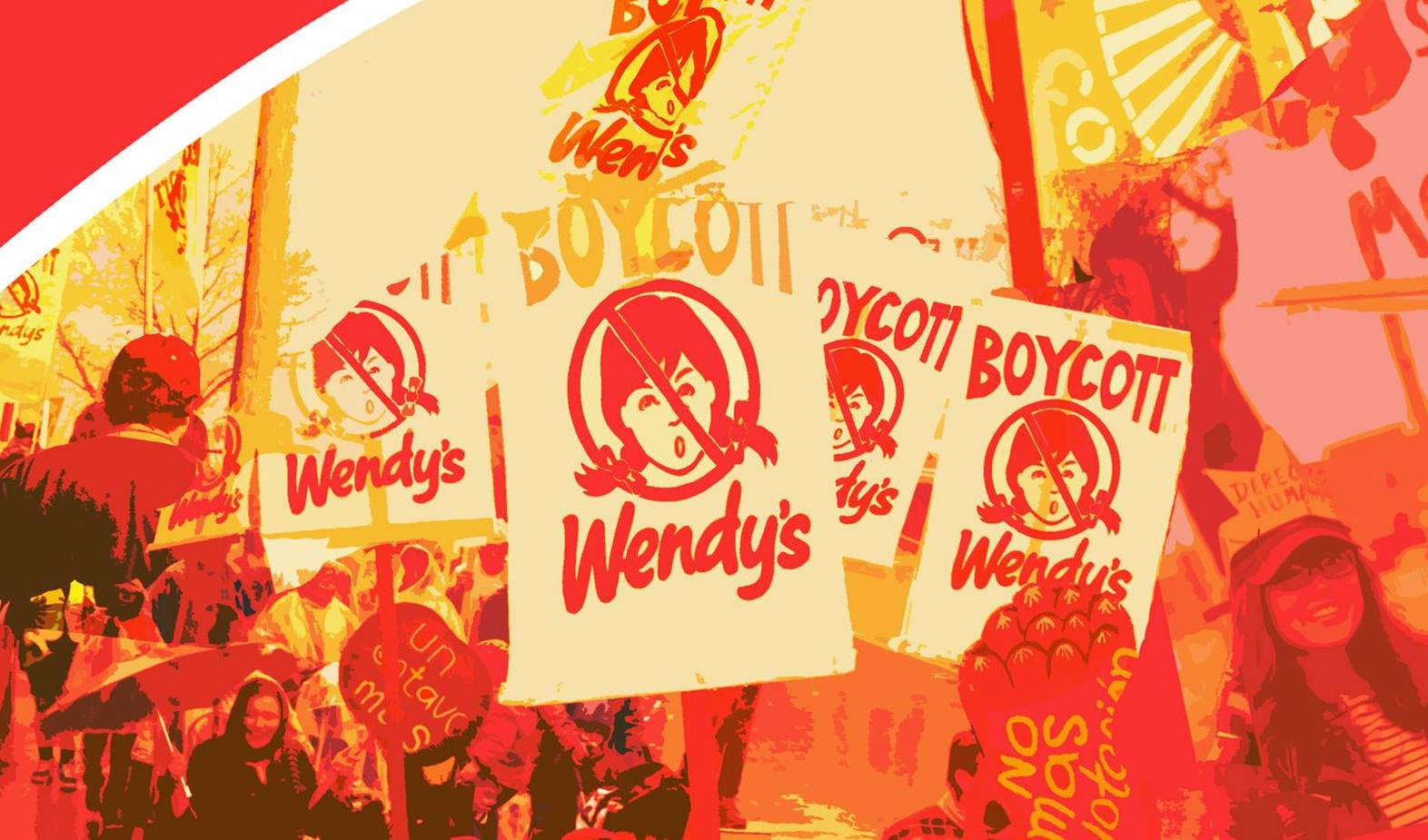 On the last day of the fast, I arrived early again to bless the fasters for the day ahead. I was a faster too, on that day, and was touched by the resilience of the faces I had the privilege of seeing all through the week.  After the blessing, we participated in an action in front of the building. Groups came to share their solidarity with the fasters – nail salon workers, models, farm workers from Texas, supporters from the Midwest and Nashville and Boston arrived at different intervals and our numbers swelled. During the morning I couldn't get my knees to stop shaking in the cold.  How did these fasters stay warm with these temperatures, I wondered?
Later in the day, the group heard about Milk with Dignity from Migrante Justice of Vermont. CIW has been supporting their organizing and they had come to New York City to accompany CIW.
A rally and march were held near the end of that last day.  United Methodist Women read letters of support at the beginning of the rally, go to https://www.youtube.com/watch?v=BmXzbp09ZKE&feature=youtu.be to hear this. After speeches, the group held a lively march through mid-town and back to 280 Park Avenue where there were chants, speeches and a powerful witness for justice before heading back to the rally site at Dag Hammarskjold Plaza to break the fast. A basket of bread cubes was held by the children of the farm workers.  These kids had been part of the whole week, most not fasting but learning about justice and taking arts classes to share with their parents.  From posters to songs to slam poetry, these kids provided inspiration all through the week. I was invited to join faith leaders on the stage in blessing the bread.  I had trouble getting to the stage and, in front of me, offering their help, were the women of the movement.  They reached out to get me over a barrier and up the stairs then shared bread with me and hugged me. Much of the week had been about them, about ending the sexual harassment and violence they experience.
Through the week I was so touched by the commitment of the farm workers and their allies. Young and old participated. Women were there, mostly mothers from Immokalee who are also part of the training teams who meet with managers and farm workers to train them on the Fair Food Program.  I saw the faces of children who accompanied their parents in this important work – bringing joy and encouragement, learning from their parents' examples.  I saw college students who came from several different schools, some divinity schools, sharing their lives with the Farm Worker Movement. I saw allies, some new and some friends from previous CIW events.
I saw commitment and unwavering determination despite the weather, despite their hunger, despite the unresponsiveness of Nelson Peltz and Wendy's.  Commitment for the sake of their children, for the sake of ending violence against women, for the sake of transforming our agribusiness system, for the sake of empowering consumers, for the sake of justice for farm workers. They were undaunted by the place or the time or the personal cost.  They were committed to the cause of justice. And we are too.  Pay attention, Wendy's! We're still here. Si Se Puede!
On January 27, 2018, the NFWM Board of Directors voted to endorse the Farm Labor Organizing Committee's (FLOC) boycott of Reynolds American VUSE e-cigarette. The board committed the resources of NFWM to supporting FLOC until farm workers in the tobacco supply chain have a voice in the work place without fear of retaliation.
Read the Resolution of the National Farm Worker Ministry Endorsing the Farm Labor Organizing Committee (FLOC) Boycott of VUSE E-cigarettes, a product of British American Tobacco and Reynolds American.
NFWM has sent a letter to Ricardo Oberlander, Reynolds CEO, and Nicandro Durante, Chief Executive of British American Tobacco, parent company of Reynolds since 2017, informing them of the boycott endorsement. That letter states, in part,
"Now is the time for Reynolds American to sign a negotiated agreement with FLOC that will guarantee freedom of association and provide a practical mechanism for addressing worker grievances.  This is the best way for British American Tobacco and Reynolds American, its subsidiary, to comply with your stated Principles of Good Corporate Conduct. It is also the best way to improve the living and working conditions of tobacco farm workers in your supply chain."
Read the 2/26/18 Letter to Reynolds American/BAT
VISIT NFWM'S BOYCOTT PAGE FOR:
Background
Why Vuse
Consumer Actions Needed
TAKE ACTION Opportunities
Farm worker Consitions
Learn More
Orange County Interfaith Committee To Aid Farm Workers (OCIC) annual spring fundraiser for the United Farm Workers of America will be held Sunday, April 22nd. The event will be held at Teamsters Local 952 , 140 S Marks Way, Orange, CA.  The guest speaker will be Sonia Rodriguez. OCIC is a Member Organization of NFWM.
Read OCIC's latest newsletter for more about their speak Sonia Rodriguez and other farm worker news.