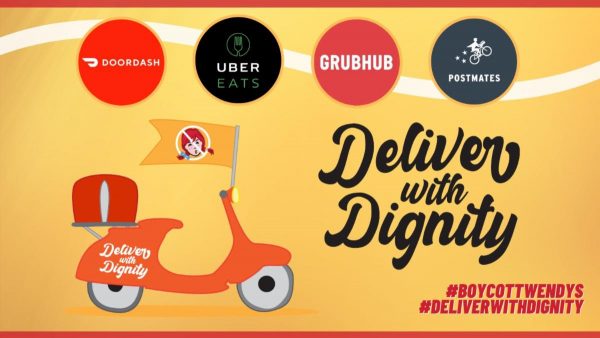 NFWM supports the efforts of the CIW in launching the #deliverwithdignity campaign from the Student/Farmworker Alliance.
Please contact the following companies to let them know they need to join the Wendy's boycott:
More about the Wendy's boycott.
The full announcement:
Students across the country call on DoorDash, Uber Eats, Grubhub, and Postmates to join the Wendy's Boycott!
As young consumers, we believe it is imperative that industry leaders at the top of the food supply chain do their part to ensure the health and wellbeing of the essential people at the bottom of the chain who do the work of feeding us all. It is for this reason that today the Student/Farmworker Alliance is excited to launch a brand-new campaign as a part of the national Wendy's Boycott: Deliver with Dignity!
Born from the tireless, creative leadership in the SFA network, students and youth are launching Deliver with Dignity to call on the major food delivery services, DoorDash, Uber Eats, Grubhub, and Postmates, to stand on the right side of history and join the national Wendy's Boycott. We are calling upon these companies to take bold leadership on the issue of human rights in our country's food system by refusing to do business with Wendy's until the hamburger giant joins the Fair Food Program. Wendy's remains as the only major fast food chain to refuse joining this remarkable program, thereby depriving the farmworkers who pick its produce of the FFP's best-in-class human rights protections.
In the wake of recent protests in support of racial justice, DoorDash, Uber Eats, Grubhub, and Postmates all affirmed their responsibility to speak up and take action against injustice, inequality, and discrimination. As young consumers we believe this admirable commitment must be extended to the mostly Brown, Indigenous, and Black farmworkers that make it possible for restaurants to produce food, and thus for these businesses to deliver meals nationwide.
It is important for DoorDash, Uber Eats, Grubhub, and Postmates to understand the implications of actively partnering with a company that has failed to meet the standard set by all its peer restaurants for protecting farmworkers' human rights. And that is why today, we are calling on you to make the call to these companies to urge them to join the Wendy's Boycott and commit to delivering food with dignity!
To step off the campaign, we are doing three national calls to action to let these companies know: If you want our business, you need to join the Wendy's Boycott:
Visit
bit.ly/deliverwithdignity
to learn more ways to support #DeliverWithDignity and stay tuned for more calls to action! #BoycottWendys
– Student/Farmworker Alliance