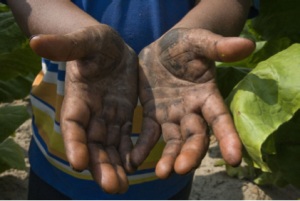 Last fall I met Raul, a farm worker who picks vegetables in North Carolina. We spoke in the barren room that he shared with six other men at the labor camp. He also shared bathrooms and showers (as do many of the workers) that were dirty, lacked privacy, and were freezing in the autumn air; not an inviting scenario for washing off the toxic pesticides which they come in contact with in the fields.
But that wasn't Raul's primary concern. What he talked about was how desperately he missed his children. He does not have legal papers so he can't go back and forth to Mexico where he is from. "I have not seen my children in over five years," he said. "But I make these sacrifices so they don't have to."
Our families are fed by hundreds of thousands of men and women, like Raul, who are separated from their own families. Enough! Those who have been separated from their families by a man-made border should have the chance to travel back and forth from home to work. It is a moral travesty that we separate migrant farm worker families in order to feed US families. We need immigration reform!
Virginia Nesmith, Executive Director, National Farm Worker Ministry