Justice for Migrant Women reports that there are between 300,000 and 500,000 child farm workers in the U.S., but the specific number is unknown. What we do know is that these children face many work hazards and lack many basic child labor protections. Every day, around 33 children are injured doing farm work. And a child working in agriculture dies about every three days.
Under the current labor law, children as young as 12 can work unlimited hours outside of school with parental permission. Child labor is prevalent in agriculture because families have no other option but to ask their children to work in the fields to help pay necessary expenses. When parents make poverty wages, they need their children to work too.
We urge people of faith and conscience to help reduce child labor in agriculture. This Harvest of Justice, stand in solidarity with farm workers and help make a difference in the living and working conditions of farm workers and their families.
---
Weekly Program Schedule:
Throughout the Harvest of Justice Season, use our social media toolkit to raise awareness about child labor in agriculture and how people can help make a difference for farm workers and their families. Click below for weekly resources.

---
Additional Resources: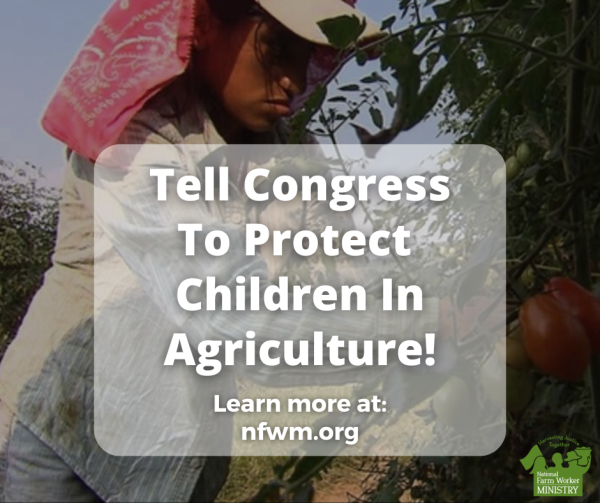 1. Download our social media toolkit for weekly posts and graphics.
2. Watch our short episode on mental health and child workers.
3. Sign up for our webinar about child labor in agriculture on Sept. 27th.
4. Contact us to request a speaker for your group on this topic.
5. Visit our "Children in the Fields" web page to learn more.
---