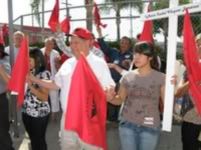 On Thursday, July 9th, about 40 students from local high schools and colleges came together at Our Lady of the Angels (La Placita) Catholic Church for a day of education and activities related to current farm worker issues, history of the farm worker movement, and how organizing is an important tool that we can all use to work for change.
The idea for the conference grew out of a desire at La Placita Church to create a positive out of a negative. In the last five years, 15 farm workers have died due to heat-related illnesses when their employers have illegally denied them access to water, shade, and rest breaks on the job. "We wanted to give students a chance to meet with their peers and learn about the issues, but to turn a tragedy into positive action," said Father Richard Estrada, a priest at La Placita Church.
During the day, activities included watching a short documentary made in 2008 about the issue of the heat deaths in the fields and participating in a role play of a worker organizing meeting. Alma Felix, niece of Audon Felix who died on the same day one year before due to heat stroke, spoke about how her uncle's death has personally affected her and why she is speaking out. And at the end of the day, many of the students joined community members, UFW and NFWM staff, and the Felix family at a prayer vigil to honor the life of Audon Felix. Two students, Edgar Peña and Nathalie Vega from Bravo Medical Magnet School in Los Angeles helped with the planning of the event and helped lead two of the workshops. "It was a great opportunity for me to learn about farm worker issues and encourage my friends and peers to get involved as well," said Nathalie.
In the picture: Amelia Pinal joins hands with UFW Vice President, Irv Hershenbaum, at the prayer vigil after the youth conference to honor the life of heat victim Audon Felix Garcia who died of heat stroke on July 9th, 2008.
Listen to the words of Alma Felix at the youth conference about the death of her uncle.