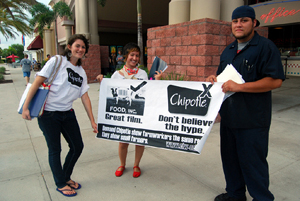 Orlando YAYA members went to the Chipotle-sponsored screening of the movie "Food Inc", to educate people about the issues faced by tomato pickers and Chipotle's refusal to work with the Coalition of Immokalee Workers (CIW).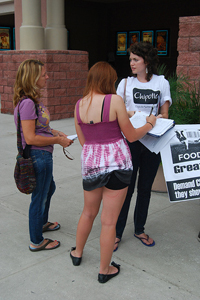 Chipotle is sponsoring the screening of this movie in different cities across the country to show their commitment to "food with integrity", while at the same time refusing to work with the CIW to improve the lives of tomato pickers.
Orlando YAYAs were part of a group of CIW supporters who educated movie goers about the conditions in which tomato pickers work and who exposed hypocrisy of Chipotle. They also collected signatures for a petition that asks Chipotle CEO to meet with the farm workers that pick the tomatoes used in his restaurants!
For more info read this article or visit the CIW web page.