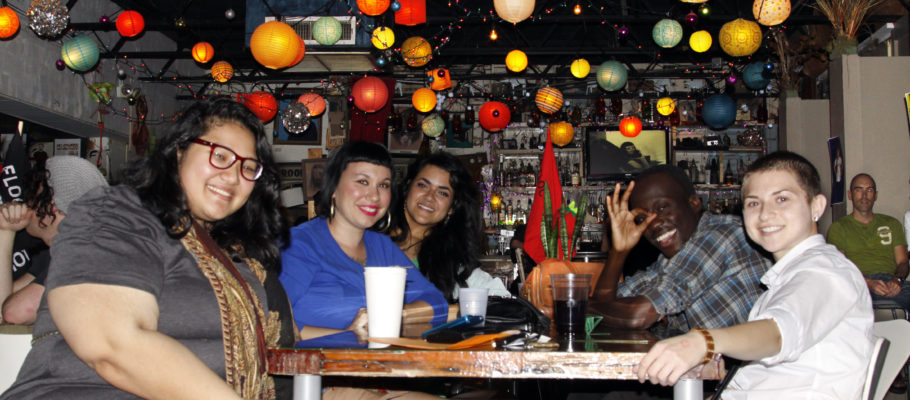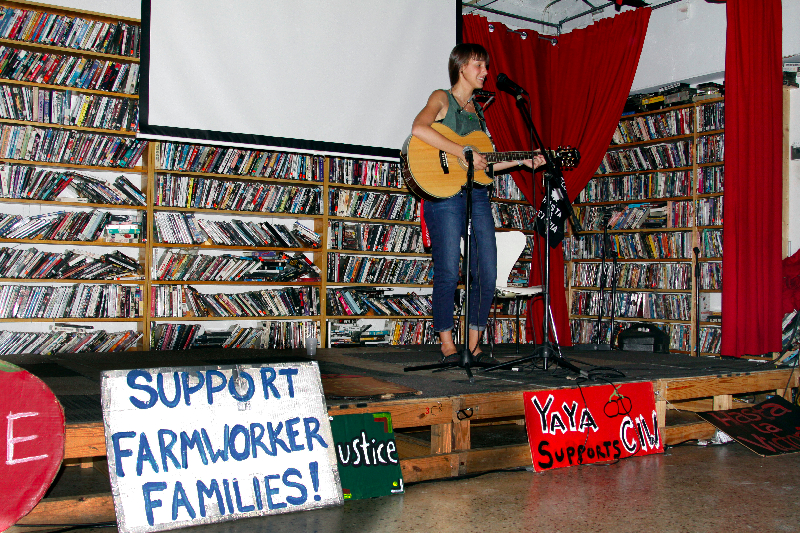 Orlando YAYA proudly hosted a fun and successful benefit show last Friday, December 6 at the Stardust Video and Coffee. The night began when two of our outstanding members, Jonathan Alingu and Cristina Barrios, introduced YAYA as an organization, describing our role within the community, and highlighting the socioeconomic, political, and health conditions that farm workers are structurally forced to live under. Our amazing emcee, Nicole Elinoff, continued by explaining the importance of this fundraising event. The purpose of the Benefit Show was to raise funds in order to receive a matching grant that will allow YAYA to continue our work in solidarity with farm worker communities and farm worker-led campaigns here in Florida and across the country.
It was encouraging to have so many people from the community come out and support such an important social justice cause. YAYA was dedicated to organizing this event and happy to receive approximately 70 people that truly believe in improving the lives of the people that feed us every day.
Attendees supported YAYA in reaching our goal by paying an admission fee of $5.00. Amazing prices from local businesses and artists were also raffled off throughout the night. The prizes included Castro's and Erica's mesmerizing works of art, donations from Dandelion Communitea Cafe, Nona Tap Room, 100 Montaditos, Redlight Redlight, Raphsodic Cooperative Company, Infusion Tea, Dexter's Thorntorn Park, The Tap Room, Black Bean Deli, Julio Salgado's Undocu-prints, The Falcon, and The Orlando Science Center among many others! The evening overflowed with talent from performers like Athia Choudhury and Matias Buchhalter, who delighted the audience with breathtaking spoken word poetry. Brianna Peterson gifted us with her unique and powerful voice, singing her amazing Bob Dylan-style originals and covers. Other performers included Saint Pierre and Lowen, who contributed to the creation of this fun and enjoyable evening with their charisma and snazzy beats.
YAYA members made sure to keep the focus of the night on the work we do by talking about specific campaigns we support and unique farm worker struggles that we stand behind. We also presented a slideshow illustrating YAYA's latest actions and involvements with farm worker justice issues in 2013. In this sense, the evening was much more than an exciting fundraising event, it was a complete learning experience!
The Benefit Show was planned and executed by devoted YAYA members. We want to extend our most sincere appreciation to all the businesses, performers, and local artists who dedicated their work, time, and donations to such an important event. A special thanks goes out to all the people who attended and supported us that night, and to all of those who donated online. Thanks to all the contributions YAYA was able to raise $516 and, once again, meet the $5000 matching grant through the Fund 4 Democratic Communities! The event would not have been such a success without all of your support!
Thank you and we hope to see you all at our next action
Vanessa DeVilbiss
Orlando YAYA
Photos courtesy of Vanessa DeVilbiss