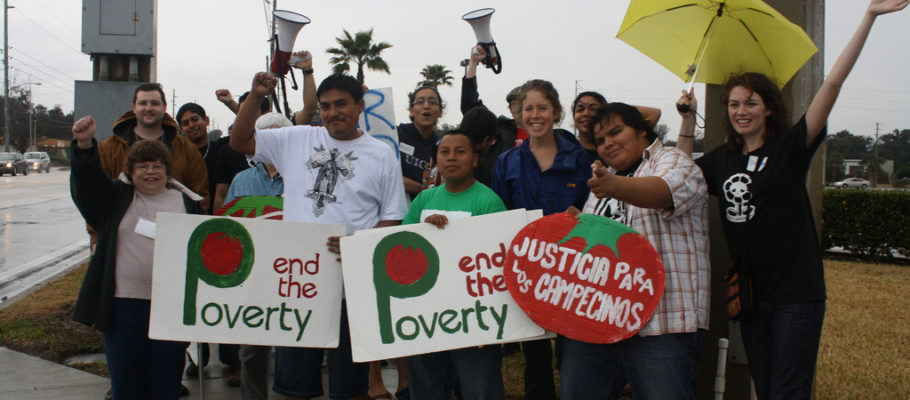 On January 30, 2010, a group of 13 Florida YAYAs attended the National Farm Worker Ministry's Board meeting in Leesburg, Florida.
During this event they:
– Learned about the Alliance of Active Women (AMA-Alianza de Mujeres Activas), a group of farm worker women in Volusia County who fight for the well being of women and their families.
-Heard a presentation by the Coalition of Immokalee Workers (CIW) and participated in a demonstration in front of the local Publix Supermarket.
– Heard and shared stories with board members about their participation in the farm worker movement.
Read what John Freesemann (board member) and Salvador Perez (Florida YAYA) had to say!
Thank you to everyone who attended both the demonstration at Publix and the NFWM board. It was a joy to meet all of you, to witness your enthusiasm, and to hear your comments and dreams. You give old campaigners renewed hope for a bright future!
-John Freesemann
NFWM Board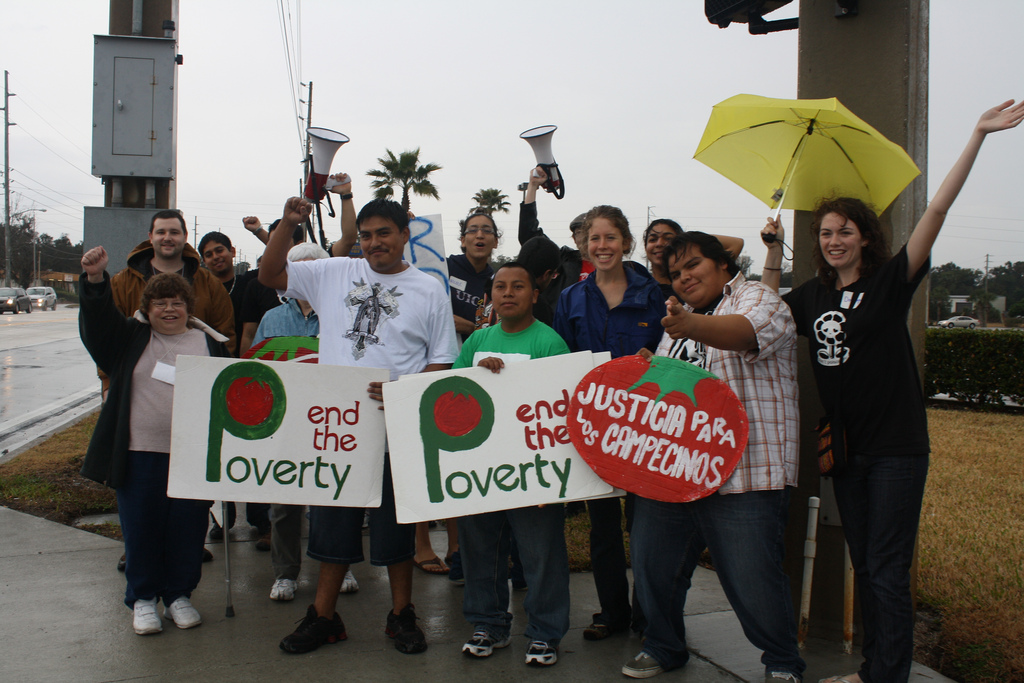 "We arrived at the site really early. When we got there, we entered a room full of people. After they were done with their conversations we all got a chance to walk around the room and greet everyone. Then we did a very fun ice-breaker, where we all did our favorite dance move.
After that, AMA started their presentation. Ana, the president of the organization, showed us a power point presentation about AMA's accomplishments.
Then we had lunch. It was nice talking to all the amazing people who were there. After lunch we listened to a presentation by the CIW. It was nice to see the dedication that these people had.
We were asked if we wanted to demonstrate in front of the local Publix, in support of the farm workers. We decided to go even though it was raining. (The picture above shows people raising their hands when they were asked if they wanted to go despite of the rain!)
When we got back to the center we listened to the stories of the living legends of the farm worker movement. It was awesome to hear stories of the great Cesar Chavez. I left that day, feeling a lot better about what I was doing. When I got home I thought about if I would ever be like those people and have great stories to pass to the youth."
-Salvador Perez
Deland YAYA
(Photo courtesy of Alex Jones)