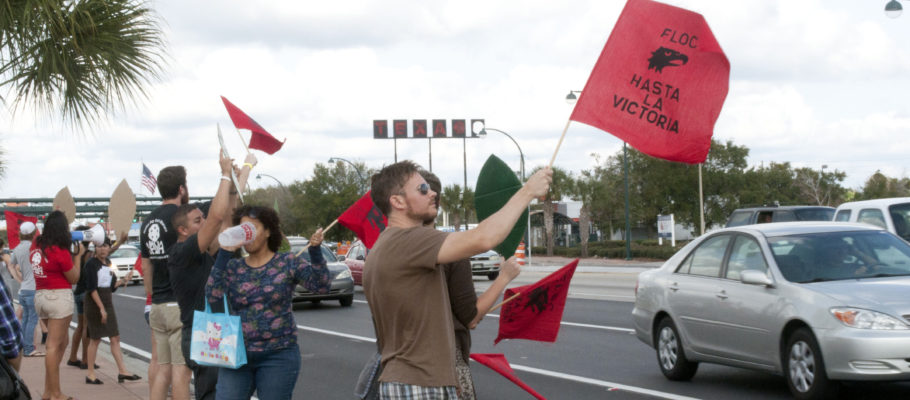 On Sunday December 9th, thirty-five members of the Orlando community convened outside the Wawa station at 7030 South Orange Blossom Trail around 1 p.m to hold a rally organized by Orlando YAYA which takes action to support farm workers and farm worker organizations. The rally was held after repeated efforts made by YAYA members and supporters to meet with Wawa Regional Manager Charlene Marko-Heim went unaddressed. YAYA would like to meet with Wawa management to discuss Wawa's role in the tobacco supply chain, and their accountability to their consumers to ensure that the company is taking all necessary action to hold RJ Reynolds responsible for their treatment of tobacco pickers.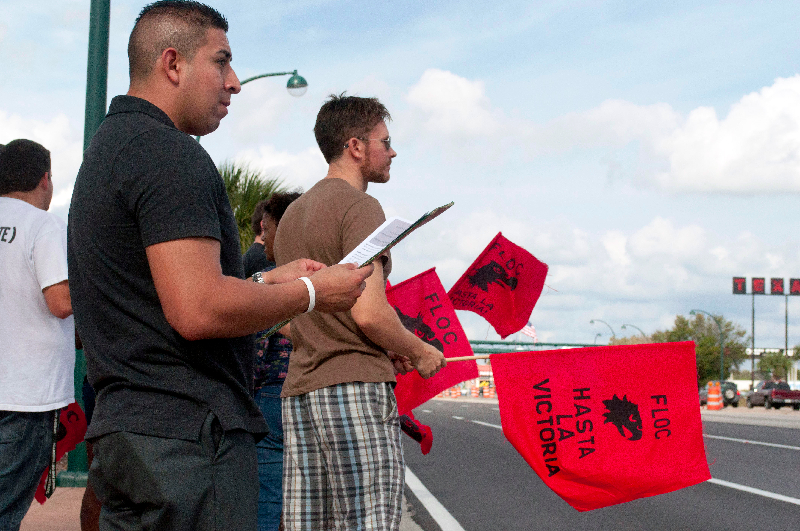 RJ Reynolds is the largest tobacco corporation in North Carolina and relies on farm workers to grow their products. The Farm Labor Organizing Committee (FLOC) has estimated that about 90% of these farm workers are undocumented immigrants. A contract between the FLOC and the North Carolina Growers Association has helped end many labor abuses in the H-2A work visa program, but many immigrants either opt-out or give up entirely on the work visa program because of how difficult and expensive the process is and choose to face debilitating measures of exploitation just to provide enough for themselves and their families to keep living.
Despite reforms, farm workers still continue to live under poor conditions. Their housing is unsanitary, they do not receive adequate health care services, their wages force them deeper into poverty, and the water they use to drink, bathe, and wash clothes in is contaminated with nicotine and pesticides causing workers to suffer from Green Tobacco Sickness and heat stroke. This action was necessary because after a long-running campaign, FLOC is in need of all the support they can get to put pressure on RJ Reynolds, and that means putting pressure on buyers of the corporation's products, like Wawa.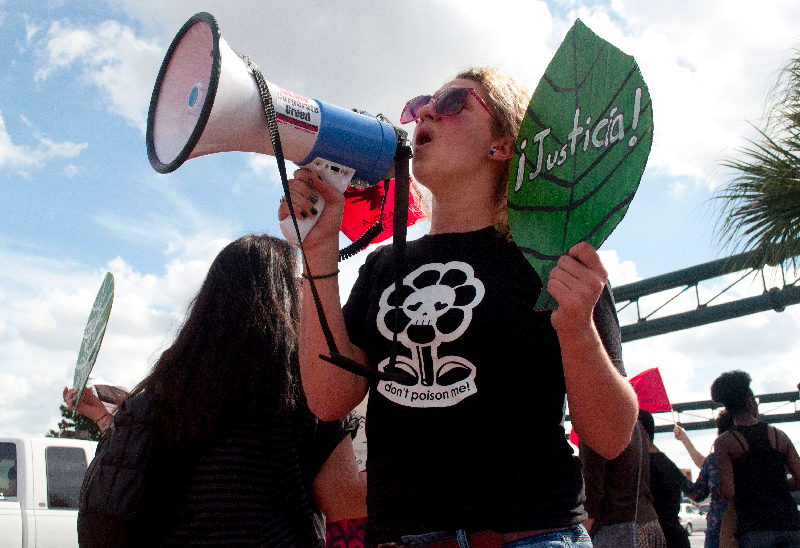 YAYA member Brian Luft kicked off the rally by explaining to the group why were were there and to get us energized to spend the next hour under the hot Florida sun. Four people went inside the Wawa to perform a letter drop. Melissa Maniau delivered the letter to the manager and was able to briefly, with poise, explain why we were there. The manager was not receptive and asked us to leave the property, so we took to the sidewalks!
Outside, our demonstration was painted with beautiful posters in the shape of leaves and short, powerful messages painted on them made by YAYA members. FLOC provided the rally with black and red flags that read "HASTA LA VICTORIA" and a banner that read, "Wawa consumers demand human rights for farmworkers," which was held up by James Quill and Jonathan Alingu. When traffic would slow down at the intersection, people would run out in the street to hand out flyers to drivers and passengers. Josh Leclair stood at the entrance and exit of the Wawa to hand out flyers there and talk to customers. On the sidewalk, Nicole Godreau, Emily Helm, and Curtis Hierro led chants and everyone sang along with passion. During the rally, we heard honks and whistles on several occasions from people passing by, which continued to boost group morale. Around 2 p.m. we did one last march up and down the sidewalk and ended the rally with a chant directed at the Wawa saying that we would be back.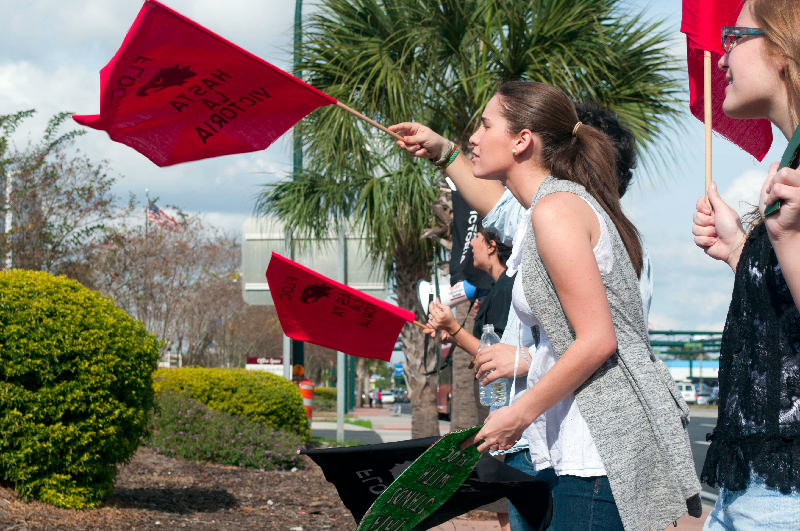 We grouped up together to discuss how the rally went: the letter drop, what we liked, what we didn't like or would do differently. The response from the group was very positive and there was consensus that everyone was looking forward to more actions and learning about how the relationship with RJ Reynolds and farm workers would progress.
For me, this was my first YAYA event I had attended in some months and it felt great to be back with such amazing and passionate people who, like me, care so deeply about less-fortunate and oppressed people and will do what they can to fight for egalitarianism. As someone who reads a lot of news, I know that news about farm workers gets lost in the corporate mush that dominates the media, so I was very happy when I got a phone call from YAYA asking me to come show my support. Being part of this event led to me craving to learn more about what these particular farm workers are going through and I am so grateful that there are people in organizations like YAYA who make it their mission to make stand in solidarity with undocumented communities.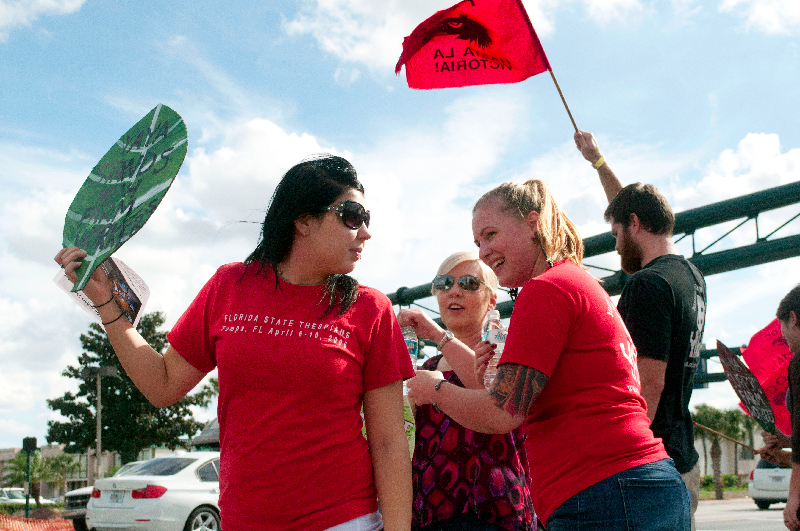 FLOC and many solidarity groups like YAYA continue to fight alongside tobacco farm workers with tactics like rallies, petitions, fundraising, increasing media attention, and meetings with corporate leaders so farm workers can gain collective bargaining rights and freedom of association, which would enable them to unionize and demand a living wage and humane working and living conditions.
Orlando YAYA would like to thank members from Jobs with Justice, Hope Community Center, Dream Defenders-UCF, Student Labor Action Project-UCF, and AFL-CIO for being in attendance and showing their support.
Shelby Radcliffe
Orlando YAYA
Pictures courtesy of Ali Castro