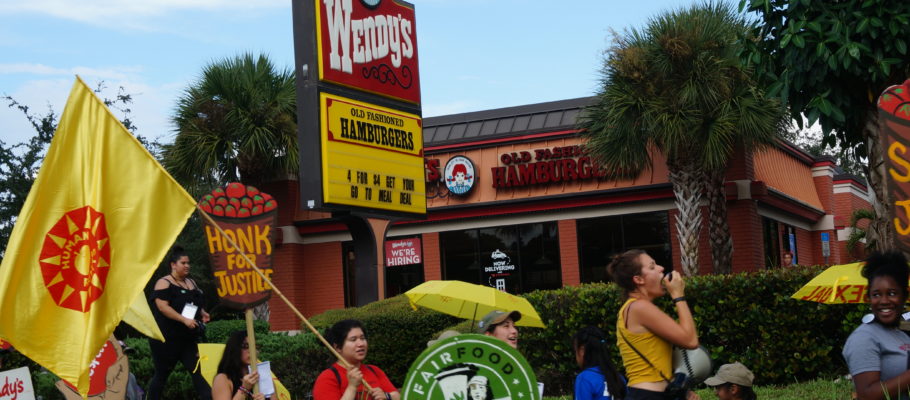 YAYA members Taylor Snider and Yaretzi Perez and YAYA Coordinator Dominique Aulisio spent the weekend at the 2018 SFA Encuentro in Immokalee. Check out Taylor's full report about the weekend!
by Taylor Snider, NFWM Youth & Young Adult Network
YAYA Coordinator, Dominique Aulisio and YAYA members, Yaretzi Perez and Taylor Snider, went to the 2018 Encuentro organized by the Student Farmworker Alliance this September. This event had more than seventy students and young people from around the country organizing in order to support the Boycott Wendy's Campaign, and to learn skills to bring back to their organizing groups at home.
Through the Encuentro, Dominique, Yaretzi, and Taylor were able to build relationships with other like minded farm worker justice oriented organizations in Florida. YAYA has always supported the Coalition of Immokalee Workers, and by attending this Encuentro we were able to reinvigorate our commitment to their
Boycott Wendy's Campaign
.
Yaretzi attended a session about involving the press in actions. She learned strategizing tactics, and how to contact press for pickets and rallies. Taylor attended an Organizing 101 session in which she learned effective means of inter-organizational communication and outer-organizational outreach.
Towards the end of this Encuentro Yaretzi was able to attend a picket to boycott Wendy's outside of a local Wendy's store. It was an amalgamation of organizations all rallying to support the Coalition of Immokalee Workers. The Student Farmworker Alliance in conjunction with the Coalition of Immokalee Workers had media present at this action. This protest was more than one hundred people strong.
Overall, this event was an enlightening experience for all involved. Dominique, Yaretzi and Taylor all learned depths of information about community organizing, and got the opportunity to feel more connected to the Boycott Wendy's Campaign.