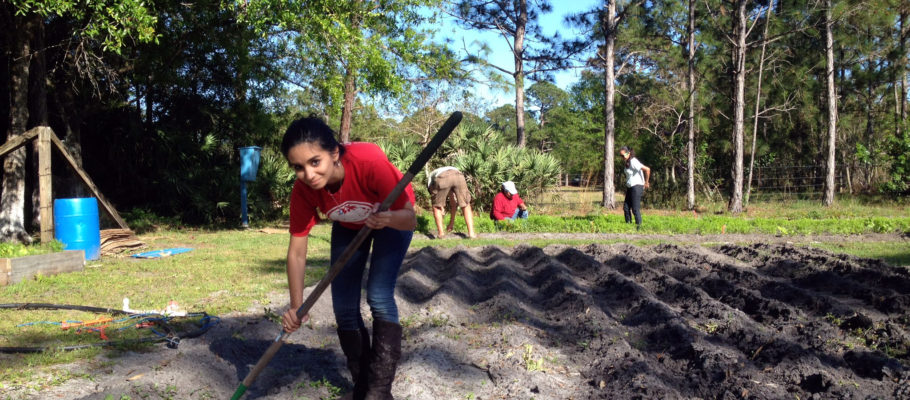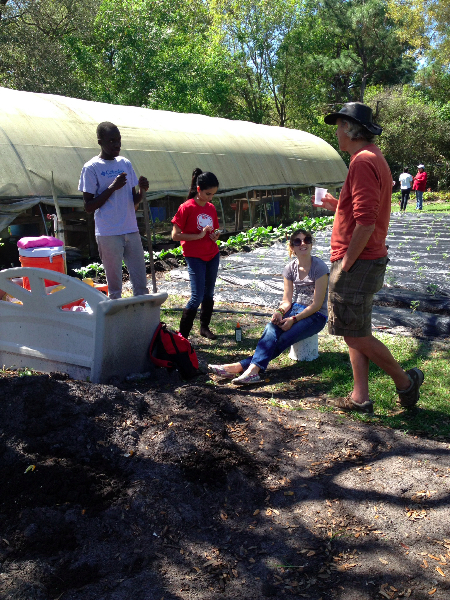 On Saturday, March 1st, I was present at the Fellsmere Community Garden event that commemorates the importance of preserving solid relationships between community farm worker organizations, such as YAYA and the Farm Worker Association of Florida (FWAF).
The unity and support among both organizations is key to combating issues the farm workers face. We arrived in Fellsmere around 10:30 a.m., and our first stop was at the FWAF community office.
Our Orlando-YAYA group consisted of eight members, with an additional four Fellsmere community members joining us from FWAF. Introductions were exchanged and delicious oranges were distributed. Afterwards we went off to the first community garden plot, where the lovely Maru guided the group for a tour, and job assignment. We split up into different task groups that included weeding, watering, or cleaning duty. While we were completing our tasks, John Quiñones an ABC News Correspondent, came on site to interview FWAF members about their impact the community garden has on Fellsmere, the integration between different organizations, and the new documentary showcasing the lives of farm workers in Immokalee.
The garden had a large variety of organic fruits and vegetables including beets, onions, lettuce, and cacti. Maru took the time to personally explain the process of small-scale farming when working with sand based soil that is found in Florida. She stated that the horse or cow manure fertilizer, which is provided by local ranchers free of charge, is applied on top of the sandy soil surface. Then, the fertilizer is given time to dry, and finally the seeds are added. The nitrogen that gets released from the manure fertilizer allows the vegetables to grow efficiently yielding healthier and larger amounts of fruits and vegetables.
Around mid-day Yolanda, FWAF community organizer, had prepared a delicious lunch for us, complete with organic vegetables grown in their community garden. The FWAF member's hospitable ways made me feel very much a part of their community. After restoring our energy we headed out to the second community garden plot. Once again, we were split up into groups to weed different sections of the garden, as well as planting onions. Although we were hard at work, the laughter and sharing of stories from our homelands never ceased to stop. Maru gifted us some delicious radishes to take back home.
As the sun began coming down we headed back to the FWAF community office for dinner. We encountered farm workers that had just gotten back from working on the fields, Yolanda spoke to them about FWAF's plans to help them seek political, economic, and social justice. YAYA member Hugo, spoke to them about improving the diets in low-income, Latin American communities that often suffer from health diseases as a result of poor diets. YAYA organizer Nico, with YAYA member and translator Nataly talked about YAYA's involvement with FWAF, and the importance of collaborating with community members. Watching them speak to the farm workers, and the farm workers being on board with their plans was a very powerful moment for me.
This event was an incredible experience, I saw first-hand how vital community work is. People of all ages worked on the community garden. It is important that young people acquire this knowledge and that they continue working for the future progress of farmworkers' rights. I appreciate the chance of participating in this event, and hope to continue my involvement in YAYA's communal work.
Sandra Almanza
Orlando YAYA
Photos courtesy of Jonathan Alingu