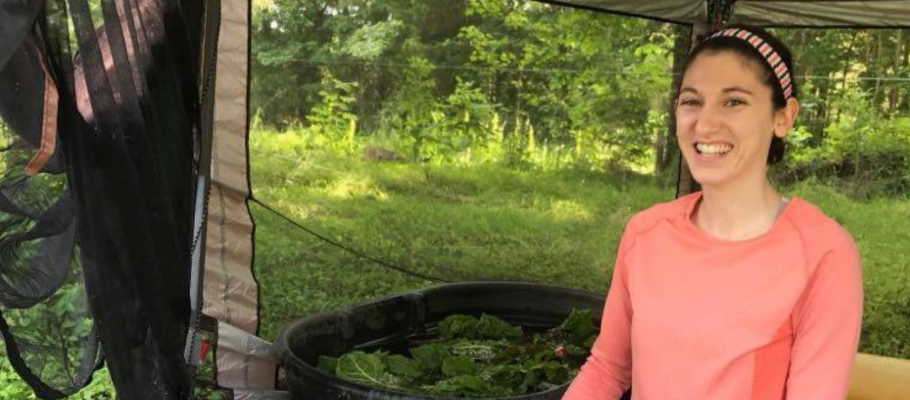 Meagan was born and raised amongst the corn fields of northern Indiana and spent three summers in high school de-tasseling seed corn for Pioneer. Although that was her first personal exposure to commercial farming, a number of family members work, own, or grew up on farms of varying sizes. Throughout undergraduate and graduate school, she frequently held two jobs at a time – balancing school, sports, and work. She also competed in track and field for 11 years, from jr. high through college and was able to compete at a national level.
Meagan earned a Bachelor's degree in English and Philosophy at Bethel College in Indiana and a Master's in Theology from Princeton Theological Seminary in New Jersey. During graduate school, she completed an internship at Anathoth Community Garden and Farm in Cedar Grove, NC. That was her first exposure to gardening and farming at a local level. She spent the summer growing and sharing food for the first time, meeting a variety of unique and beautiful people from backgrounds different than her own, and talking about the connection and overlap between topics such as race, poverty, theology, agriculture, and beyond.
Meagan moved to North Carolina in the Fall of 2019 and completed a year of service as an Americorps VISTA (Volunteers in Service to America) where she served as the School and Community Garden Program Coordinator with Wake County Cooperative Extension. She helped organize and support community gardeners around Wake County.
Meagan enjoys being outside – hiking, biking, and being on the water. She loves playing card games and board games as well as watching and discussing movies and TV with friends. She's a poet and self-taught cellist and hopes to have her own garden and pup someday.