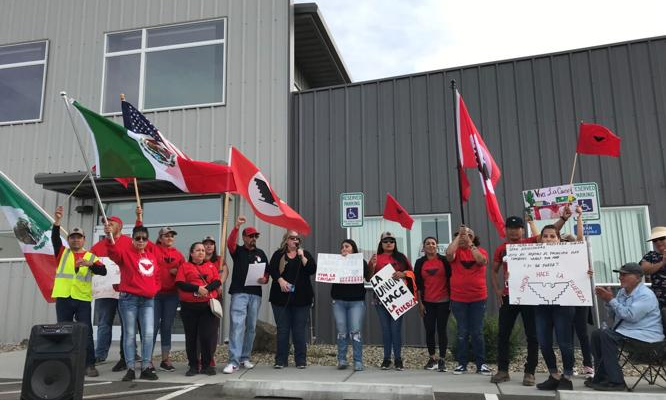 By the Rev. Connie Yost, President, Farm Worker Ministry Northwest
The workers at Sunnyside, Washington's Ostrom Mushrooms continue to struggle for justice in their workplace. The company was recently purchased by Windmill Farms, which is one of the largest mushroom producing companies in Canada. Instar Asset Management, a Canadian investment corporation, is a major financier of Windmill Farms.
Because of Ostrom's outrageous labor practices, workers voted in 2022 to unionize with the UFW. They are demanding a halt to gender discrimination (see below for an update on the lawsuit against Ostrom), threats, retaliation and workplace injuries as well as asking for fair wages and safe working conditions.
Once this purchase went through with Instar's funding, workers were called into meetings, informed the company had been sold and were told everyone was fired. Workers were offered jobs at the new company – but they would earn less, have a 90-day probationary period when they could be fired for any reason and they only would be hired back if they signed an arbitration agreement – giving up their rights to sue if the company violates the law. Workers shared they had to sign on the spot or leave – even if official papers said they had 24 hours. Many had to accept jobs they had no training for – including people with on-the-job injuries that required light duty.
Farm Worker Ministry Northwest recently held a Community Forum in Seattle and we heard from two former mushroom workers. One worker, Jose Martinez, had been an organizer of the workers for years, and he was fired just 2 days after he spoke at the last worker rally in Sunnyside (April 18). He said that the new management gave them difficult quotas to meet in a 90 day probationary period, but he was fired after just 60 days. He wasn't even an actual mushroom picker before new management gave him the picker job; he had worked for three years doing cleaning. The other worker told us that he had a work-related injury that forced him to quit. Both workers reported that the workers are in an even worse situation with the new management.
Workers are keeping up their fight at the new company where the same unethical behavior continues. On April 18, more than 100 workers and supporters rallied in front of the mushroom plant in Sunnyside to give the company a strong message that they are not backing down.
They won't quit and we won't quit supporting them.
Farm workers were deliberately left out of federal labor law in the 1930's because they were black. Almost 90 years later, farm workers are still not protected by federal law and there are few state laws that apply to them. The mushroom workers voted to unionize with the United Farm Workers in September 2022, yet management refuses to recognize the union or respond to the worker's concerns.
As people of faith and justice, we know that farm workers are essential workers who deserve to organize, be safe on the job, make a living wage and be treated with respect and dignity. Community support makes a difference as too often farm workers have little voice or power and work in situations where exploitation is common business practice. When we show up, we are telling management that we want the workers to be treated fairly and that we will use our voice and power to stand with them. It is our moral duty to join with the workers in compassion and hope, recognizing that we are connected, that we are all in this together, that the people who feed us are essential human beings, and must not be exploited.
The workers and United Farm Workers urge you to take action today. Let the CEO of Instar, Gregory J. Smith, know you are appalled with how the workers are being treated. Ask Instar why they would want to be associated with this sort of unethical and illegal conduct. Tell Instar Asset Management to use its influence to make sure that the labor dispute is resolved. Workers deserve to be represented by a union.
Farm workers are continuing to speak out about the exploitative conditions and on Wednesday, May 17th they gained a victory. Ostrom Farms must pay a $3.4 million fine for gender discrimination and other unfair and discriminatory practices, resolving the lawsuit filed last year by the Washington Attorney General's Office. This is a win for workers, but the fight for better protections is not over. This is retribution for wrongs done, but not a commitment to change.