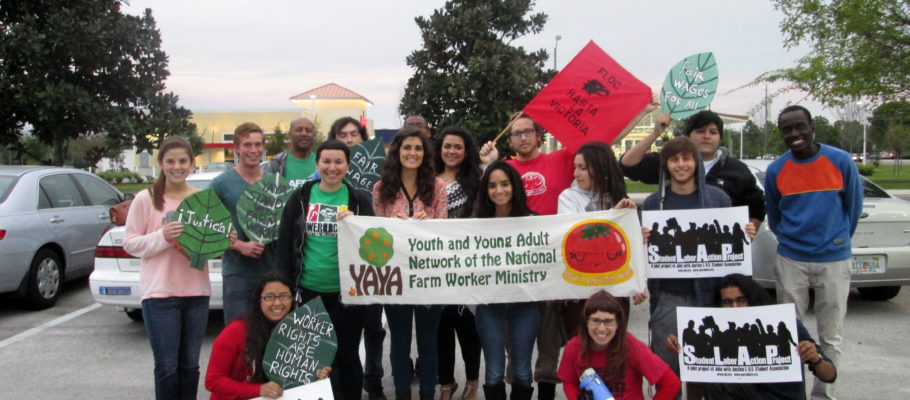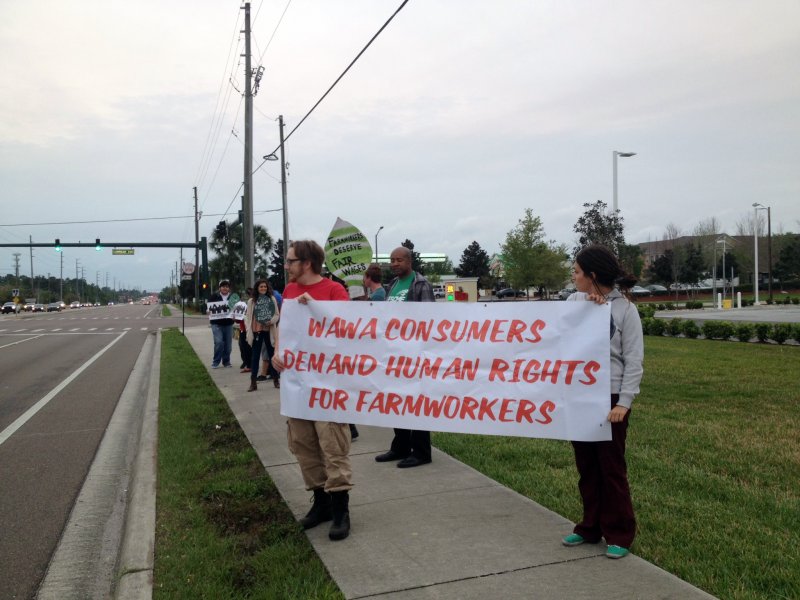 YAYA continues to work in support of the Farm Labor Organizing Committee's (FLOC) Reynold's Campaign by putting pressure on Wawa stores to "Do the Right Thing" and use their power to improve the working conditions of tobacco farm workers.
Tobacco farm workers are one of the most exploited workers in our agricultural system. Big tobacco companies like Reynolds American are profiting at the expense of these workers. FLOC is working to set up a meeting between Reynolds and the tobacco farm workers so that the working conditions in the fields can improve.
Wawa, who makes profits from the sales of Reynolds products, could be a part of the solution by communicating with FLOC and passing on consumer's concerns to Reynolds American.
Orlando YAYAs organized a rally at a local WAWA store on March 27th in celebration of National Farmworker Awareness Week. This action followed multiple attempts to get a response from Wawa's regional manager, Charlene Marko-Heim, about our concerns regarding the labor and living conditions of tobacco farmers in North Carolina. For over a year, we have tried communicating with Marko-Heim at multiple Wawa grand openings around Central-Florida (the most recent being last month in Tampa).
Student support from a variety of youth led organizations was strong at the rally, as we met up early that Thursday to hand a letter outlining FLOC's R.J.Reynolds campaign to the manager of the Alafaya branch store. After a brief welcome and introduction, around 20 YAYA's quickly began to form a picket line in front of the store. In addition to chanting, we eagerly passed out leaflets to cars parked at red-lights, and to pedestrians.
Onlooking traffic quickly became aware of our presence, and the manager of the Wawa store on Alafaya did as well. So quickly in-fact, that we didn't have the chance to actually enter the store to give her our letter like we have done in the past. We caused such a strong front that she came out to us! We had a peaceful and productive conversation where she listened to our grievances with the distribution of R.J.Reynolds products.
We explained that the current way in which tobacco is produced and picked in the fields goes against Wawa's core values which include "valuing people, embracing change, and doing the right thing", and we asked them to take responsibility with their placement in the supply chain by pressuring R.J.Reynolds to improve the lives of farm workers.The manager ultimately agreed to send our message Marko-Heim's way.
Overall, it was exciting to see fresh new faces out to spread YAYA and FLOC's message. With that being said, YAYA can't wait to see all of you at our future actions! If you also want to be apart of holding Wawa accountable for their place in the supply chain then please sign-up for our mailing list. As always, we'll be back. As long as there is injustice in the fields we will continue to organize and to keep you updated on our upcoming actions!
Bianka Salomon
Orlando YAYA