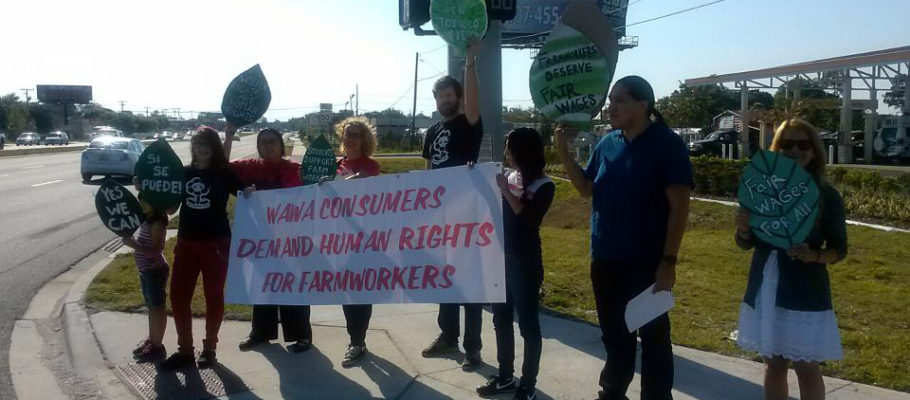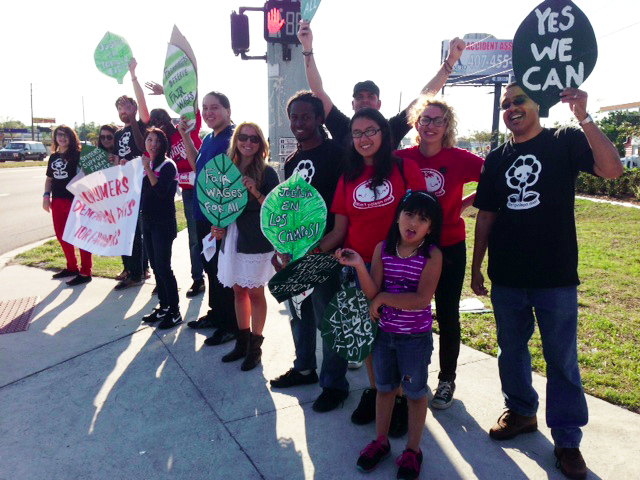 On Friday, March 15th, fourteen members stood outside the WaWa gas station to rally and raise awareness for the tobacco farm workers. Our goal for this rally was to peacefully protest and meet with the manager of WaWa. We stood on the corner of Colonial and Chickasaw with self made signs that read Justicia, Fair wages, Si se puede, Students support farmworkers, and Farmworkers deserve fair wages.
There was also a giant banner that read WaWa consumers demand human rights for farm workers. The group collectively worked at grabbing the attention of drivers and demonstrating our passion for the cause. To our amazement many drivers honked in support of our rally, which pumped the group up to chant louder.
After an hour of chanting, Emily Helm, along with five other members walked into WaWa and presented the letter. Emily explained to the manager what was going on in the tobacco fields and how WaWa was supporting the mistreatment of these workers by consuming RJ Reynolds products. The manager was very receptive to what Emily had to say, and agreed to take the letter up to a higher chain of command. He commended YAYA on rallying in a courteous manner and was supportive of our cause.
This was my second time joining YAYA for a rally. It was an rewarding experience to have the manager not only hear us out, but actually be sympathetic and understanding to our cause. Overall I would say this was a very successful rally, it's small efforts like this that help the general public, along with WaWa employees, know about the inhumane working conditions of the farm workers.
Ashley Falcon
Orlando YAYA
Photos courtesy of Victor Sanchez