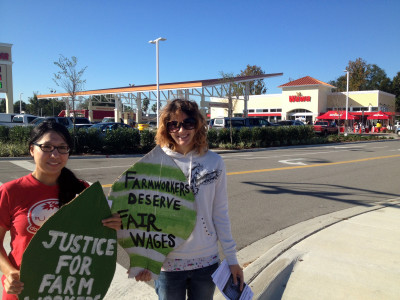 On December 17th, 2013, six YAYAs attended the WAWA grand opening on Orange Blossom Trail by the Florida Mall. The main purpose of this action was to deliver a letter to Charlene Marko-Heim, the regional manager of Wawa, addressing the concerns of farm workers working in North Carolina tobacco fields. YAYA has been trying to contact Marko-Heim for over a year, with no success. When we arrived, upon noticing YAYA-NFWM, she quickly ran into the store until the actual ribbon cutting ceremony.
Four YAYAs leafleted for about 15 minutes before the ceremony, while two YAYAs listened in to what was going on up front. After leafleting, all the YAYAs joined in to watch the ribbon cutting ceremony, and then a group picture was taken. We all got in the photo, and Cristina turned around so the YAYA logo on her shirt was shown in the photo.
After the photo was taken, three YAYAs approached Marko-Heim to hand her the letter. She stated that she knew who we were and that today is about her employees and community, alluding to YAYA-NFWM not being a part of the Central Florida community. We asked her for a meeting but she refused to address the question. She did state that she would pass the letter on to the Wawa labor department, but she also denied Wawa having in responsibility with Reynolds American Inc. (RAI), as they contract RAI cigarettes through a third-party vendor.
FL Representative Victor Torres, District 48, ATU union member, ally to worker rights, spoke at the event. We approached him before he left and explained the situation with Marko-Heim. He mentioned he would be having a meeting with Marko-Heim in the near future, regarding wage theft in Central Florida, and invited YAYA to be a part of that meeting.
This action was a successful step in the campaign to improve tobacco farm workers' rights. We got the letter delivered to Marko-Heim, and showed her that once again YAYA will not back down from our attempt to hold corporations like Wawa accountable. We are serious about this issue and need companies like Wawa, who claim to look out for their communities, to become a part of the solution.
As we move forward in supporting the Farm Labor Organizing Committee's (FLOC) campaign with RAI, it is integral to YAYA that Wawa know its role in the oppression suffered by farm workers.
Although Charlene Marko-Heim claimed that they purchase their tobacco products through a third-party vendor, it is important that they – Wawa – know that they have the power to change the atrocities in the tobacco fields of North Carolina.
And that's where we come in. YAYA will continue to try and meet with Charlene Marko-Heim to discuss the issues tobacco farm workers face in NC until we are heard.
Jena Ashwill
Orlando YAYA