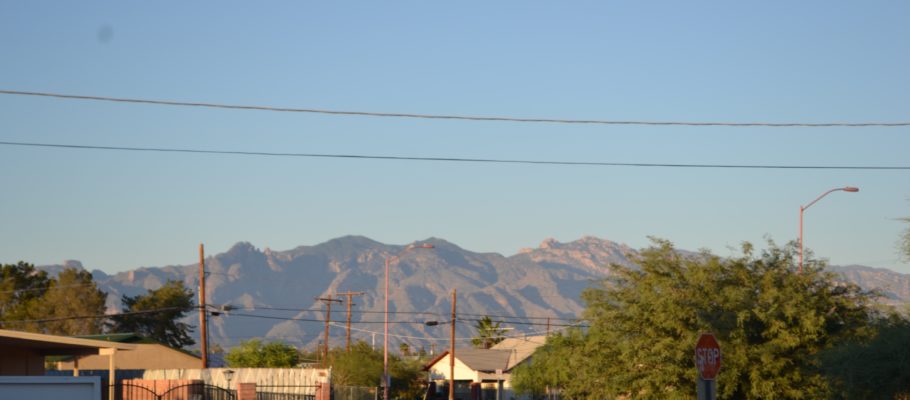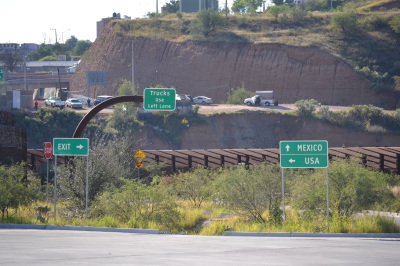 The U.S./Mexico border is filled with trials and tribulations, burdened with murders and deaths, and filled with hope of reaching El Norte. Depicted in the media as a haven for migrating "criminals," yet nothing is as real as seeing the treacherous wall and border first-hand. Media can never capture the challenges they will face along their journeys; the bravery to endure an enigma that lies ahead of them will hardly be heard; and the cries of families separated will forever be engrained in our minds. The Sonora desert and Nogales border is beautiful. It is full of life and wonder – mysterious in it's own right.
On October 23rd, I began a life-changing journey to the Nogales border in south Arizona in which the wall so carefully constructed to keep people from entering will finally have a "face" as opposed to the washed out media biases of its supposed purpose. Leading up to my arrival in Tucson, I had no idea what I needed to prepare myself. Would it be an emotionally draining or exhilarating trip? Will I hear the countless stories of so many that have risked their lives for the so-called American Dream and only make it so far? Would I really be prepared for what I was about to experience? And lastly, how would I use my privilege and newfound knowledge of the border to continue my work back home in Florida? All these questions brewed in mind Thursday afternoon, and I really had no way to prepare for what the next two days would shed light on.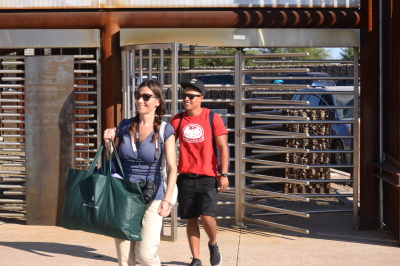 Upon arriving in Tucson, Lindsay and I met up with the other members of the Sisters of Loretto delegation. These women came from all across the country to learn more about the experiences of migrants at the U.S./Mexico border in hopes of continuing to fight for, simply, humane treatment of migrants – whether it be in the detention centers so many find themselves at or just crossing the border with aid of humanitarians' who leave gallons of water out on the migrant trails. That first evening, we spent time going over the agenda of what the next 2 days would entail – witnessing Operation Streamline, visiting at Southside Presbyterian, and walking across the border to see the work that is being done in Nogales. After many questions regarding our weekend events, we began by sorting toiletries, socks, shoelaces, hats, and scarves for the men, women, and children who risk their lives to cross the border. These items would be later delivered to organizations in Nogales, Sonoma working with migrants that are either preparing for their journey north or who have recently returned to Mexico from detention centers.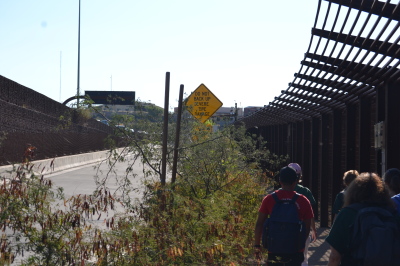 That first night was by far the easiest to endure; we prepared our donations and headed out to dinner. After dinner, we walked to Tiradito Shrine where local Tucson activists have been meeting for over 10 years to discuss the most recent accounts of people who have crossed the border, the deaths found there, and any upcoming events in the community. After the prayer, we mingled with the locals and actually ran into John Miles, a former supporter of the Migrant Ministry under Chris Hartmire's leadership, who shared stories of being fired from the coal union and taking up work with Chris and Cesar Chavez for the farm worker movement. John was very grateful that the National Farm Worker Ministry (NFWM) was still in existence and working with farm worker organizations to bring rights to the fields. One thing that stuck with me during our short visit at the shrine was when John mentioned being fired from the mines was the best thing that ever happened to him. He also talked about his work with Cesar Chavez and the United Farm Workers (UFW) during the grape boycotts and even served as security for Chavez during his stay in Tucson. Truly a blessing to see the intergenerational work of the farm worker movement and hear John's stories to fuel the work we do at NFWM and YAYA. However, Friday would begin a whole new story – the story of the brave.
Friday, October 24th, we headed out to the Evo A. DeConcini U.S. Federal Courthouse where we would witness Operation Streamline. Unfortunately, when we arrived we heard that Operation Streamline had been cancelled for the day. But in case you haven't heard of Operation Streamline here is a quick synopsis of the process. Operation Streamline is in which people who are caught by border patrol are directly sent to the federal courthouse to be prosecuted with either misdemeanor charges, for crossing the border without authorization, or felony charges, for reentering without authorization. Detainees are given 20 minutes with the public defender before the hearing in front of the judge. Most migrants enter into a plea deal with the prosecution in regards to the above charges depending if they've tried to cross the border before or not. Operation Streamline happens everyday at this federal courthouse except on holidays and the aforementioned circumstance. Also, this process is not done on a 1 on 1 basis – meaning 1 detainee at a time in front of the judge – but instead up to 70 detainees are brought into the court in which the judge spends an average of a minute and eleven seconds in front of the judge pleading guilty to the charges. The detainees are brought into the courthouse in hand and feet shackles because the Federal Marshall claims their "security risks." Operation Streamline costs taxpayers about 372 million dollars a year to operate which equals out to about 159 dollars per person per year. Though we were not able to witness that day, I can only imagine how heart wrenching the process would be to watch live. The fact that probably most have no idea what's going on or what's next for them; the fact their shackled as if their violent criminal offenders; the fact their denied a basic civil liberty of the right to due process.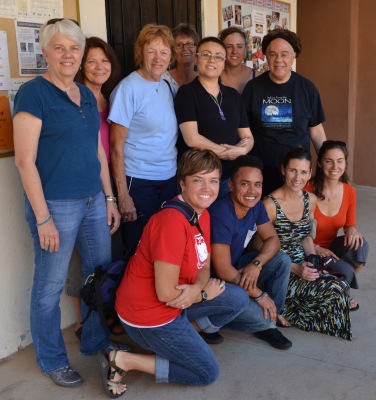 After our minor mishap at the federal courthouse, the delegation traveled to Southside Presbyterian Church – a church whose doors are placated with the sign, "Humanitarian aide is never a crime." Southside is also a sanctuary church meaning that the church houses and provides a safe haven for undocumented people who have an order of deportation awaiting them. Southside Presbyterian Church is a staple in the community not only providing aide to migrants but also serving food to homeless folks in the community on a daily basis. We met one woman who is staying in sanctuary at Southside and was very grateful for the Sisters of Loretto to meet with her and hear her story. She has appealed to President Obama about her situation and reasons for staying in the U.S. and is waiting his response despite is his lack of effort to take executive action for the tens of millions of folks living in the shadows of the United States. At Southside, we met up with Scott Nicholson, a volunteer with Samaritans, who gave us a presentation about pertinent information regarding the border and the Samaritans work on there. The Samaritans mission is pure and simple, to reduce the suffering and deaths in the desert through humanitarian aide, whether it is placing water on migrant trails or assisting migrants who are lost and distraught in the desert wishing to turn themselves in. Scott's presentation opened up with a question, what do you think about when people mention Mexico? Of course, many responses delved into violence, drugs, and war – what media has shown us – yet Scott showed us the rich culture and beauty found in the dessert and at the border.
Scott's presentation exemplified the complexities at the U.S./Mexico border that we would see firsthand during our six hours in Mexico. Saturday morning started early, as our delegation drove for about an hour and a half to the Nogales border. Upon our arrival at the border, we packed our bags full of donations to walk across the border. The visuals of the wall separating America – for those who weren't aware include Central and South America, not just the United States – was barren and as rustic as you could imagine. It just didn't seem real but here lies this imaginary, man-made line which south is designated as "violent" and north is a "safe haven."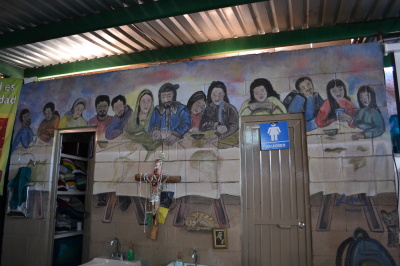 As we entered into Nogales, Sonora and out of Nogales, Arizona, it shocked me just how easy it is to enter Mexico with no issues. Not once did people even glance at us walking into the territory. All in all, we moved freely throughout the state of Sonora visiting El Comedor, a women's shelter provided through the Kino Border Initiative, and Hogar de Esperanza y Paz AC (HEPAC). We started off visiting El Comedor which is a temporary shelter provided to recently released detainees who can come by and get 2 hot meals a day – at 9AM and 4PM – for up to 7 days. El Comedor also provides the men and women who frequent their dining hall with first-aid supplies, medicines, and clothing for those who request and/or need it. They also let other groups such as, No More Deaths, come to provide services like check cashing to people. After serving food to the men and women present, we heard a little more about the Kino Border Initiative and El Comedor from a Thomas Flowers, a Jesuit pastor in training.
Following our visit with El Comedor, we headed to the women's and children shelter. The shelter, run by Sister Alicia Guevara Perez, is where we heard from 3 women who had recently crossed the border. Their stories – Rosa, Maribel, and Nena – were heartbreaking of how they recently arrived in Nogales. From the story of riding La Bestia to return her grandson to his mother in Texas, crossing 3 borders all the while to the story of a mother's journey to Mexico from Phoenix, Arizona after she had fallen ill desperately trying to return home to her family in Arizona. Some commonalities between each woman's story is their courageousness, perseverance, and resilience to cross the desert to El Norte either reunite with family or earn income in the U.S. After several sharing of prayers, hugs, tears and hope, we took a tour of Nogales with Jeannette Pazos, one of the director's of HEPAC.
Showing us the architecture of the city, we drove along the Border wall and saw signs, murals to the one's who have made the journey north with no return, to the one's who were planning to cross, to the one's who died in Nogales, Sonora from bullets of U.S Border Patrol Agents. Specifically, Jose Antonio Rodriguez who was shot at 27 times, 13 bullets actually striking his body, on October 10, 2012. Where he was shot lied a small cross and memorial to the young man who was heading to his brother's job and walk home with him after work. Among the building lie splattered bullet holes where the agent killed Jose Antonio. A tragedy all too well known among the community yet every year HEPAC and Jose Antonio's family organize a march along the border wall demanding justice for her son and others who have been shot by Border Patrol agents.
HEPAC, the home of hope and justice as translated in to English, exists to continue to promote paz (peace), justicia (justice), misericordia (mercy), and verdad (truth) among the community. HEPAC does such by providing secondary education classes to residents and daycare while parents are working in the maquilas; promoting food sovereignty through their community garden and aquaponics project in the making; and organizing against trade treaties, like NAFTA, by fostering the richness of Nogales' culture and beauty. Jeannette's presentation of HEPAC's work in the community is by far that glimmer of hope along the dark and complex tunnel known as "immigration reform."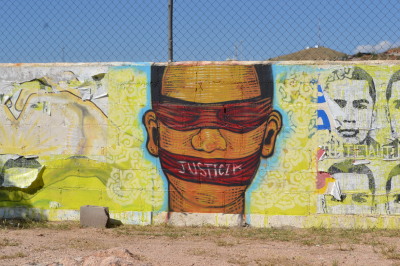 Organizations like HEPAC that are working to create real alternatives for the people in the Border town of Nogales may be a probable solution to the deaths happening along the border and on migrants to El Norte. Yet we must not forget trade treaties that continue to disrupt the fabric of life in the Global South and continue working in solidarity when Industrialized Nations, such as the U.S., try to push these trade agreements through again. The Border Trip was really eye opening for me, as a citizen of the Western Nation, to continue fighting the injustices that migrants' face along the border, on their way, and in the fields. For migrants who make it to the U.S., they will most likely become workers in the agricultural sector. These individuals sustain our very lives (through the food they harvest), the least we can do is offer aide here in the U.S. and along the border.
Thank you to Carolyn for the Sisters of Loretto for inviting National Farm Worker Ministry and me. I cannot wait to incorporate the work of the Kino Border Initiative, HEPAC and others into my own! Also, special thanks to the women of HEPAC who shared food with us during our visit and all the women who attended the delegation!
Hasta La Victoria Siempre!
Nico Gumbs
YAYA Coordinator
For more photos, please check out NFWM's flickr account.