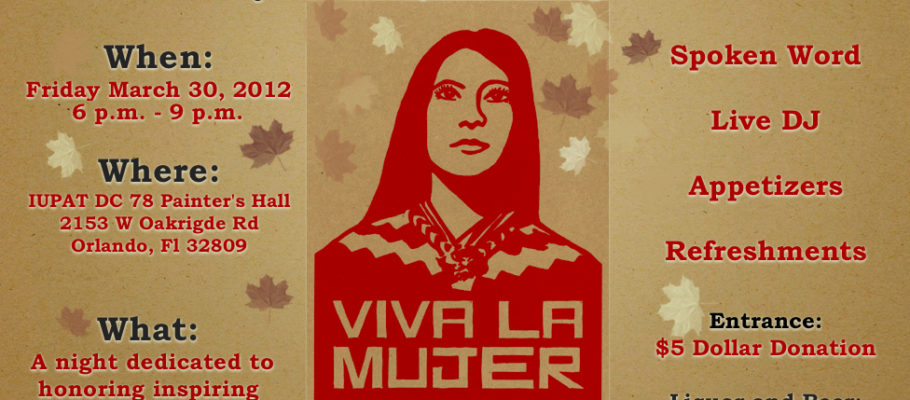 On Friday March 30th, fellow YAYA member Oscar Flores and I attended Central Florida LCLAA's (Labor Council for Latin American Advancement) first annual Viva La Mujer event. Viva La Mujer was a night with the sole intention of celebrating pivotal Latinas in history. With approximately 50 people in attendance, this event was rather successful and inspiring. There was delicious food from Oh Que Bueno, community members from various progressive organizations, and wonderful women honoring legendary Latinas
Mayra Uribe spoke about the new CEO of the Girl Scouts, Ana Maria Chavez, and how Ms. Chavez is such an inspiration to her as she is a Latina Girl Scouts Troup Leader and mother to a Girl Scout. Denise Diaz from Jobs with Justice spoke of Julia Alvarez, a popular writer from the Dominican Republic and how her literary works often have themes of of social justice. Jazmine Salas from SLAP (Student Labor Action Project) at UCF spoke about Camilia Vallejo, a young Chilean activist. Celia Cruz was celebrated, and some folks danced and sang along with her songs. Ana Laura Bolanos from AMA spoke about Dolores Huerta, who as you all hopefully know as one of the founders of the United Farm Workers.
After these fantastic women were celebrated, attendees were encouraged to write down the names of some Latinas they would like to publicly acknowledge as being strong leaders in their community and/or their lives. Some folks wrote down family members – mothers, sisters, daughters – while others wrote friends, community organizers, or other famous Latinas who have impacted their lives somehow or another.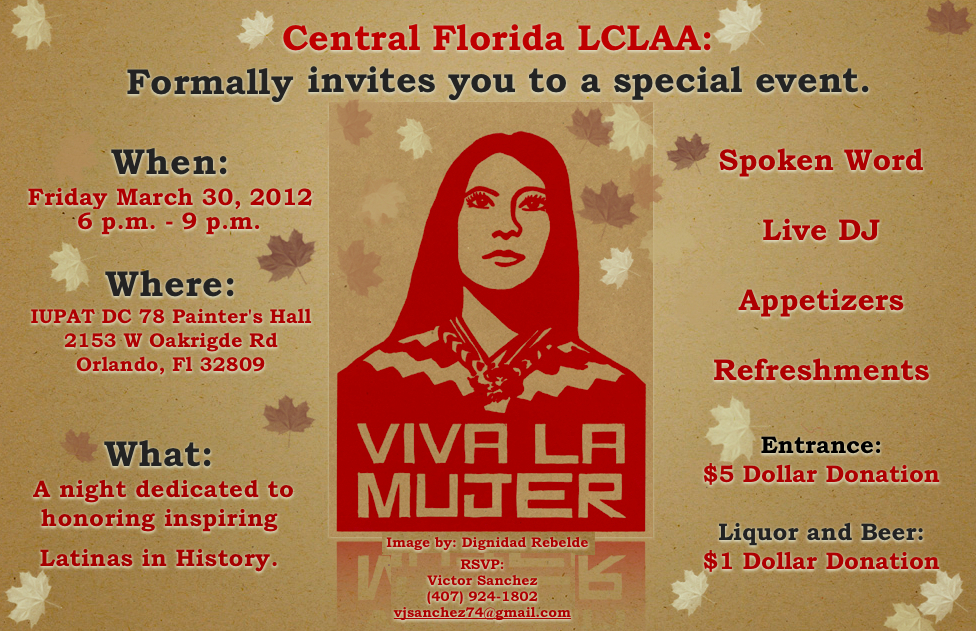 This event was powerful and much needed, because not only do we live in a society where women leaders aren't always visible, but we also live in a world where there is a war on Latin@'s. When women are celebrated for their talent or leadership, it is rarely women of color. It was important to highlight the contributions of these women who are often silenced, ignored and forgotten.
Thank you to LCLAA for inviting us! We had a great time, ate delicious food, met new folks and learned about some amazing Latina women.
Heather Graves
Orlando YAYA