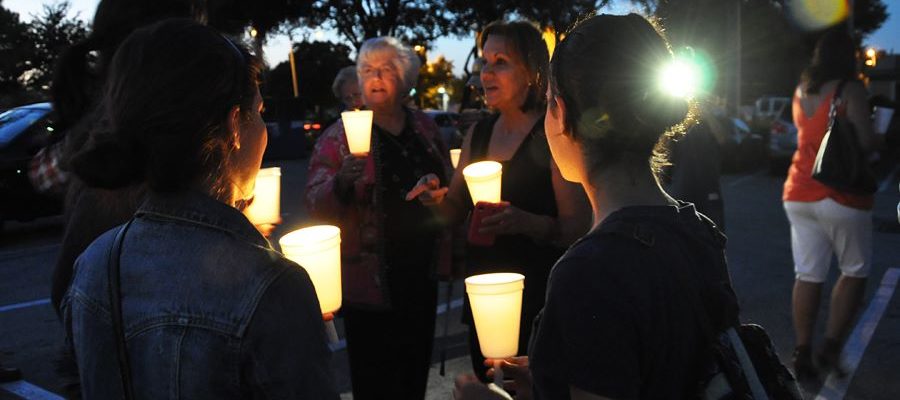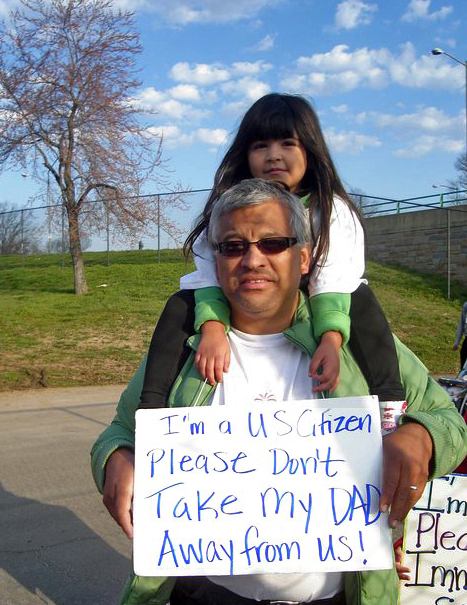 Hector Maniau and his family have been active with NFWM/YAYA for almost two years. His family contacted me when we were coordinating a group to attend the March for Immigration Reform in Washington DC last year. Ever since, the Maniau family has been active with NFWM/YAYA, attending as many meetings and events as they can.
Hector's family is amazing. He is a father of three American children (ages 5, 13 and 23) and his wife, Melissa, is a disabled veteran. Unfortunately, this family is always in risk of being separated by our broken immigration system: Hector is undocumented.
Hector arrived to the US when he was 17 years old, in 1985. His mother became a naturalized citizen and soon thereafter petitioned for Hector's permanent residency. Although the petition was approved, Hector lost his status when a corrupt notary offered to help "expedite the green card process" for a fee.
Hector continued to fight his deportation and after seeking legal counsel, he was ill advised about his case. The attorney suggested that if the courts could not grant additional time, then his only other option would be to ask for a Voluntary Departure. This step proved to be a devastating blow to his case, but Hector and his family continued to fight to get his case re-opened.
On October 5, immigration officials detained Hector at his home, when he was coming back from dropping off his daughter at school. By the time that we were able to find out where he was (October 6 at approximately 2:00 am), Hector had already been transferred to a detention center in South Florida.

With the help of FOCUS, we immediately started putting together a campaign to keep Hector home. We contacted the media, ICE officials, other organizations and everyone who wanted to listen.
On October 6, 2011, 30 members of the Central Florida community- including members of NFWM, Orlando and Tampa YAYA, FOCUS, Hope CommUnity Center, Peace Builders & Justice of Florida, and local clergy from different congregations- gathered outside of the ICE detention facility in Orlando for a prayer vigil in support of Hector Maniau.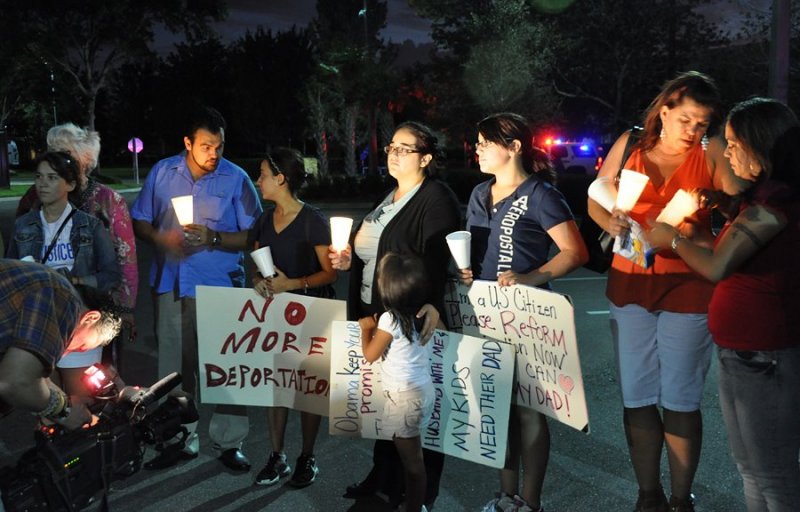 The next day, we started an on-line petition and after a little more than 100 signatures Melissa got a phone call, letting her know that Hector would be released and granted a year in the US. After all, Hector met the qualifications of the new Obama guidelines for Prosecutorial Discretion!
We are very happy that Hector is home with his family and with his community. We hope that ICE continues to make fair decisions based on the Prosecutorial Discretion guidelines, and that they apply these guidelines to all the immigrants who qualify.
We would like to thank all the organizations and individuals who took action on behalf of Hector an his family! Together we can make a difference! Si se Puede!
Media Coverage:
– FOX News' coverage of the prayer vigil
– FOX News' coverage of Hector's Release
– Univision's coverage of the prayer vigil
– Telemundo's coverage of Hector's Prayer Vigil
– Telemundo's coverage of Hector's release
– Change.org's coverage of Hector's release
Photos Courtesy of Katie Gillett