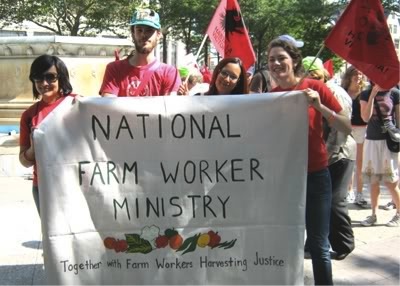 Traveling to the U.S. Social Forum in Detroit was an amazing opportunity to share with other activists about the issues that farm workers face, and to learn about how our work in YAYA intersects with other movements.
Four YAYA Chapter members (Richard Gaiser, Nadia Garzon, Nicole Godreau, Cole Lee and Dominique Aulisio) joined YAYA coordinator Lariza Garzon to present two workshops in Detroit. The first workshop focused on the issues that farm workers are organizing to change in their workplaces and communities.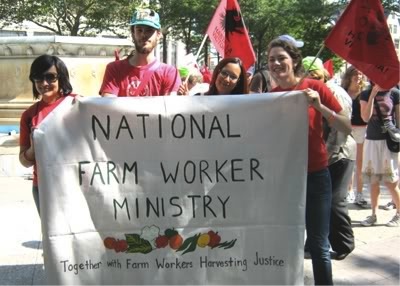 The second workshop we held, focused on ways that the participants could support farm workers in their local communities while mobilizing people to support national farm worker campaigns. Many of the participants were already working with farm worker communities, so it was a wonderful opportunity to share about the work that we have been doing in Central Florida, and give them ideas to build support in the greater community for farm workers For example, we shared about the YAYA bicycle drive, and using art in organizing and to support young people.
At the Social Forum, we also networked with other people around the country who are working on immigrant rights and campaigns to improve conditions for low-wage workers. A highlight of the week was supporting the Farm Labor Organizing Committee, AFL-CIO, in their action to demand that Chase Bank take responsibility for financing RJ Reynolds, and for the conditions of tobacco farm workers that they profit from. You can read FLOC's report on the action here.
Thank you to everyone who supported the Orlando YAYA Chapter Members so that we could travel to Detroit to share about farm worker conditions and campaigns with activists from around the country.