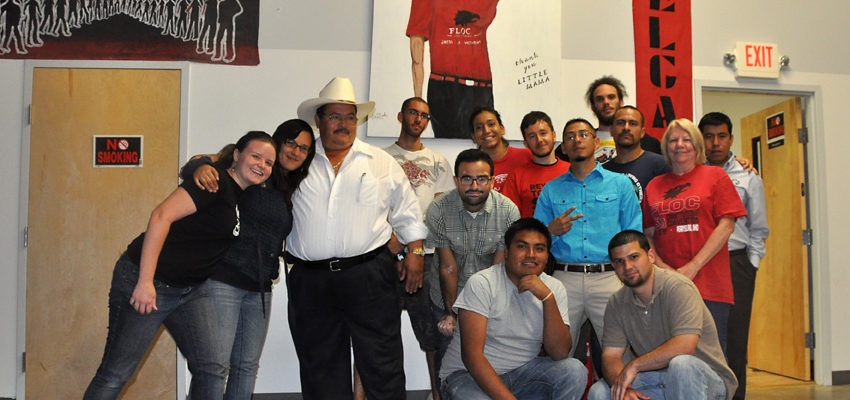 YAYA- Juan's Speech at FLOC Rally from YAYA Media on Vimeo.
From May 5th to the 8th, YAYA members took 2 rental cars to North Carolina to support FLOC (Farm Labor Organizing Committee), as they were gearing up to rally in front of RJ Reynold's annual shareholders' meeting. The rally was to demand for this corporation to take accountability for their human rights violations in regards to the practices they employ in handling the tobacco pickers that are, arguably, the life of their corporation.
On Thursday night, we stayed at the Beloved Community Center in Greensboro, and on Friday morning we woke up and prepared for the big day: the annual shareholder's meeting. We ate breakfast at Lloyd Presbyterian Church in Winston Salem before splitting up.
While some YAYAs chanted and picketed outside the Reynolds American Tobacco corporate headquarters, a few YAYAs had the opportunity to attend the shareholder's meeting. Inside the building, they spoke directly to decision makers at Reynolds American, including President and CEO Daan Delen and new chairman Thomas Wajnert, about the concerns of farm workers in the tobacco fields. Although the question and answer session was cut off with a long line of people still waiting to speak, many allies spoke with passion about the realities of the tobacco fields. For instance, Justin Flores of FLOC invited any board members to visit a labor camp with him and see the conditions firsthand.
The timing of the meeting coincided with FLOC and Oxfam America's unveiling of the executive summary of a report documenting human rights abuses occurring in the tobacco fields. During this meeting, YAYA was astonished but excited to hear that, because of this report, Reynolds American was for the first time willing to start a dialogue about the issues relating to farm workers. Reynolds agreed to establishing an independent third party to monitor working conditions in tobacco fields that supply to their company, and to support a council of tobacco industry members, growers, farm workers and other stakeholders.
This trip was essential to YAYA's involvement in the farmworker struggle. We used to it to train ourselves through organizational workshops such as building a chicken coop for the Farmworker Ministry Committee of the NC Council of Churches Collaborative Project; we used it to strengthen FLOC's effort in the farmworkers' struggle for better working and living conditions.
Another intense thing we did was spend a day with FLOC and NFWM visiting a tobacco labor camp, where YAYA engaged the farmworkers with thoughtful conversations. I was overwhelmed by the stories I heard, which confirmed that migrant farmworkers really do a huge amount of essential labor for America. They "tour" the states in sync with different harvesting seasons through the year; a cycle is repeated year after year with both newcomers and veterans, research should be done on finding out the makeup of said group.
We want to recognize everyone who made our trip possible: FLOC, thanks for showing us so much hospitality and appreciation! Diego, Frank, Justin, Brianna, and Sergio, thanks for going out of your way to spend time with YAYA and reminding us of the importance of our work. Thanks to Alex from NFWM for coordinating logistics for our trip, and to Susan and Bert for spending time with us; thanks for Rosa for sharing her knowledge and experience as an organizer and to the family who provided us with delicious food! Also we'd like to express our gratitude to the MERCI Center and the Beloved Community Center for hosting us.
Hasta la victoria!
-Juan Barredo
Orlando YAYA
(Photos courtesy of Katie Gillett, Nicole Godreau and Dominick Marino)