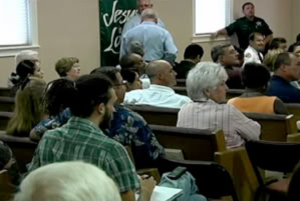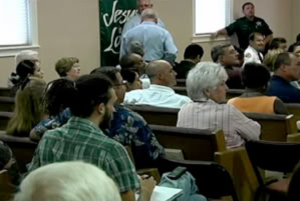 On Tuesday June 23, a group of 20 young adults, members and supporters of YAYA and farm workers, attended the Sorrento Community Meeting with Lake County Sheriff Gary Borders. The meeting was organized by the Farm Worker Association of Florida, the Florida Immigrant Coalition, the American Civil Liberties Union of Florida and Democracia USA.
At the meeting farm worker advocates and local residents had a chance to express their opinions and ask questions to the Sheriff regarding racial profiling, his decision to apply for the287g program and the frequent detentions and deportations that take place in Lake County. In the past year the Lake County Sheriffs office has reported over 250 arrests, with no criminal charges, of immigrants that have been handed to Border patrol.
The sheriff denied that his agents were giving special discriminatory treatment to the Hispanics in the community but he agreed to attend future meetings with the Farm Worker Association of Florida, other organizations and immigrants who live in Lake County.
Media coverage: click here and here
(Picture by http://www.cfnews13.com)